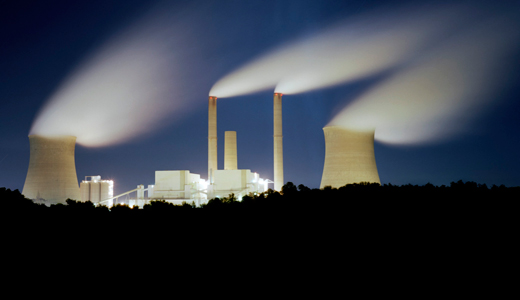 CHICAGO – The "Climate of Uncertainty" exhibit, which explores the negative impact humans are having on the environment, continued here at the DePaul Art Museum on Feb. 27 with an event called "Coal Country and Beyond." Chicago photographer Daniel Shea spoke about his work capturing the influence of the coal industry, and those in attendance were able to see firsthand the industry's effects on small towns in the short film, "Beyond Coal." The damage done to these towns, viewers saw, was devastating.
As the film's narrator explained, the pro-profit, anti-worker coal industry "has left a horrific toll on the communities in the Appalachian mountains. But activists are working to put a stop to the pollution and devastation. The industry is holding back economic development and killing jobs – not providing them," as it so claims. "A lot of machines are used" with increasing frequency "in industry practices like mountaintop removal, and not many workers." And it's mountaintop removal, in particular, that is ravaging once-pristine areas and sucking once-prosperous towns dry.
Mountaintop removal involves mining a mountain's summit for coal by detonating the rock in order to access the coal beneath it. Those controlled explosions pollute the air and are a constant noise disturbance for those who live nearby. The crumbled layers of rock (overburden, as they're called) are then tossed into the rivers and streams below, poisoning the water.
The film's featured town – Sylvester, West Virginia – is one of the state's poorest and dirtiest areas, a direct result of mountaintop removal. Retired coal miner and local resident Chuck Nelson lamented the current state of things, noting that life is hard in Sylvester, in part due to the coal industry's influence. Coal mining companies, he said, often lie to their workers and use them as lackeys in order to stop environmental movements and protests. "Some people have to sit outside their homes with rifles because coal workers who are being duped by the industry to make threats on their lives. And the industry has a massive PR campaign that tries to persuade the public that there's such a thing as clean coal." There's a lot of misinformation going around, he said, and that ends up pitting people against one another.
Nelson, on the verge of tears, gestured toward boarded up or unoccupied homes, which people were either unable to afford to keep, or whose former occupants died of illnesses related to coal pollution. "This one died of cancer," said an elderly female resident, pointing at each empty house in turn as she walked by. "This one died too; this one couldn't afford to keep his home…" And so on and so forth. Nelson himself is just barely hanging on. "My home," he said, pointing to the place that he built with his own hands for his family back in the 80's, "is only worth about $12,000 now."
There is a movement, the film narrated, to get more Sylvester residents to stand up and fight the industry, which continues to detonate mountains in the area, blacken rivers, taint drinking water, and pump out pollutants from its local plants. But this is difficult to achieve when the industry dialogue says that anti-coal activists are essentially a group of unstable, dangerous individuals who hate Appalachian traditions and "American values." Many workers buy into Big Coal's lie, and therein lies the problem.
"Communities are split on the issue," said Nelson. "Miners are worried about their jobs and their culture, and the industry plays on that."
After the film, Daniel Shea spoke about taking photos in towns across the U.S. where coal influence is heavy. "I started in 2007 to focus on the industry's grip on West Virginia, and coal burning in southeast Ohio. I got embedded into local communities, and my interest in these issues grew. I use photography to give viewers a sense of landscape that foregrounds these issues," and also to put a spotlight on mountaintop removal.
"Mountaintop removal is very underreported," he continued. "If you don't go to the neighborhoods and see the people who are affected, you don't really know about it. It doesn't provide many jobs, and at the same time, it destroys the environment. And the miners who do work in this field are manipulated by the industry against their own interests.
"Coal is a crutch that we have to learn to walk without," he concluded. "As other technologies gain cost-competitive characteristics, they should be adopted in place of fossil fuels."
This exhibit showed what immediate threat coal mining poses, with the damage it has already done standing as indisputable proof. Above all, it revealed that Sylvester – like the mountains that were decimated for coal extraction – is slowly being reduced to a pile of rubble, and for that, Big Coal and its merciless profiteering are certainly to blame.
Photo: A coal-fired power plant in Racine, Ohio. Daniel Shea