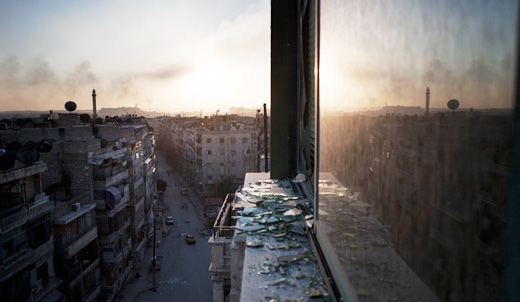 The war in Syria has taken a turn for the worse with two recent developments: Turkey's military involvement, and the growing role of extremist groups.
On Oct. 3 and several days following, Turkey fired artillery "deep inside Syria." Turkey said it was in response to mortars fired from Syria, including one that killed two women and three children and wounded several others. Some of the Syrian mortars may have crossed the border accidentally, but Reuters said others appeared to be aimed at Syrian rebel encampments on the Turkish side.
Turkey's parliament then passed a bill authorizing the government to send troops into Syria or use warplanes to strike Syrian targets.
Tensions along the Syria-Turkey border have been high for months. "Syrian rebel groups have been using Turkish territory as a base for their operations against the troops of Syrian President Bashar Assad," the Associated Press reports. The New York Times reported in June that the 550-mile border has been used "by an increasingly sophisticated network of activists in southern Turkey smuggling crucial supplies into Syria, including weapons, communications gear, field hospitals and even salaries for soldiers who defect."
In June, Syria shot down a Turkish warplane that it said had crossed into Syrian airspace. Turkey claimed the plane was in international airspace. However, use of planes to test another government's air defenses is not an unknown tactic. At the time, the New York Times reported, "some American and allied officials privately raised questions about whether the Turkish warplane … had been on a spy mission." In addition, the Times said, "there may have been more to the aircraft's mission than just a routine training exercise to test Turkey's air defenses." In any event, Turkey responded by putting anti-aircraft missiles on its border and saying any approaching Syrian military "elements" could be treated as a target.
Last week, Turkey forced down and detained a Syrian plane, claiming it was carrying military equipment.
The latest incidents raised concern at the White House that the Syria crisis could become a regional conflict with unknown repercussions. Defense Secretary Leon Panetta told reporters, "The fact that there are now exchanges fired between these two countries raises additional concerns that this conflict could broaden."
Some see Turkey as aiming to assert its military power in the region, perhaps as a co-equal or rival to Saudi Arabia and Qatar.
Those two countries have been supplying money and probably also weapons to Syrian opposition forces for months now, with U.S. support. It has never been clear exactly what groups are receiving this aid.
But news reports increasingly point to "hard-line" extremist Islamists as the beneficiaries. "Most of the arms shipped at the behest of Saudi Arabia and Qatar to supply Syrian rebel groups fighting the government of Bashar al-Assad are going to hard-line Islamic jihadists, and not the more secular opposition groups that the West wants to bolster," the New York Times reports.
For this reason, the Obama administration has expressed concerns about supplying advanced weaponry. On the other hand, Republican presidential candidate Mitt Romney said recently he would ensure rebels "obtain the arms they need," suggesting, according to the Times, that "he would approve the transfer of weapons like antiaircraft and antitank systems that are much more potent than any the United States has been willing to put into rebel hands so far, precisely because American officials cannot be certain who will ultimately be using them."
"The presence of a powerful Salafi strand among Syria's rebels has become irrefutable," says the International Crisis Group. Salafism is an extreme reactionary religious trend with roots in Saudi Arabia. Its Saudi version is known as wahabbism. Not all Salafis take up arms. But the political aim is a medieval Islamic state with rigidly puritanical social codes. Much like what Saudi Arabia and Qatar have today, in fact.
Syria is a largely secular country. Many if not all of the extremist forces fighting there are reported to be coming from other countries.
Robin Wright, writing in the New York Times, wonders why "Washington still embraces authoritarian Gulf monarchies like Saudi Arabia."
Wright notes "oil needs" and "threats from Iran" as factors. "But," she writes, "there is something dreadfully wrong with tying America's future position in the region to the birthplace and bastion of Salafism and its warped vision of a new order."
The role of Arabian Peninsula oil as a U.S. "national security" interest dates back to the 1940s, after oil was discovered in Saudi Arabia. Aware of the growing importance of oil to the U.S. economy, President Franklin Delano Roosevelt in 1943 declared that "the defense of Saudi Arabia is vital to the defense of the United States." Efforts by President Obama to promote a "green" economy freed from oil-dependence have been blocked by Republicans. GOP candidates Romney and Ryan count oil companies among their biggest supporters.
Our continued reliance on oil and the reactionary oil monarchies is playing out now in the Syria crisis.
The Syria death toll has reached 30,000, with some half million refugees, according to United Nations figures. In another indication of escalated violence, the Syrian government has been accused of using cluster weapons.
UN special envoy Lakhdar Brahimi is pressing for a three-day ceasefire for the Muslim holiday of Id-al-Adha, starting Oct. 25. The prospects for this to happen do not seem bright.
Photo: In this Oct. 13 photo, smoke rises from a damaged building in Aleppo, Syria. Manu Brabo/AP