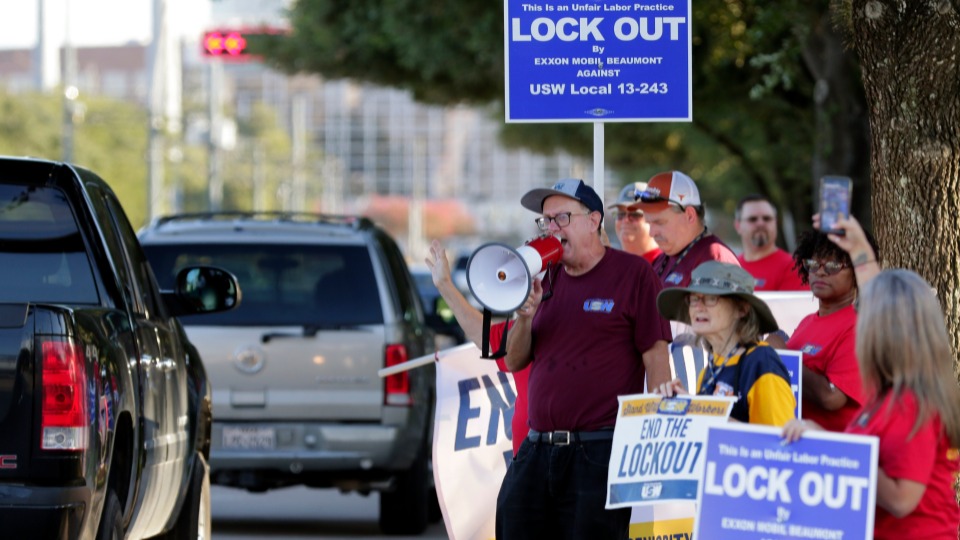 BEAUMONT, Texas—A lockout that began May 1, 2021, has entered its ninth month in Beaumont, a city of a little over 100,000 people 80 miles east of Houston. ExxonMobil, the largest energy conglomerate the world has ever known, locked out 650 workers who are members of the United Steelworkers following failed contract negotiations over issues such as seniority, safety, and protection from bosses.
Exxon claims that the workers are being greedy, but the USW disagrees.
In a recent statement sent to People's World, USW Local 13-243 rejected Exxon's claims that it was costing workers money, stating that "ExxonMobil entered an Unfair Labor Practice Lockout" in late April.
Steelworkers and allies from around the country have provided food for a pantry so that locked-out workers can get groceries, and many bills have been paid from the union's Strike Defense Fund. Despite months off the job, on Oct. 19, the locked-out workers decisively voted to reject ExxonMobil's deal because of the company's insistence on retaining the right to fire union employees for any reason.
As a result, a minority movement within USW Local 13-243 at ExxonMobil has moved to decertify the union. Exxon, of course, is lobbying their locked-out employees for decertification. It has posted no fewer than seven articles about decertification on its website since the vote was announced.
One of Exxon's statements indicated that union representatives visiting members at home to discuss the lockout, the negotiation process, and to see to their wellbeing is intimidation. It also claims that the decertification effort is "employee-led," but a statement on Dec. 7th showed the company's true colors.
ExxonMobil issued a clear ultimatum: The lockout will only end if the union accepts the proposed poison-pill contract currently on offer or if the union is decertified. All of ExxonMobil's statements end the same way, "encouraging" workers to "Vote No for No Union" before the NLB deadline. Scare tactics like these are likely behind any employee movements to decertify.
In the meantime, ExxonMobil is continuing operations by using "qualified supervisors" and non-union scabs. They claim the plant in Beaumont has maintained its record of safety throughout the lockout. However, one worker who spoke to People's World on condition of anonymity detailed a number of incidents in which poor communications, sloppy work, and dangerous practices have put the community and the local ecosystem at risk.
While ExxonMobil insists its workers "Vote No," pro-union sentiment continues to grow among American workers. Industrial actions taken throughout the autumn of this year indicate stronger support for unions than has been seen in decades. Workers at several Starbucks stores have voted to go union. The United Autoworkers strike won better wages from John Deere. Kellogg's workers ended their strike, winning some substantial gains.
Americans, now more than ever, are saying "Union yes!"
This is a country founded on democratic principles, and in a fair and free democratic vote, over 400 members of USW Local 13-243 voted to refuse the company's contract offer on Oct. 26. Workers who had been out of work for over five months, many of whom are the main breadwinners for their families, banded together and refused a contract biased heavily in favor of ExxonMobil.
They remain out of work today. Industry throughout this country is run like a dictatorship, which ExxonMobil has clearly demonstrated through their treatment of the 650 workers of USW 13-243 who remain united in their resolve that something is wrong.
To support Local 13-243 and the locked out workers, DONATE HERE.