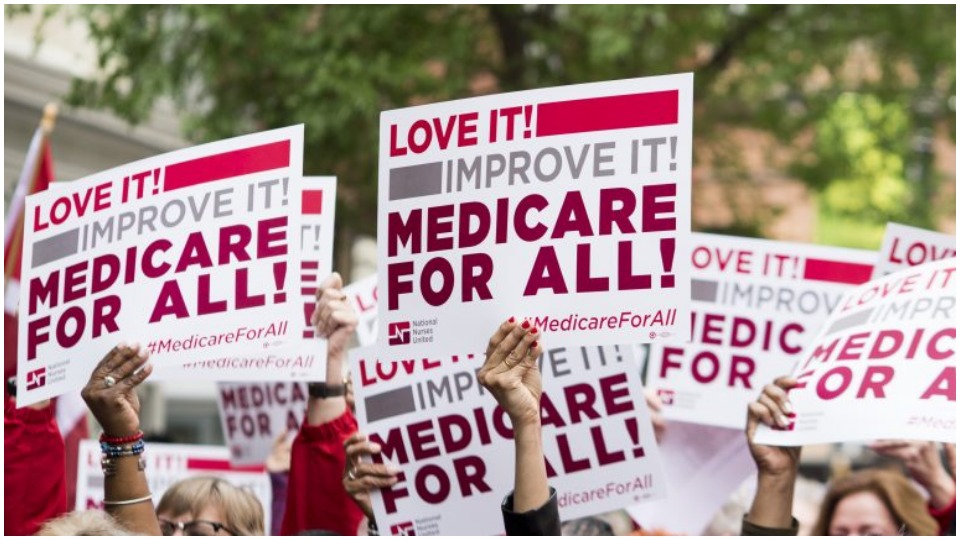 The White House and a rabid pack of right-wing media have set out on a fear-mongering campaign aimed at Medicare for All. Filed by presidential candidate and Vermont Sen. Bernie Sanders on April 10, 2019, the "Medicare for All Act" (S.1129) would establish a universal single-payer health program for all U.S. residents. The bill has the support of 118 members of Congress and 15 U.S. Senators, including former presidential candidates Cory Booker, D-N.J., Kamala Harris, D-Calif., and Elizabeth Warren, D-Mass.
For Republicans and the White House, there is a serious credibility gap when it comes to any discussion about health care. The disparity between their words and actions makes it very difficult to engage in real policy discussion. As an example, during the State of the Union address, President Donald Trump insisted that his administration would never touch Medicare or Social Security. Less than a month later, the White House proposed a budget that will cut Medicare by half a trillion dollars and Social Security by $24 billion—$12 billion of which are cuts to Social Security Disability benefits.
Faced with this unabashed double-dealing, it would be something of a stretch for legislators, voters, and policy experts to take anything the White House has to say about health and human services seriously.
In a fit of ironic drama, though, on March 5, the Republican-controlled U.S. Senate, a body which has fought tooth-and-nail to waylay the introduction of any universal health care program, passed an $8.3 billion emergency bill to combat the COVID-19 virus. Fearing for their own skins, senators miraculously threw themselves into guaranteeing that the U.S. will cover the medical costs of those uninsured who may be infected with the novel coronavirus. President Trump signed the bill.
In effect, this emergency measure is somewhat like a miniature universal health care plan without the benefit of the meticulous policy analysis and experience which has gone into the Medicare for All proposal.
Ideologically motivated tirades
Back in October, Trump issued a "fact sheet" which accompanied an executive order on Medicare. In what could better be described as a crypto-fascist tirade, Trump's "fact sheet" rails against "socialism" and pulls facts and figures out of the air, willy-nilly. Out of context, it intentionally throws confusion on the actual performance of the national health care systems in countries like the United Kingdom, Canada, Netherlands, Germany, and France.
Unsurprisingly, right-wing tabloids jumped on the White House bandwagon, pointing to a report about Canada's 21-week waiting period for specialized medical services as "proof" that national health care coverage is doomed to make us all die waiting for care.
Nothing could be further from the truth.
What Republicans and their disciples in the media fail to report is that wait times in universal coverage systems are not necessarily longer. In fact, there are several nations with universal heath coverage that enjoy shorter wait times than the U.S., and with better overall health outcomes.
Finding the facts
There are many studies to demonstrate that countries with universal coverage can and do outperform U.S. health care metrics, but by far the most authoritative is the Commonwealth Fund's 2017 Mirror, Mirror report. This exhaustive study shows that the U.S. ranks last on performance overall, and ranked last or near last on the comparative systemic domains, which include access, administrative efficiency, equity, and health care outcomes.
The top-ranked countries overall were the United Kingdom, Australia, and Netherlands. The study concluded that "Based on a broad range of indicators, the U.S. health system is an outlier, spending far more but falling short of the performance achieved by other high-income countries. The results suggest the U.S. health care system should look at other countries' approaches if it wants to achieve an affordable high-performing health care system that serves all Americans."
Interestingly, the Commonwealth Fund report also found that high performance in crucial service areas (care process, access, administrative efficiency, equity, and health care outcomes) did not depend upon the type of system. The research revealed that:
"The three countries (United Kingdom, Australia, and Netherlands) with the best overall health system performance scores have strikingly different health care systems. All three provide universal coverage and access, but do so in different ways, suggesting that high performance can be achieved through a variety of payment and organizational approaches. Experts generally group universal coverage systems into three categories: Beveridge systems, single-payer systems, and multi-payer systems. These three systems are represented among our highest performers."
The report continues: "[I]n the United States, 4 percent of patients reported waiting four months or longer for non-emergency surgery, compared with only 2 percent of French patients and 0 percent of German patients. For specialist appointments, the situation is even worse: 6 percent of U.S. patients reported waiting two months or longer for an appointment, compared with only 4 percent of French patients and 3 percent of German patients."
The findings of this report clearly demonstrate that the unhinged assertions by the White House and sensationalistic reportage in right-wing media are not only baseless, but counterproductive to providing a solution to the U.S. health care crisis.  Neither the White House, nor Congress, has addressed the obscene, unsafe, and immoral health care racket which mercilessly feeds off the misery of the majority of U.S. residents.
Despite the White House-led redbaiting and fearmongering, according to nationwide polling during several key primary elections, there is strong support for universal health care. According to an Edison Research poll taken on Super Tuesday, more than 50% of Democratic voters in states as diverse as Massachusetts, California, Maine and North Carolina, support a government plan for all instead of private insurance.