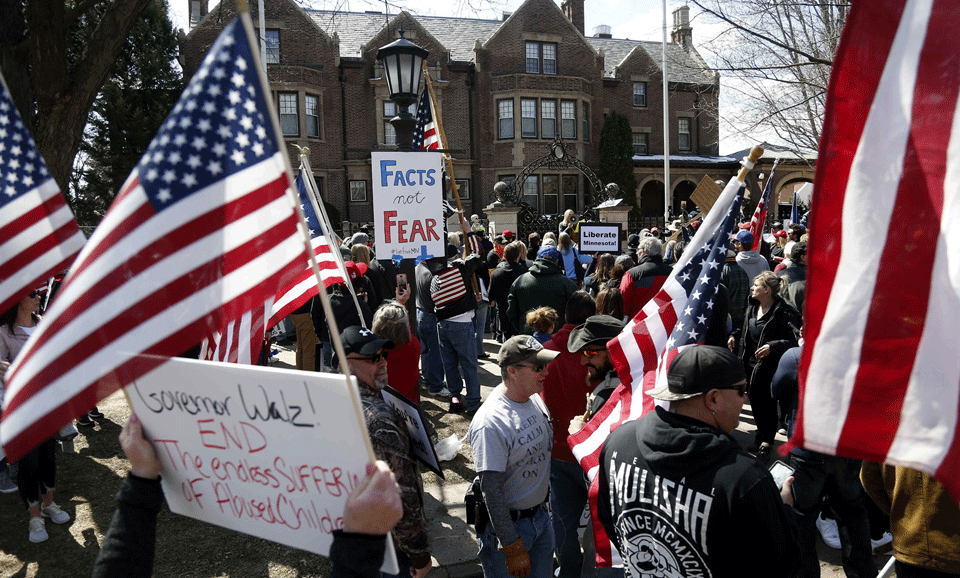 A wealthy family of extreme right wingers, armed with plenty of money and social media skills, is behind the hundreds of Facebook groups, including the five largest of those groups, opposing stay-at-home orders designed to curb the spread of the coronavirus.
The Facebook groups, which have hundreds of thousands of members, are being used to organize "spontaneous" demonstrations in state capitals that are drawing a variety of Trump supporters, fascists, gun rights groups to the right of the NRA, anti-abortion groups, religious fanatics and racist supporters of the Confederacy, which was defeated more than a century and a half ago.
According to reports by NBC, CNN and a number of other media a family of right-wing extremists, the Dorr family brothers – Chris, Ben, Aaron, and Matthew – have funded and started these Facebook groups whose purpose is to oppose shelter-in-place orders. The demonstrations they have organized have been supported by Trump at almost every one of his press conference "updates" in recent days.
A group of right wingers in their cars protesting stay-at-home orders in a Seattle action backed on one of these websites was confronted and blocked in the middle of the street recently by a nurse who risks his life daily treating victims of the disease in a hospital in that city. The nurse had to brave insults from right wingers who accused him of being a supporter of "communism."
The Facebook sites were traced back to the Dorrs by NBC reporters who analyzed the Facebook pages and their website registration information.
The brothers are known in right-wing circles for establishing anti-abortion and other right-wing Facebook groups that raise millions of dollars by mounting campaigns that are usually further to the right than the positions of more mainstream right wingers like the NRA. Their usual method, according to NBC, is to attack established conservative groups from the right, including the National Rifle Association, and then make money by selling memberships in their groups or selling mailing lists of those who sign up.
By shelling out money to the brothers right wingers can purchase lists of people who are ripe for whatever right-wing scams they wish to push.
The Washington Post was the first to report on the Dorrs' role in setting up Facebook fronts to push right-wing demonstrations.
A Dorr brother created or is an administrator for the groups Pennsylvanians Against Excessive Quarantine, Wisconsinites Against Excessive Quarantine, New Yorkers Against Excessive Quarantine, Minnesotans Against Excessive Quarantine and Ohioans Against Excessive Quarantine.
The Dorrs have refused to answer requests for comments from any of the outlets that are reporting on their scams but one of them, Ben, told the Philadelphia Inquirer that the news reports calling the family's Facebook activities "scams" are, as he put it, "fake news" and that his intention is to continue what he is doing.
The NBC report notes that the Facebook groups started by the Dorrs each promote state-specific websites, which were registered with the same private registrar, and use similar language in their descriptions. Following are two examples cited by NBC:
"It's time to OPEN UP PENNSYLVANIA and STOP Gov Wolf's Excessive Quarantine!" Pennsylvanians Against Excessive Quarantine's "About" section reads, referring to Gov. Tom Wolf. "Politicians are on a power trip, controlling our lives, destroying our businesses, passing laws behind the cover of darkness and forcing us to hand over our freedoms and our livelihood!"
Wisconsinites Against Excessive Quarantines, a private Facebook group with about 97,000 members, is hosting a rally called "Operation Gridlock" in Madison next week. At least 300 people have indicated that they will go to the rally.
The right-wing rallies often feature people who are not social distancing or wearing masks and when they draw people from distances away from the state capitals people returning home can bring the virus back to their home towns.
Trump has commented favorably on these demonstrations saying that those attending them "like me." The president, who has pushed the use of unproven drugs, continues to call for an early lifting of stay-at-home orders as he pushes to "reopen the economy and reopen it fast." He has even argued that the stay-at-home orders may cause more deaths than the virus itself.