Joe Walker was already a widely admired African-American journalist when he got a surprising invitation and an offer to become the New York editor of Muhammad Speaks, the Nation of Islam's newspaper. He was summoned to the Harlem Mosque of the Black Muslims for a private meeting. And who was the meeting with? Malcolm X.
Joe Walker told me this story sometime in the 1990s when I was serving as editor of the People's Weekly World in New York. I became friends with Joe because he was a close personal friend of my mentor, Si Gerson, a legendary writer and managing editor of The Worker and Daily World. I was Washington Bureau Chief of the DW and consulted with Si on the phone nearly every day.
So when I was serving as PWW Editor in New York and we were planning a celebration of the 70th wedding anniversary of Si and Sophie Gerson in 2002, it was natural that we invited Joe Walker to serve on that committee honoring two of the most beloved heroes of the class struggle.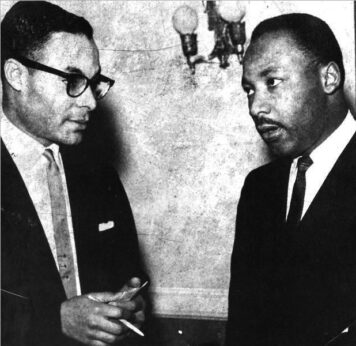 We met often, so Joe had many opportunities to share the high points of his long and illustrious career. Born in Buffalo, he'd gotten his start in the newspaper industry after leaving the Army in 1957. His first reporting job was with the Empire Star, a weekly Black-owned newspaper in upstate New York. He became known for his coverage of the Civil Rights Movement, his interviews with Dr. Martin Luther King, Jr., Madame Nguyen Thi Binh, Vietnam's chief negotiator at the Paris peace talks, and feature articles on several leaders of the anti-colonial struggles to free Black Africa.
But none was quite so remarkable as Joe's meeting with Malcolm X. Joe lived in Harlem and had covered many of the rallies addressed by Malcolm X. But he told me he was very nervous and did not know why Malcolm was summoning him for the meeting.
When he entered Malcolm's office, the great African-American freedom fighter stood, shook his hand, and greeted him warmly. He was tall, strikingly handsome and genial in manner. He told Joe that they were looking for a New York editor of Muhammad Speaks and many in the Harlem community and beyond spoke highly of Joe's skills as a writer and editor and also praised him for his deep political convictions. Malcolm said he himself read Joe's articles and was impressed. "Would you be interested in the job?"
Joe told me he was floored by Malcolm's offer. "I knew I had to level with him, tell him truthfully about myself, my personal beliefs. I told him I am not a Muslim, not even religious, that I have strong left-wing political sympathies."
He recounted to Malcolm the many articles sympathetic to socialist Cuba and Vietnam he had written, his trips to the Soviet Union and the German Democratic Republic, that he believed in unity of African Americans, Latino, and white people, not separatism. He told Malcolm he believed in socialism.
Malcolm listened with a bemused smile and told Joe that everything he said sounded good to him, that he was just the person they needed to edit Muhammad Speaks.
Joe got the job that very day. He laughed and shook his head as he told me the story. "I thought I knew a lot about Malcolm, understood his politics. I had not expected him to be so openly and clearly sympathetic to my left-wing views. That one meeting clarified in my mind that Malcolm X was much further to the left than I had realized."
He said the conversation also cast a light on the profound hatred of FBI Director J. Edgar Hoover for both Malcolm and Dr. King that set the stage for both to be assassinated within a few years. Malcolm was assassinated in a ballroom in Harlem Feb. 21, 1965, as he addressed the Organization of African American Unity. of which he was founder. King was assassinated three years later, April 4, 1968, while leading the "I Am A Man" sanitation workers strike in Memphis.
Joe told me that Malcolm's left-progressive sentiments were soon evident in the wide latitude Joe enjoyed as a writer and newspaper editor. And it continued after Malcolm's assassination. Thanks to Joe's staunch principles, he led in turning Muhammad Speaks into a megaphone proclaiming Angela Davis innocent as the FBI, President Richard Nixon, and other white supremacists hunted her down and put her on trial for her life. Joe Walker was able to arrange an interview for the paper with Davis. The gifted MS photographer Joseph Crawford accompanied Walker to meet with Angela at the Women's House of Detention in Manhattan.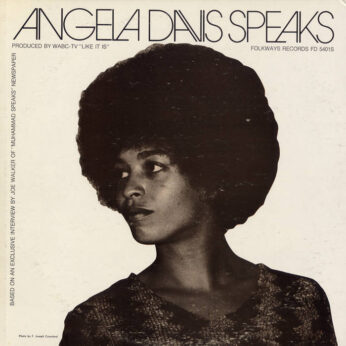 The interview appeared in the Jan. 1, 1971 edition of Muhammad Speaks. The taped interview was featured on the Gil Nobles's "Like It Is" talk show on WABC TV in New York. By then, the interview had a title, "Angela Davis Speaks." Davis was so powerful in the interview that it enjoyed the equivalence of going viral in those days. Nobles interviewed Joe Walker, Charlene Mitchell, leader of the Free Angela Davis Committee, and Margaret Burnham, lead defense attorney.
Joe's interview with Davis, plus Nobles's interview with Mitchell and Burnham, was turned into an LP on the Vanguard Folkways label. Crawford's photo of Angela Davis was on the cover of the LP. That image appeared on the "Free Angela Davis" pin worn by many millions. The LP is now a precious artifact in the Smithsonian Museum of African American History and Culture, with the recording available for purchase on its website.
If there was justice in the world, Joe Walker would have received a Pulitzer Prize for that one interview alone.
Joe also interviewed African-American novelist James Baldwin on the subject of Davis's frame-up for Pacifica Radio and that too was heard by millions.
Joe was a modest, self-effacing, man. He traveled to 60 nations, reporting the most hard-fought freedom struggles on every continent. He served as president of the U.S. Chapter of the International Organization of Journalists (IOJ). The IOJ awarded him the Julius Fucik Award, named for a Czech journalist murdered by the Nazi's Third Reich in World War II. For many years, Walker was the editor of the Local 1199 Drug & Hospital Union newspaper.
We ended up sharing the platform at the 70th Wedding Anniversary banquet for Si & Sophie Gerson on May 19, 2002, at the Winston Unity Center in Manhattan.
Joe Walker told the crowd, "In all the years I have known them, Si and Sophie never attempted to sidestep a struggle for justice." Joe could have been speaking about himself. He died in 2007.