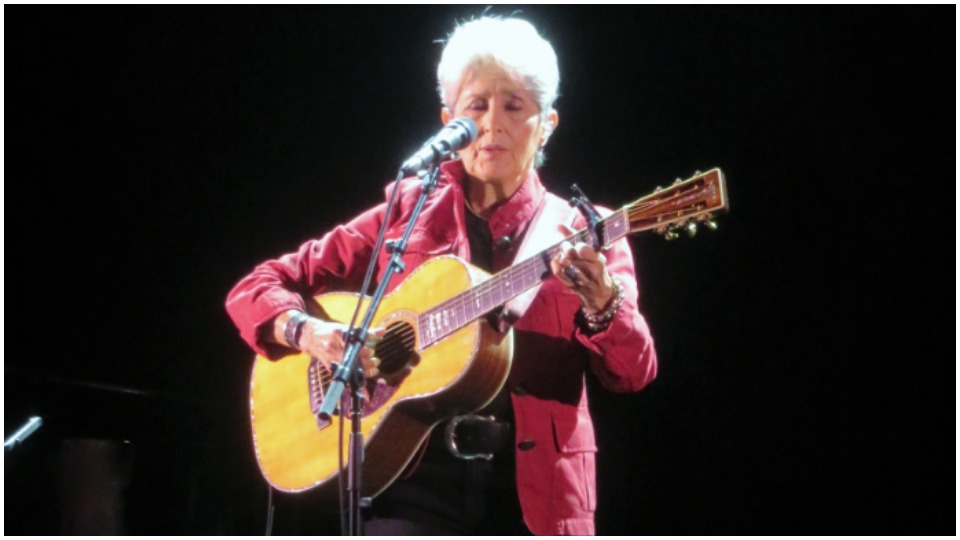 NEW YORK—Sold-out concerts in New York City are nothing new. It happens frequently. There are times, however, when a sense of history in the making is in the air. Joan Baez—musician, songwriter, social activist—took the stage at the Beacon Theatre May 1, as New Yorkers welcomed her one more time on her farewell tour.
Joan Baez has been performing for audiences for over sixty years. Her activism has always gone hand in hand with her magnificent vocals. Joan Baez helped inspire so many in the midst of social change and protest throughout the Sixties and Seventies. She has never stopped speaking out against racism, violence, and indifference. Joan Baez has always been right where America needs her, a strong voice as we all continue to fight for the change this nation needs.
Opening her New York City appearance, Baez stood alone in the spotlight, guitar in hand, performing Bob Dylan's "Don't Think Twice, It's All Right." Regardless of her stormy (and passionate) history with Dylan, she has always masterfully interpreted his songs. "It Ain't Me Babe" and "A Hard Rain's a-Gonna Fall" followed later in the show. Baez was soon joined by Dirk Powell on banjo, mandolin and piano, and Gabriel Harris, her son, on drums. Grace Stumberg provided additional vocals. The songs, the stories, and the history took hold, and the crowd knew this was a special evening.
The message was loud and clear and the entire theatre erupted in applause. Joan Baez looked upon the audience and proclaimed, "Now is not the time to build walls. Now is the time to feed the hungry!" She then introduced the Woody Guthrie-penned "Deportee (Plane Wreck at Los Gatos)" as the true story of migrant farm workers who went down in a plane crash returning to Mexico, with little attention from the American press at that time. Baez shared how she performed this song for surviving relatives of the deceased workers many years after the tragic accident.
The height of Sixties protest may seem long ago, but many of those same struggles and challenges are as relevant now. Joan Baez knows this. Addressing gun violence, she shared an inspiring performance of Zoe Mulford's "The President Sang Amazing Grace." This song tells the story of President Barack Obama's visit to Charleston, South Carolina, after the heartbreaking church shootings, in which he led the mourners in the hymn "Amazing Grace."
Touching on environmental concerns, she presented her cover of "Another World" (Anohni) which laments losing the beauty and resources of our natural world. Baez shared her sadness of seeing a decrease in bird species over the years at her home in California.
Baez recalled when she first toured the South in the early Sixties. She personally witnessed the evil of segregation. She told the audience she demanded her concerts be open to all and spoke of her joy at seeing an integrated audience at her appearances. In 1963, Joan Baez sang "We Shall Overcome" at the March on Washington. In 1965, she joined Dr. Martin Luther King, Jr. during the Selma to Montgomery marches in Alabama. On stage, Baez reflected on the Birmingham church bombing during that era and followed with a stirring rendition of "Birmingham Sunday," written by Richard Fariña. She explained how inspirational heroes such as Paul Robeson and Marian Anderson helped form her political philosophy at a young age. She then performed the traditional spiritual song, "No More Auction Block" and an emotionally charged version of "Ain't Gonna Let Nobody Turn Me Around," a civil rights standard with a long history.
Some of Joan Baez's most enduring songs were featured in her final New York City concert, including "Gracias a la Vida" (Violeta Parra), "Lily of the West" (traditional folk song, arrangement by Joan Baez), and "Honest Lullaby" (written by Baez for her son, Gabriel Harris). Her essential 1975 classic "Diamonds and Rust," a reflection of her turbulent relationship with Bob Dylan, was met with rousing applause. The singer's latest album is titled Whistle Down the Wind. Selections from that album featured in concert included Mary Chapin Carpenter's "The Things That We Are Made Of," Josh Ritter's lyrically dark but affecting "Silver Blade," and the title track, "Whistle Down the Wind," written by Tom Waits, concerning a young man from a small town who yearns to see the world.
As the evening neared its finale, it was evident Joan Baez, now 78, will still be a voice for progress and human rights even as her touring career comes to a close. Her four-song encore included Dylan's "Forever Young," Paul Simon's "The Boxer," John Lennon's "Imagine," and the American folk song "Dink's Song: Fare Thee Well."
Emotion filled the crowd as Joan Baez's spirit, humor, and inspiration made this night a celebration to remember. On the sidewalk outside the Beacon Theatre, admirers gathered following her performance. Joan Baez, an icon of folk music and progressive activism, demonstrated what we already knew. She is in solidarity with the people. Joan Baez took time on a chilly spring Manhattan night to greet fans and shake hands, showing us all she is one of us.
The Joan Baez "Fare Thee Well" tour will now carry on to Europe for her final scheduled concert dates. The songs will live on. The causes live on. The hope lives on.