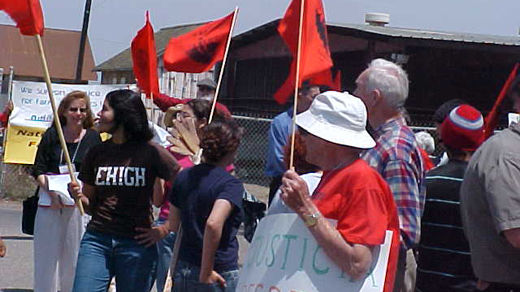 On Tuesday, farm workers launched a 13-day, 200-mile march, through California's rich agricultural Central Valley to the State Capitol in Sacramento.
Their mission? Enactment of the Fair Treatment for Farm Workers Act and the right to be paid overtime after 8 hours a day, 40 hours a week "just like any other worker," the United Farm Workers (UFW) union announced.
The UFW is encouraging their supporters to join the marchers in person or virtually from anywhere in the country by signing their petition.
They are demanding Democratic Gov. Jerry Brown sign the bills, which are expected to be introduced soon and then approved by the majority Democrat legislature.
Two months ago, the governor vetoed an earlier version of the Fair Treatment act, which would have given farm workers the option to gain union recognition from an employer by signing a majority of cards showing preference for the union.
The union said the new revised "majority sign up bill would give the workers an alternative to the current system – which grower fear tactics has turned into a mockery."
The union charged that the present system for organizing farm workers into the union, by way of elections, is rife with "intimidation and threats" by employers.
In addition, the UFW said that hundreds of farm workers have waited more than a year for the state Agricultural Labor Relations Board to certify the elections in which the workers voted for union representation.
Two months ago, the union reported more than 1,000 farm workers held vigils, fasted and rallied – in many cases risking their jobs – in an effort to lobby the governor and expose the conditions under which they're being forced to work.
Without these bills, the union said farm workers would continue to be exposed to "unbearable conditions and pressure."
The violations cited by the union include:
No access to shade, water, heat training and breaks during the hot summer months.
Wage and hour violations.
Overexposure to pesticides.
Sexual harassment.
Lack of sanitation and lax safety standards.
"I'm very upset," said Maria Escutia, who has labored in the table grapes sector for more than a decade. "We work in dangerous conditions. In the heat, in the cold and we deserve to be treated better without being intimidated. We deserve the right to benefits. We deserve this and more?"
Escutia is one of approximately 50 full-time marchers who will be joined by farm workers and community supporters as they make their way to the state capital, where they will be met by thousands of farm workers on September 4, during Labor Day weekend, the union said.
Photo: Creative Commons 2.0