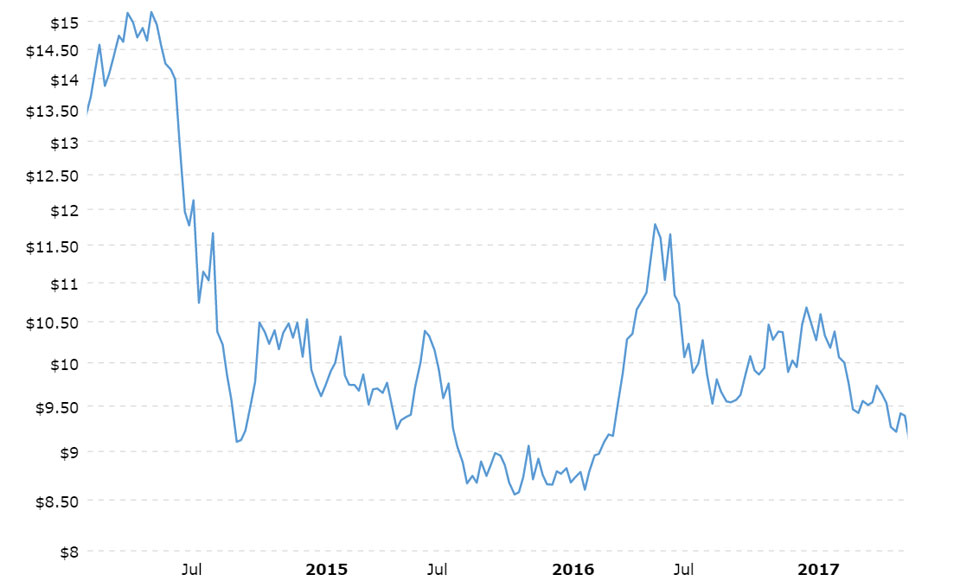 The economic ceasefire between the U.S. and China was short-lived.
Last week, the Trump administration slapped another ten percent tariff on $300 billion of Chinese goods, and further escalated tension between the two nations by labeling China a "currency manipulator" Monday, Aug. 5, after China allowed the value of its currency to fall seven yuan per U.S. dollar.
In response to Trump's tariff salvo and labeling, China announced the cancelation of all U.S. agricultural products.
"This is a serious violation of the meeting between the heads of state of China and the United States," the Minister of Commerce says in a statement Monday.
China's Ministry of Commerce also said it would not "rule out" import tariffs on newly purchased agricultural goods after Aug. 3.
"The relevant Chinese authorities indicated that China has a large market capacity and a bright prospect for importing high-quality agricultural products from the United States," said China's Xinhua news. "However, it is hoped that the US will conscientiously implement the consensus reached at the meeting between the heads of state of China and the US, and have the confidence to implement the commitments to create the necessary conditions for cooperation in the agricultural fields between the two countries."
So, what is a "currency manipulator?"
The U.S. treasury has a three-pronged test determining whether a currency is depreciating or being manipulated: it must be a net lender to the rest of the world (account surplus), it must be a net exporter relative to the U.S. (trade surplus), and it must be determined that the country levers its currency "for gaining unfair competitive advantage in international trade."
In this most recent use of the symbolic status, the U.S. argues China actively let its currency fall to make it more expensive for U.S. businesses to sell goods to Chinese buyers, offsetting the pain caused by the new round of U.S. tariffs.
There is no clear answer as to whether China did or did not manipulate their currency, and for now, China's guilt or innocence depends on what side of the political spectrum you're on.
Either way, this is an economic war with escalating levels of aggression leaving behind a trail of civilian casualties.
Farmers take the hit…again.
Agriculture has become the trade war's choice target for two reasons: It dents overall U.S. gross domestic product, and, more importantly, directly impacts a large swatch of Trump supporters and corporate farming companies that tend to be Republican donors.
Trump has made many promises to Midwest farmers and fulfilled few of them. He claimed he'd secured a large purchase deal for agricultural goods with China after meeting with President Xi Jinping at the June G20 summit, then accused China of nothing following through—leading to this new round of tariffs.
It is a tit for tat which won't end until after the 2020 elections, and a calculated risk by the Trump administration to be seen as the "saviors of American farmers."
Case in point, Trump's Tuesday, Aug. 6 tweet: "As they have learned in the last two years, our great American Farmers know that China will not be able to hurt them in that their President has stood with them and done what no other president would do-And I'll do it again next year if necessary."
There is as much political for value in this for Trump and for China.
Outside the political talking points and campaign rhetoric, the reality is grim for farming families.
With China pulling out of buying U.S. agricultural goods, farmers here are losing their fourth-largest customer. In 2018, China made up $5.9 billion in U.S. farm product exports according to the U.S. Census, and as the world's top buyer of soybeans, China purchased nearly 60 percent of U.S. soybean exports.
Today, farmers can expect $8.70 per bushel of soybeans sold. Since last year the soybean price index has consistently fluctuated with the highest per bushel price being $10.71 February 26, 2018.
From September 2017 to May 2018, soybeans exports to China totaled 27.7 million tons. That number dropped by more than 70% to 7 million tons during the same nine-month period in 2018 and 2019, according to an analysis by the University of Missouri.
On top of the trade war, farmers faced floods, and African swine fever this year, too, slowing demand for soybean and farm goods feed on.
All of this being just another "body blow to thousands of farmers and ranchers who are already struggling to get by."
Former Iowa Lt. Gov. Patty Judge echoed what many farmers have previously said: "Farmers want to have a fair profit at the end of the year— they would like to do that in the marketplace rather than through a government program."
Trump may think slapping a bandage on agriculture's economic wound through a bailout package will be enough to keep potential voters happy, but it's only delaying the inevitable: another massive failure by the "great businessman" who couldn't care less about working people.