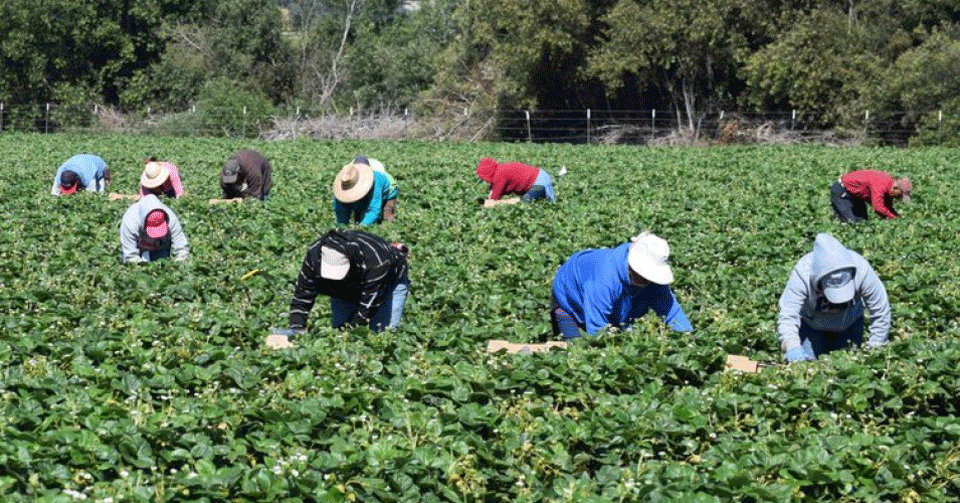 WASCO, Calif.—Daniela Gonzalez Mejia is free of the coronavirus now. But "some of my family are battling it," she says. All got sick, thanks to her employer, Primex Farms, and its inaction on protecting workers from the worldwide pandemic. And so have 76 of her colleagues, so far.
So Gonzalez Mejia and other workers at the 400-employee 5,000-acre almond and pistachio grower staged a one-day strike on June 25. And now they're taking their complaints public.
In a zoom press call organized by the United Farm Workers, the Primex workers said they learned about sick colleagues by word of mouth in restrooms. They said Primex doesn't give workers time to wash their hands or enforce social distancing to battle the virus. And the sanitizers in the company cafeteria are watered-down, literally, one worker said.
All in the name of profits and production, one worker quoted the farm manager as saying.
The Primex workers are not alone. They and other farmworkers nationwide are among the nation's most "essential" workers, because they provide the food for all of us to eat. They're also among the most vulnerable to the coronavirus pandemic.
As of 9:30 p.m. on July 1, the coronavirus had infected 2.685 million people in the U.S. and killed 128,044  the most-authoritative data, from Johns Hopkins University, said. Another 729,994 of the infected recovered. Among them were 4,768 infected people in Kern County, Calif., home of the Primex farms. Of that group, 76 are dead and 3,401 have recovered.
And a Washington state study of 7.356 coronavirus sufferers, by occupation, from January through May 5, showed agriculture and related industries accounted for 368, or 6% of all coronavirus cases there. That's double that sector's share of the workforce. The only sector with a worse ratio was the one with the largest share of ill workers: Health care and social assistance. It had 37% of all ill workers, triple its 13% share of the workforce.
Primex has done little to protect its workers, United Farm Workers Secretary-Treasurer Armando Elenes said in a June 29 Zoom press conference call. The firm takes workers' temperatures before sending them off to buildings or into the fields, and that's about it.
Personal protective equipment (PPE), particularly protective masks, appeared only recently, the workers said. Before that, when worker Veronica Perez bought face masks and distributed them for free to her colleagues, company human resources personnel asked her if she was selling them. She said "no." Now it does so, for $8 a mask.
And when the workers struck, the company closed the farm buildings for what it claimed was "deep cleaning" against the virus. It turned out to be a standard disinfection against pests and parasites, done every three to four months. The workers want a specialized outside firm, which knows how to deep-clean plants against the virus, to do so.
Primex also claims only 31 workers are infected, but a worker-by-worker survey by UFW puts the number at least double that, said Elenes, who organized the call and often served as translator.
He didn't need to translate for Gonzalez Mejia.
"I have family and some got infected from me because Primex didn't let us know there were COVID-19 cases" among its workers, she explained, using the virus's official name. And she didn't know she had it, until her test came back positive, because she was asymptomatic. She's also not alone in that, either.
After some confusion, the World Health Organization now says that at least 40% of coronavirus carriers test positive but are asymptomatic i.e. they have the virus and can transmit it to others but don't have symptoms such as coughing, trouble breathing or a high fever.
Even more telling, antibody testing of sailors on the USS Theodore Roosevelt shows 80% of the seafarers tested positive for having had the virus and defeating it. The Navy previously fired the carrier's captain for warning about the threat of community spread of the virus among his sailors. He was right.
"They didn't protect us with social distancing," Gonzalez Mejia added. "There's not enough space" in indoor plants where the workers prepare the nuts for shipment "to keep us separated by the six feet" federal health officials recommend as one way to battle community spread of the virus.
"We all eat at the same tables" in the Primex cafeteria. "We have one seat in between each of us, but that's not six feet, either. And they mix the sanitizers there with water."
"When I first developed symptoms, my supervisor downplayed it," added maintenance man Remiglio Ramirez. Primex told him they'd let him know his own test results, but in the meantime told him, "This is not it."
It's not just the farmworkers themselves who are getting sick, either, the Primex workers said. It's their kids – 33 so far, including a nine-month-old baby. "Now my wife, my daughter, and everyone else in my family is infected," said Ramirez.
Primex is only making a bad situation worse by bringing in replacement workers for its ill employees, from the outside and through labor contractors, a common tactic growers use to exploit workers in the nation's farms and fields.
Workers directly employed by Primex itself get vacation time and some sick leave, due to UFW. They can use the time to battle the virus they contracted. Those brought in by the contractors don't have that vacation time and sick leave.
The situation "is very difficult. The company started bringing in more and more workers," said Patricia Camacho, speaking through translator Elenes. "I talked to Angie and Mike in human resources and told them 'There are too many workers here,'" Camacho added. "They said the general manager wanted it because production was important."
UFW is publicizing its case at Primex, but it's still gathering more data about conditions in the fields before it goes for political support and approaches state officials, Elenes said. But it's already talked with staffers for three U.S. House committees that deal with agricultural issues about the coronavirus threat that farmworkers in general, and the Primex workers in particular, face.
"We're helping the workers with what they want. They're very focused on their safety and on the (company) promise that they'd shut down" for the deep cleaning, he said.
Like free stuff? So do we. Here at People's World, we believe strongly in the mission of keeping the labor and democratic movements informed so they are prepared for the struggle. But we need your help. While our content is free for readers (something we are proud of) it takes money—a lot of it—to produce and cover the stories you see in our pages. Only you, our readers and supporters, can keep us going. Only you can make sure we keep the news that matters free of paywalls and advertisements. If you enjoy reading People's World and the stories we bring you, support our work by becoming a $5 monthly sustainer today.