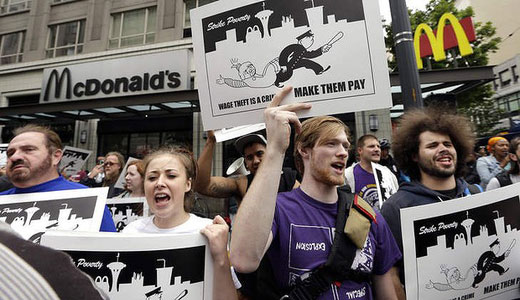 If you go to your local McDonald's, or Wendy's, or KFC or Burger King on August 29, you may find something unusual: A picket line. And as one New York Times food columnist wrote last month, "If you want to show support, don't cross it."
And the same caution applies if you drop in at a major retailer – Macy's is prominently mentioned – to take advantage of a "pre-Labor Day sale." More pickets.
That's because hundreds of thousands of fast food and retail workers nationwide, fed up with minimum-wage jobs with no benefits and no advancement, plan to strike that day. And they're drawing enthusiastic support from the nation's unions.
The planned one-day national strike builds on one-day strikes by fast food workers that started late last year in New York City and gradually spread to other cities this year. Some retail workers have joined the crusade.
All are arguing for the same goals: A $15 hourly minimum wage – double the $7.25 federal minimum they now get – to lift themselves out of poverty, and the right to organize and join unions without management interference.
"We've had enough of struggling to get by on minimum wage or barely more, so we're walking off our jobs to demand $15 an hour and the right to form a union without retaliation," the workers said on one of their main websites, www.lowpayisnotok.org.
Seattle Burger King worker Terrance Wise told the Fox TV affiliate there that the nationwide strike highlights the low wages in the profitable, $200 billion industry. "The more of us who go on strike that day, the louder our message will be that it is not right for companies making billions in profits to pay their workers pennies," he explained.
Retail workers from Macy's, Sears and Dollar Tree are expected to join in the strike, lowpayisnotok said. And on August 22, a week before the national walkout, workers from Walmart, the nation's largest – and low-paying – retail monster, hit D.C. to campaign for a proposed living wage ordinance there. Walmart had D.C. police arrest 10 of them who demonstrated outside its lobbying offices downtown.
The ordinance orders non-union "big box" stores in Washington to pay at least $12.50 an hour. The city council passed it, but Mayor Vincent Gray, D., is dithering, due to a Walmart threat to stop erecting six stores in low-income areas of the capital.
The wage and benefit gains are important: Federal forecasts show fast food work is one of the nation's quickest-growing job sectors, as well as one of its lowest-paid.
And some 70 percent of fast food workers are breadwinning adults, trying to feed families.
The right to organize is important, too. Economic Policy Institute President Lawrence Mishel said in a telephone press conference on U.S. wage data that the right to organize and bargain was the great driver of creation of the middle class after World War II, as it forced firms to raise workers' pay in return for rising productivity.
"Fast food workers are standing up for all of us, because conditions are exactly the same" in that industry as in other underpaid groups, Service Employees President Mary Kay Henry told Salon.com. SEIU has been a key funder of the grassroots local groups that have in turn organized the fast food and retail workers nationwide. "It's really a privilege for us to support them."
But even Henry admits to being surprised at how quickly the fast food workers' movement has spread. It's even invading the anti-union South, she notes.
The movement has already raised awareness among the rest of the country of the plight of the fast-food workers. It's also affecting at least one political race: The mayoral contest in Seattle.
There, a blog reports, the six contenders for the open seat have all said a $15 city minimum wage should be considered.
"The strike will take place the day after the 50th anniversary of the March on Washington, a march that called to raise minimum wage of $2 per hour," the Teamsters said in urging members to support the fast food workers. "Adjusted to inflation, that would equal $15.26 an hour today.
"The federal minimum wage in 1963 was $1.25, which would equate to around $9.45 today. You can support the fast food strike by signing the petition — or brown-bagging it on August 29. Or you could join them on a strike line in your city."
And Steel Workers President Leo Gerard had a world of fun with McDonald's advice to its workers on how to survive on the firm's minimum wages. The company, whose CEO earned $13.8 million last year, told its workers in a proposed "budget" that they should get second jobs, use Medicaid, live in public housing – and not eat.
"More money would work so much better for McDonald's employees," Gerard said in a blog. Higher pay is better than company CEO Don Thompson's "recommendation they forego food or rely on food stamps. And welfare. And public housing. And Medicaid. That's the real McDonald's budget. Like other employers paying minimum wage or slightly more, McDonald's leans on taxpayers to subsidize the payroll.
"There's trouble in real-life McDonaldland now," as the workers walk out again and again, Gerard added.
Photo: Workers demand decent wages and benefits at a McDonald's in Seattle. AP