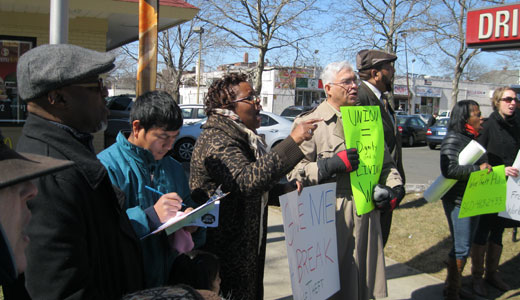 "Hold the burgers, hold the fries. Pay our wages, no more lies."
NEW HAVEN, Conn. – Elected officials, clergy, community, and union members joined in a spirited protest outside the McDonalds in this city's Fair Haven neighborhood Mar. 18.
Just days after the filing of class-action lawsuits in three states claiming that McDonald's is deliberately and systematically stealing employees' pay, workers here and in Hartford, Conn. joined people in 40 other cities nationwide to demand that the burger giant stop stealing wages.
The lawsuits contend that employees at McDonald's have been forced to work off the clock through breaks, slashing hours off their time sheets and dollars off their paychecks – in many cases pushing wages below the $7.25 hourly federal minimum.
"I have worked off the clock" said Kevin Cottes. "That happens to everybody in fast food. That's why I'm out here today," said Cottes, who has worked for Subway for two years and still earns Connecticut's minimum wage of $8.70 an hour. "I don't get breaks. I don't get sick leave. I can't afford to take a vacation," he says. His work schedule varies from week to week. Cottes got involved with fast food workers' organizing, he said, when customers told him, "You work too hard."
While the protest targeted wage theft – failing to pay employees for working through breaks or extra hours – low pay and lack of union representation were also highlighted by the protesters.
Santiago Berrios-Bones, who represents the neighborhood around the McDonalds on the New Haven Board of Alders (City Council), told the crowd, "Workers need a raise to make it in this economy and we support them." Two other members of the Board of Alders also attended.
Union and community leader Rev. Scott Marks spoke of the undocumented workers in the Fair Haven neighborhood who, he said, "…live in the shadows. But all humans have rights. Eight dollars an hour is not enough. You can't feed your children on eight dollars an hour. You can't pay the rent on eight dollars an hour. You can't raise families on eight dollars an hour."
In New York yesterday, McDonald's workers and supporters poured into the burger giant's outlet near the Empire State Building chanting, "Every nickel, every dime, we deserve our overtime." One demonstrator dressed as Ronald McDonald, was put in handcuffs and "arrested" by fellow workers right at the cash registers in front of the store.
Outside the store workers and their supporters spoke before TV cameras. New York City public advocate Letitia James, standing next to "Ronald McDonald," declared her support, saying "It's hard enough for fast food workers to survive in this economy" without having to contend, in addition with wage theft. James said she is planning to introduce legislation to establish a hotline to report wage theft.
On the same day that the workers in New York were protesting New York Attorney General Eric Schneiderman announced that one McDonald's franchisee, Richard Cisneros, had settled for $500,000 after failing to reimburse workers for laundering their uniforms. Workers say that many other franchise owners continue to get away with the type of wage theft Cisneros was practicing.
The actions on wage theft are part of a continuing effort by grass roots workers groups like Fast Food Forward and Fight for 15 to build support for a pay raise to $15 an hour.
The Service Employees International Union and other labor unions have been backing the campaign which began in 2012.
McDonald's, which has more than 14,000 locations across the country, has not outright denied that there may be some wage theft occurring. The company says it is planning to "investigate" the matter.
A hotline number is available in Connecticut for anyone experiencing wage theft – 860-469-2433.
Photo: New Haven, Conn. elected officials and community activists join fast food workers protesting low wages and wage theft at McDonalds. Art Perlo/PW