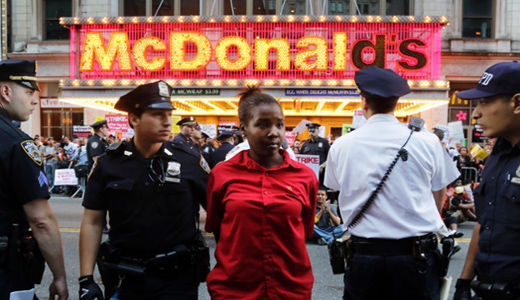 CHICAGO – Fast food workers walked off the job from one end of the country to the other today, with police arresting hundreds of workers engaging in civil disobedience. The walkouts happened in some 190 cities, reflecting a major escalation of the ongoing campaign to raise base wages in the fast food industry to $15 an hour.
In New York, Chicago, and Los Angeles workers put down their tongs and spatulas, walked out of their restaurants and formed picket lines after picking up huge cardboard signs emblazoned with the demand for $15 an hour.
In New York some 500 demonstrated outside the Times Square McDonald's. Police said they arrested 20 of the demonstrators for sitting in the street and blocking traffic.
Workers in many of the other cities too, joined by community supporters, supplemented the picket lines in front of the fast food outlets with acts of civil disobedience for which hundreds were arrested. The civil disobedience often took the form of sit-ins in the middle of busy streets and intersections.
"Civil disobedience is the only way to make the point dramatically to get $15 an hour and a union," said Kendall Fells, an organizer for Fast Food Forward. Many of the workers noted that they were carrying on an "American tradition." Civil disobedience, they said, was a feature of many historic movements in the history of the U.S. including the labor, civil rights, and peace movements.
McDonald's tried to plead innocent in the low-wage scandal that sees most fast food workers making barely the federal minimum wage of $7.25 an hour. The company issued statements saying that its stores are owned by small and "medium-sized" owners. "We believe any wage increase has to be stretched out over time so that the impact on them would be manageable," McDonald's said in a statement.
Workers discount such claims pointing to the fact that in countries where McDonald's workers have unions the company pays much more – wages in Denmark and Germany, for example, are often close to $20.00 an hour.
Strikers began to gather early here at the Rock and Roll McDonald's on Clark Street and at major stores in over 150 other cities. Wendy's and Burger King outlets here and across the country were also involved. By 7 a.m. ET police had already arrested some 20 strikers at Times Square in New York and several dozen in Detroit.
In Kansas City workers walked out of 60 restaurants with more than 50 arrested within ten minutes of having sat down and linked arms in an intersection in front of McDonald's. As the workers were arrested hundreds of community supporters stood and watched and chanted "15 and a union."
Demonstrators, after arrest, were frequently loaded into police vans and shipped off for processing.
A worker arrested in Chicago who said the company has him doing the work of a qualified appliance repairman for $11 an hour said he was striking for the future of his daughter, a full-time college student. He and his daughter, he said, had to move recently when they were evicted for non-payment of rent.
Photo: Police officers arrest a protester in front of a Times Square McDonald's restaurant. | Mark Lennihan/AP