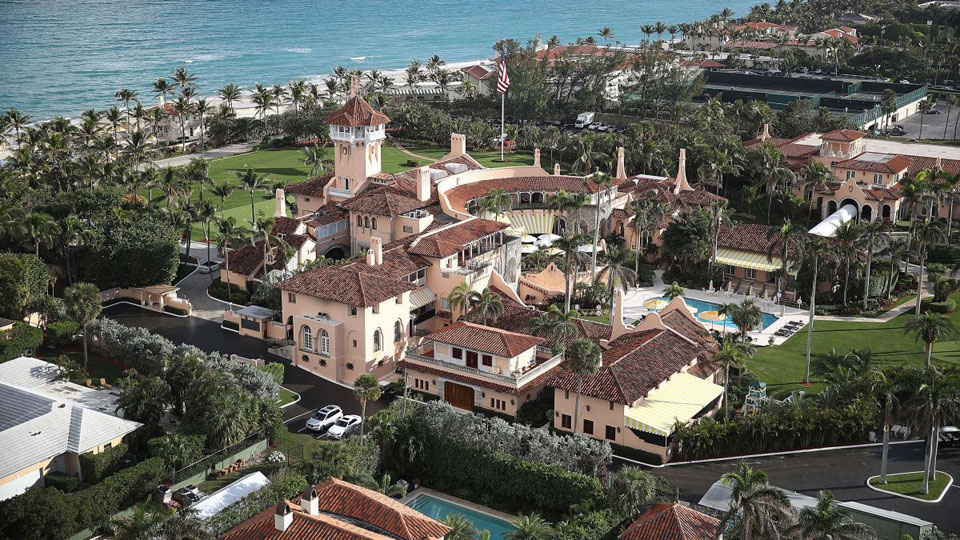 PALM BEACH, Fla.—The law is moving ever closer to Donald Trump for his crimes before, during, and after his tenure in the Oval Office.
The latest move came on August 7, when FBI agents, acting on a search warrant authorized by a federal judge, raided Trump's Mar-a-Lago estate and carted off sensitive classified documents there which he illegally took away from the White House.
"To have a visit like that, you need a warrant. To have a warrant, you need justification. And it says no one is above the law, not even a former president," a surprised House Speaker Nancy Pelosi, D-Calif., told MSNBC on August 8 after seeing a news flash on her phone.
"This is one of the most significant, sensitive, and politically explosive actions the U.S. Justice Department and FBI have ever taken—one of a tiny handful of times it's ever investigated a president. Bottom line: The FBI & DOJ must've known they had the goods," historian Garrett Graff tweeted on August 8.
"A search warrant means an independent federal judge ALSO signed off on the probable cause and, independently, believes evidence there was likely a crime committed AND that more evidence would be found at Mar-a-Lago. That's huge too."
Trump, who was in New York at the time, confirmed the raid and denounced it. But his son Eric, who also confirmed and blasted it, added it involved sensitive and classified documents.
Trump sycophants among congressional Republicans, led by golfing buddy Sen. Lindsay Graham, R-S.C., and House Minority Leader Kevin McCarthy, R-Calif., who believes voters will hand him the Speakership in November, denounced the raid. They conveniently overlooked their own hypocrisy in demanding the FBI investigate and raid former Secretary of State Hillary Clinton's e-mails in 2016.
Clinton lost that electoral vote count to Trump. The FBI's e-mail disclosure, just before the election, deepened voter doubts about her, notably in key swing states.
Trump's removal of the classified documents violates the Presidential Records Act of 1978, the post-Watergate law enacted to preserve presidential papers, memos, speeches, recordings, and any and all other material by ordering departing chief executives to turn every record of any type over to the National Archives.
That law was enacted so former Republican President Richard Nixon couldn't remove —and burn—his secret tapes, including the ones that exposed him ordering the Watergate coverup which drove him from office in 1974.
But the FBI raid isn't the only probe that's moving ever closer to Trump:
The House Select Committee investigating the Trumpite—and Trump-approved–Jan. 6, 2021 coup d'etat invasion and insurrection at the Capitol has amassed hundreds of thousands of items of evidence and interviews showing his multi-layered conspiracy to retain power even though he lost the 2020 presidential election to Joe Biden.
Committee member Elaine Luria, D-Va., a 20-year combat veteran before coming to Congress, bluntly says Trump violated his oath of office to "preserve, protect and defend the Constitution of the United States"—the same oath all military officers and lawmakers, including her, take. She calls his actions "dereliction of duty."
Archives officials previously went to Mar-a-Lago in early 2022 to retrieve boxes of miscellaneous material—memos, mementos, and more—Trump carted away when he left the White House. The Presidential Records Act mandates the preservation and turnover of everything, even banquet menus, and tweet texts, to the Archives.
Witnesses told the House committee Trump often tore up documents while he was in the White House. Aides, realizing that broke the law, would gather the pieces and tape them back together.
Moving ever closer to Trump, Fulton County, Ga. (Atlanta) prosecutor Fani Willis had a grand jury subpoena both Graham and Trump attorney Rudy Giuliani to answer questions about Trump's pressure on Georgia Secretary of State Brad Raffensperger to "find 11,780 votes," all of them imaginary, needed to overturn Biden's win in the key swing state. Both are resisting the subpoenas.
But the subpoenas indicate Willis is ordering Trump's inner circle to testify. Graham is a Trump confidant who placed his own phone call to Raffensperger about trying to overturn the election in the Peach State. Giuliani was a key actor in the "War Room" Trump set up in the Willard Hotel, blocks from the White House, to concoct the seven-layered plan to keep Trump in the Oval Office.
The Washington Post reported, in a larger article about the FBI raid on Mar-a-Lago, that a federal grand jury in D.C. is also "gathering information" about the Trump team's efforts to substitute fake electors from key swing states—Arizona, Georgia, Pennsylvania, Michigan, Wisconsin, New Mexico, and Nevada—before the Jan. 6, 2021, official electoral vote count confirmed Biden's victory. The coup d'etat and invasion delayed the count for many hours.
At least one of those efforts came close to fruition that morning before the invaders trashed the Senate. A top aide to Sen. Ron Johnson, R-Wis.—without his knowledge, he says—planned to hand the "certification" of that state's fake Trump electors to Vice President Mike Pence. Aides to Pence, who had made clear he would abide by the Constitution and reject such fakes, refused to take them.
New York Attorney General Letitia "Tish" James is continuing her investigation of Trump's falsification of financial records and outright lies to both the state revenue department and to his bankers when seeking loans to buy his golf clubs and hotels around the U.S., and when seeking a special preservation tax easement for his Westchester County estate. Those crimes preceded and spanned his time in the White House.
James is soldiering on even though new Manhattan DA Alvin Bragg first closed that office's parallel probe of Trump's taxes, over the protests of Mark Pomerantz and Carey Dunne. Bragg said he doubted he could indict Trump. The two, who resigned in protest, were the assistant DAs who co-led the probe and contend there's a powerful case against Trump for tax fraud. In April, Bragg backtracked, saying the investigation continues—but he's shut up since.
The New York investigation is a joint civil and criminal investigation, James wrote to Eric Trump, now the technical head of the Trump Organization—the family firm—in February 2021. A judge in State Supreme Court in Manhattan has ordered Trump, Eric Trump, and Ivanka Trump to testify before a grand jury and to stop withholding needed documents.
All of this puts more pressure on the Biden administration's Justice Department to indict Trump for multiple crimes while he was in office. Attorney General Merrick Garland is sticking to building a methodical, up-from-the-bottom airtight sedition case for his prosecutors, instead—using lower-level indictments and convictions, starting with the Capitol invaders, to work his way upwards to big fish, topped by Trump.
The latest warning came from the Select Committee's Vice Chair, Rep. Liz Cheney, R-Wyo., a fervent Trump critic who may pay a political price at the polls on August 16. That's primary day in deep-red Wyoming. He's endorsed and actively backs a primary challenger to Cheney, who trails by double digits, percentage-wise, in polls—because Wyoming went for Trump in 2020, 69.9%-26.6%, the largest margin in any state.
That doesn't stop Cheney.
Trump "is guilty of the most serious dereliction of duty of any president" in U.S. history, Cheney told CNN interviewer Cassie Hunt on August 4. The select committee "will continue to follow the facts," as will the Justice Department, she added.
"Understanding what it means if the facts and the evidence are there and they decide not to prosecute, how do we then call ourselves a nation of laws?" Cheney asked, in an echo of the statement of the first Watergate Special Prosecutor, Archibald Cox, in 1973.
"The question is: 'Are we a nation of laws?'" Cheney continued. "Are we a country where no one is above the law? And what do the facts and the evidence show?"
Cox's statement occurred after the infamous "Saturday Night Massacre," where Nixon got Solicitor General Robert Bork to fire Cox—after Nixon's AG refused and quit and the deputy AG refused to fire Cox and Nixon fired him. After Cox was canned, FBI agents ringed the special prosecution offices.
"Whether ours shall continue to be a government of laws and not of men is now for Congress and ultimately the American people to decide," Cox said then.