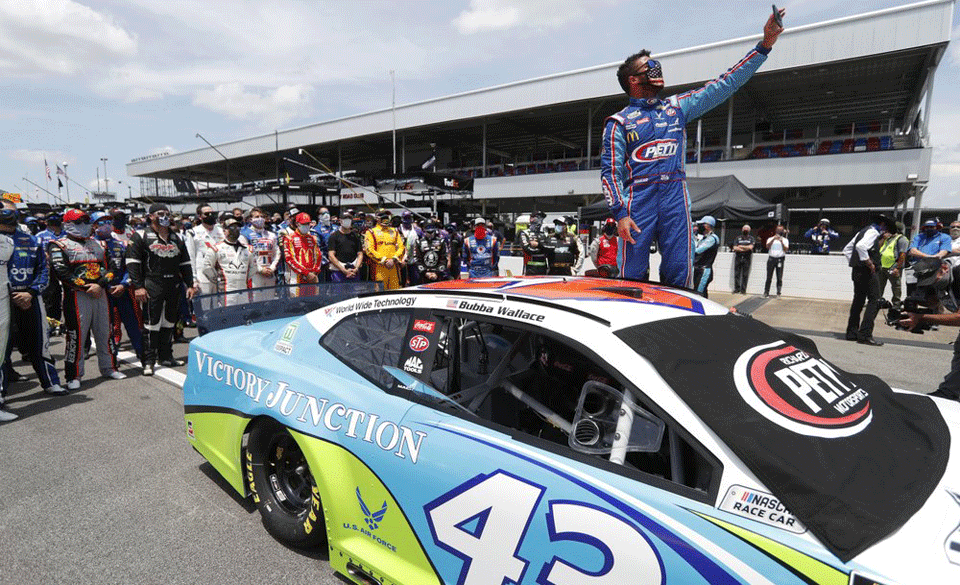 The scene of Bubba Wallace sitting behind the steering wheel of the No. 43 as NASCAR champion Kyle Busch and Wallace's close friend Ryan Blaney pushed it forward on either side followed by the other 40-drivers and their pit crews was a beautiful sight to behold.
As No. 43 slowly rolled to a stop, Wallace climbed out, sat on the driver-side window ledge, and cried.
It was a moment of solidarity for NASCAR—a predominately white sport—just days after federal authorities descended upon the Talladega Superspeedway to investigate the discovery of a noose hanging in Wallace's garage stall.
"The news has disturbed us all, and of course we want justice and know who and why," said seven-time NASCAR champion Jimmie Johnson. "And we want to stand with our friend."
Immediately after the noose was discovered, and reported to NASCAR President Steve Phelps, NASCAR launched a full-scale internal investigation and enlisted the help of the Federal Bureau of Investigations.
And, it wouldn't be so farfetched to think that someone or a group of someones would feel emboldened to act out in a racist manner, especially with Wallace's calls to ban the Confederate flag, only to be followed by NASCAR's decision to do just that.
On Tuesday, U.S. Attorney Jay Town and FBI Special Agent in Charge Johnnie Sharp Jr. said the investigation found no hate crime was committed as the rope had been hanging in the stall since at least last October. They also determined that "nobody could have known Mr. Wallace would be assigned" to the garage in question, and NASCAR confirmed it was the lone garage with a pull-down rope that resembled a noose.
The announcement should have come with a nationwide sigh of relief. Instead, the finding of "no-hate" crime has led several conservative social media commentators—now NASCAR and race-related issues— to take to twitter claiming "it was staged similar to the Jussie Smollett issue, and is being used by fake media to destroy America."
I'm not kidding.
"How telling that these days they have to stage beatings & make up noose stories to prove racism. How rare racism must be that it has to be invented to prove the point! If racism were pervasive, would any of this be necessary? #BubbaSmollett," tweeted conservative author and No. 1 Trump supporter Dinesh D'Souza.
He later went back saying that it wasn't the same as the Jussie Smollett incident, but never apologizes, nor attempts to understand any other viewpoint as to why this now non-hate crime is still disturbing given the current political and law enforcement climate.
Instead, he just keeps tweeting out Trumpian nonsense: "I just found a KKK hood in my bedroom. Wait! That's a pillowcase #BubbaWallace"
I mention D'Souza because he's a perfect example of what not to be, and how not to react in these moments of national crisis, and gives us all a clear view into the grand political divide here.
Bubba Wallace, frustrated by the outrageous reactions from the more "conservative" public, said during a Wednesday morning interview: "I was relieved just like many others to know that it wasn't targeted towards me, but it's still frustrating to know that people are always going to test you and always just going to try and debunk you and that's what I'm trying to wrap my head around now."
He went on to say that people are now calling him "fake" and are wrongly giving him credit for discovering the noose, which is not the case.
Wallace only found out when Phelps called and told him. Wallace never saw the rope.
And for the only full-time Black driver in NASCAR, having seen the photos of the rope the only logical conclusion was "it's a straight up noose" Wallace said Tuesday night when speaking with CNN's Don Lemon.
"I talked to my crew chief about it. … I wanted to make sure we weren't jumping the gun," Wallace continued " … It was a noose. Whether tied in 2019, or whatever, it was a noose. So, it wasn't directed at me, but somebody tied a noose."
Not to mention, however, that regardless of how the noose got there, or possible racist message it could've attempted to convey, anything that even remotely hints at a racist act, or hate-crime should be immediately condemned and investigated; that's the cold hard truth in all of this; and if anyone were to think otherwise, I would ask you take a hard look at yourself, and your moral values.
Both Wallace and NASCAR are firmly standing by their responses to this incident.
Taking to Twitter Wednesday afternoon, Wallace said it has been an emotional few days, and he expressed sincere relief that the investigation revealed no racist malice, "what we feared it was."
After thanking his team, NASCAR, and the FBI for quick action, Wallace said: "I think we'll gladly take a little embarrassment over what the alternatives could have been. Make no mistake, though some will try, this should not detract from the show of unity we had on Monday, and the progress we've made as a sport to be a more welcoming environment for all."
NASCAR thanked the FBI too for the quick and thorough investigation, and reaffirmed their commitment to "providing a welcoming and inclusive environment for all who love racing."
"The FBI has completed its investigation at Talladega Superspeedway and determined that Bubba Wallace was not the target of a hate crime. The FBI report concludes, and photographic evidence confirms, that the garage door pull rope was fashioned like a noose had been positioned there since as early as last fall," said NASCAR in its statement.