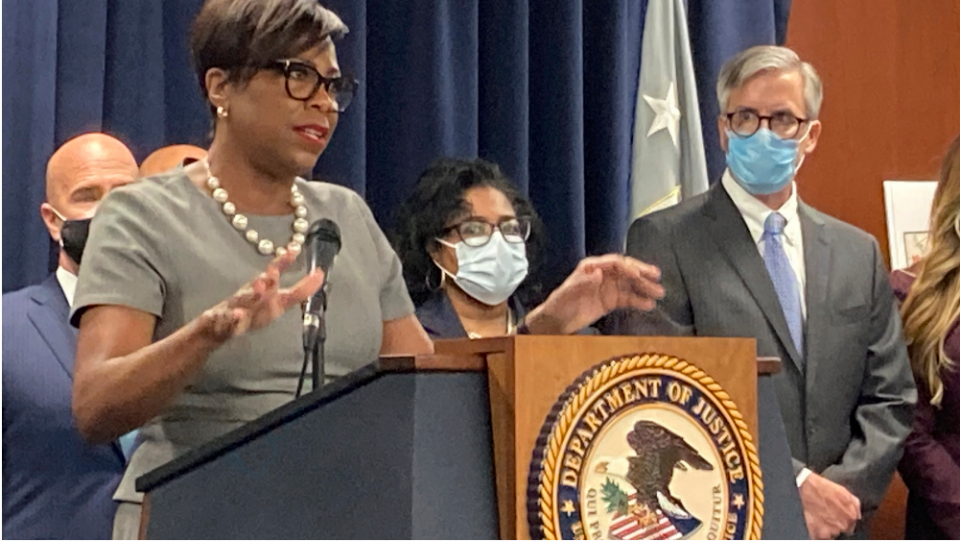 DETROIT—It was announced last week that a "targeted law enforcement initiative" is being launched in Detroit. The announcement came from U.S. Attorney Dawn N. Ison, Detroit Mayor Mike Duggan, Wayne County Prosecuting Attorney Kym Worthy, and Detroit Police Chief James E. White. The initiative is meant to focus on "hot spots," such as neighborhoods where violent crimes are highest. Topping the charts are the neighborhoods in Detroit's 8th and 9th precincts, which sit in Detroit's West and East Side, respectively.
The plan is part of the larger Project Safe Neighborhoods, an initiative the Department of Justice has put at the center of its efforts to reduce violent crime nationwide. The focus on these hot spots began on Memorial Day and is set to go until Labor Day.
The "hot spot" strategy holds that "felons arrested in one of the designated areas in possession of a firearm will be immediately prosecuted federally." In addition, any individual who "uses a firearm to commit a crime of violence or drug trafficking crime will also be considered for federal prosecution."
Such measures frame gun violence as something controllable, shifting the focus away from the fact that Black residents are already disproportionately affected by such initiatives. Data revealed earlier this year showed the racial disparity in nonviolent gun crimes in the city. Now that predominantly Black neighborhoods in the city are the targeted "hot spots" of federal enforcement, the results will undoubtedly have the same disparity.
Detroit City Council has also delayed a vote to expand ShotSpotter, a gunshot recognition technology already prevalent in the city, by an extra 28 miles. The expansion is set to cost $7.5 million, with an additional $1.5 million price tag for renewal of the current software.
Although advocates from the neighborhoods in the 8th and 9th precincts have called for the expansion of such technology, such as Sandra Turner-Handy, president of the Community Relations Council in the 9th precinct, not everyone is convinced.
"Our safest communities don't have ShotSpotter—they don't have the technology that endlessly surveils their people. We need to be focused on investing in solutions that address the root cause of crime, which studies have shown are poverty, mental health issues, and homelessness," said City Council Member Gabriela Santiago-Romero back in March. "The bigger concern is that as people are surveilled, there are those who are wrongly accused, and one person wrongfully accused is too many."
City Council's Public Health and Safety Standing Committee, chaired by Santiago-Romero, last week revealed that the cost of removing one gun from the streets is $5,837. The Detroit Police Department failed to appear during the committee meeting and has been reluctant to provide statistics yielded by ShotSpotter.
Although Detroit has yet to prove the usefulness of constant surveillance, other cities have reported ShotSpotter's effectiveness. However, at a time when gun violence is a constant anxiety, technologies like ShotSpotter and Project Greenlight focus on the wrong parts of gun safety. It's hard to not imagine how useless such surveillance equipment is during mass shootings or when the police have already arrived, let alone when a "good guy with a gun" happens to be the only armed person in the vicinity.
From local police departments all the way up to the federal government, the law has been efficient at shifting the focus of gun violence away from the common roots like poverty and a lack of resources (whether public funds or clean air and water) and onto the legalities of gun possession.
Even though gun violence continues to hold national attention and Congress just sent a limited legislative package to the White House, it's unrealistic to expect gun control laws to do all the heavy lifting when it comes to confronting this problem. Reimagining community safety must prioritize more than just existing gun laws, which did nothing to prevent Uvalde, and go beyond the new law passed in Washington last week.
Just as other euphemisms like "unskilled work," "non-essential employee," and even "non-voter" carry a hidden racial and class content, so too will the phrase "illegal gun possessions," and our leaders will repeat it endlessly. At the Project Safe Neighborhoods roll-out, Detroit Mayor Mike Duggan already gave a preview of what will become the standard political way of talking about such issues:
"I'm deeply appreciative to the U.S. Attorney's Office for implementing the new policy of having cases of felons found in possession of a gun in these precincts go immediately to federal prosecution."