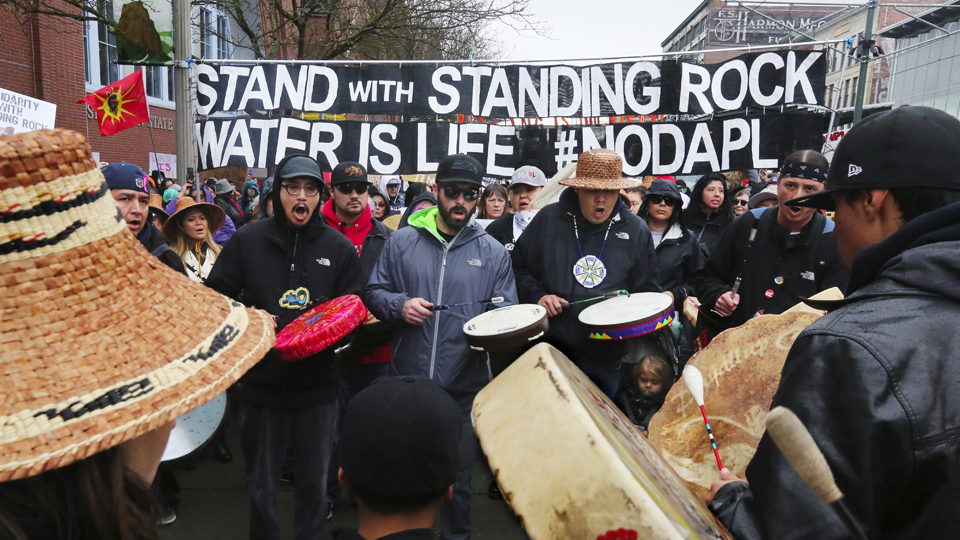 The Standing Rock and Cheyenne River Sioux Tribes celebrated a partial victory Wednesday when a federal judge ruled that the approval of the Dakota Access Pipeline by the Trump administration violated the law. However, the decision fell short of ordering a halt to the oil that now flows through the pipeline.
According to the 91-page document the federal permits authorizing the pipeline to cross the Missouri River failed to comply with the National Environmental Policy Act. The pipeline became fully operational June 1.  "To remedy those violations, the Corps will have to reconsider those sections of its environmental analysis upon remand by the Court. Whether Dakota Access must cease pipeline operations during that remand presents a separate question of the appropriate remedy, which will be the subject of further briefing. "
Cheyenne River Sioux Tribal Chairman Harold Frazier responded to the decision on the #NoDAPL lawsuit in an online video. "I want to thank all the people- all the water protectors who had stood up and had sacrificed, not only their homes… but there are some who really have paid a high price."  The court granted summary judgment in favor of the tribes on a number of critical issues, including the failure to consider impacts to the Treaty-based hunting and fishing rights; as well as the fact that the Corps' environmental justice analysis failed to consider spill risk. They also noted that the environmental analysis did not weigh the degree to which the project's potential effects could be damaging, as based on critiques from experts and other agencies.
For months now environmental specialists and water protectors have been raising serious concerns about the continuation of the pipeline, and the continued leaks. The Dakota Access Pipeline spilled an estimated 84 gallons of crude oil at a South Dakota pump station in May before it was fully operational, sparking outrage from a number of activists. The pipeline itself is a $3.8 billion pipeline project and extends 1,168 miles across North Dakota, South Dakota, Iowa, and Illinois. Much of the covered area crosses through communities, farms, tribal land. The Standing Rock Sioux Tribe asked the court to vacate the Corps' decision and discontinue the flow of the oil, however, they determined that that parties had not fully argued this issue. The courts indicated in the memo that they would like the parties to file additional briefs; but for now the oil will continue flowing.
Standing Rock Sioux Chairman Dave Archambault II responded to the legal victory in a in a public statement. "The previous administration painstakingly considered the impacts of this pipeline and President Trump hastily dismissed these careful environmental considerations in favor of political and personal interests. We applaud the courts for protecting our laws and regulations from undue political influence, and will ask the Court to shut down pipeline operations immediately."
The Tribe is represented by environmental law firm Earthjustice, according to their website.  The nonprofit filed a lawsuit on behalf of the Standing Rock Sioux "challenging the U.S. Army Corps of Engineers for issuing a permit for the pipeline construction in violation of several environmental laws." There will be more information coming on the legal procedures that are to follow in the next several weeks. Until then, the water protectors cherish the small victories that have helped them carry on during their long-fought battle against what they term the "black snake."