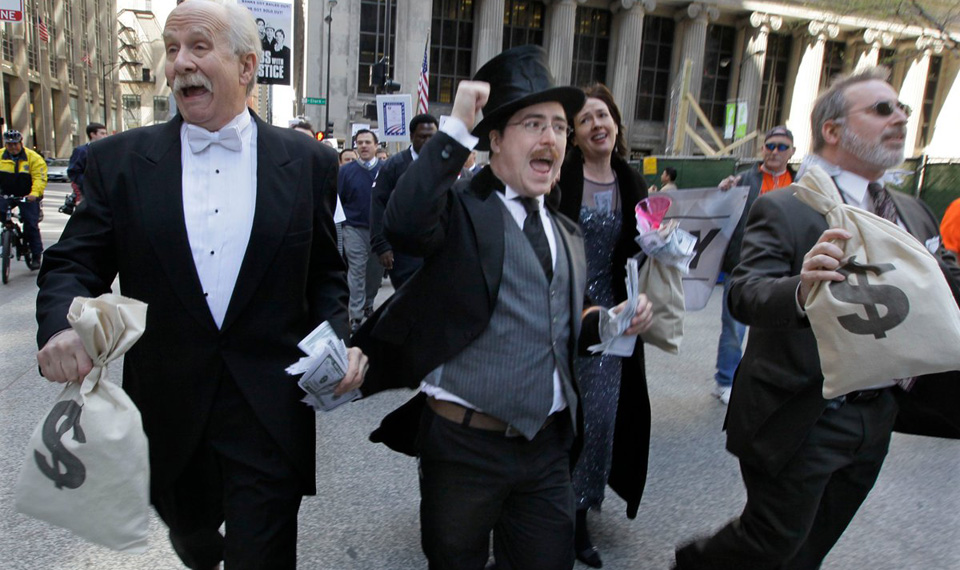 WASHINGTON—Yielding to big pushes by the big banks, and the deregulation mania of the GOP Trump administration, the Federal Reserve Board voted on May 30 to let the financiers, in so many words, speculate in derivatives and other shady financial instruments with Mom and Pop's pension money – and your paychecks.
And that action, a virtual repeal of the so-called Volcker Rule, which Congress enacted in the post-Great Recession Dodd-Frank law in 2010, led top consumer and union leaders to hit the ceiling.
"Repealing the Volcker rule is risky public policy, bad for the economy and puts everyone at risk because banks will surely gamble with other people's money, just as they have throughout history when rules are relaxed," said National Consumers League Executive Director Sally Greenberg.
"Banks also complain the Volcker Rule is burdensome. Well, profits have been soaring: The Federal Deposit Insurance Corp. reported last week that U.S. banks had a record $56 billion in profits in the first quarter of the year."
"We agree with the Rule's namesake, Paul Volcker himself, who headed the Fed from 1979-87, who said he welcomed 'the effort to simplify compliance' with the rule as long as it does 'not undermine the core principle' of prohibiting taxpayer-backed banks from engaging in risky proprietary trading."
"Risky proprietary trading" is what the financiers, knowing the Fed insures deposits, did from the 2000 Gramm-Rudman deregulation law through the 2008 crash. They took Mom and Pop's pension money and people's paychecks and plunged it into derivatives, stock options, swaps and the other risky pieces of paper. The collapse like a house of cards led to the Great Recession and its loss of millions of dollars and people's homes, jobs and pensions.
Which was AFL-CIO President Richard Trumka's point, too.
"The Volcker Rule prevents Wall St banks from gambling with taxpayer-backed money. Gutting it would be a huge gift to the big banks, their well-paid lobbyists and substantially increase the risk that working people will have to bail out the banks again," he tweeted.
Ever since Dodd-Frank passed, the banks and their financial friends have been lobbying to end the Volcker Rule, which they tried – unsuccessfully – to stop in the wake of the crash. Now, they've succeeded, said Marcus Stanley, policy director of Americans for Financial Reform.
"This proposal is no minor set of technical tweaks to the Volcker Rule, but an attempt to unravel fundamental elements of the response to the 2008 financial crisis, when banks financed their gambling with taxpayer-insured deposits," Stanley's statement said. "If implemented, these proposals could turn the Volcker Rule into a dead letter, a regulation that would not meaningfully restrict trading activities at the banks whose problems could drag down the entire financial system — again."