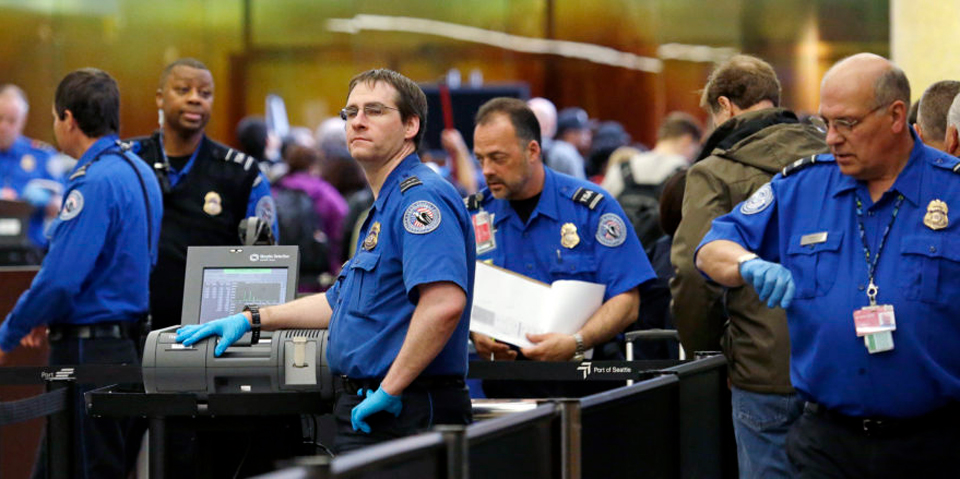 OAKDALE, La.—On March 28, Patrick Jones, aged 49, died of the coronavirus in the federal prison in Oakdale, La. He was the first federal inmate to perish from it.
Almost simultaneously, the union representing all the workers at that prison and other correctional institutions, plus other front-line federal workers exposed to the virus, sued their bosses – the GOP Trump government – for hazardous duty and environmental hazard pay in federal court. They want it retroactively dating back to Jan. 27.
And all those front-line endangered workers demand personal protection, such as N95 masks and protective gloves, too, the Government Employees said in papers at the U.S. Court of Claims in D.C.
Three of the named plaintiffs in the case, which AFGE wants to convert to a class action covering at least 100,000 federal workers nationwide, toil at Oakdale. But prison workers are not the only endangered federal employees, even as the Bureau of Prisons reported 28 inmates and 24 staffers, so far, have tested positive for COVID-19, the official name for the coronavirus. And on April 1, another virus-stricken Oakdale inmate died.
Workers have contacted the union from U.S. Army posts, VA hospitals, Social Security call centers, the Agriculture Department and, especially, from one Transportation Security Officer, the airport screeners in close contact with thousands of passengers daily. All complain of a lack of protective equipment. At least 39 TSOs have tested positive for the virus so far, and one USDA meat plant inspector, in New York, died of it.
And all those endangered workers should get hazardous duty pay – 25% of their regular pay – and the environmental hazard pay, another 4%-8%, the suit adds.
To show how dangerous the situation is, the suit described how Jerrod Carrier, George Guice, and Aubrey Melder worked in proximity to – or came in contact with – Jones.
"It's not a stretch to say" the three were exposed to Jones, the union-retained pro-worker attorney, Heidi Burakiewicz, e-mailed.
Carrier, Guice and Melder didn't have masks, didn't have gloves, didn't have other protective gear, and worked near Jones for weeks before he died, the suit says. Melder actually took an infected inmate to the hospital "on or about March 19." That day, he got some gloves – from the hospital, not the Bureau of Prisons.
"In addition to working in the same institution with individuals infected with COVID-19, up through March 20, 2020, Carrier and Guice performed work in close proximity to objects, surfaces, and/or individuals infected with COVID-19 when they supervised inmates on their work details who were infected," the court papers explain.
"On or about March 19, 2020, Melder performed work in close proximity to objects, surfaces, and/or individuals infected with COVID-19 when he transported an inmate infected with COVID-19 and provided correctional supervision of the inmate at the hospital," they add.
Needless to say, AFGE's suit drily notes, "Exposure to objects, surfaces, and/or individuals infected with COVID-19 was not taken into account in the classification of" the workers' jobs.
"As a result of plaintiffs' performance of their official duties 'in close proximity to objects, surfaces, and/or individuals infected with, COVID-19,'" the workers were "exposed to 'virulent biologicals'" and under federal law governing the government's own workforce, that qualifies them for the hazardous duty and environmental hazard pay.
They're not the only ones.
"I was told that if your contact with someone infected was less than 10 minutes, you will be fine. Where did they find the 10-minute rule? Also why are officers being told they cannot take the 14-day leave?" an airport screener in Romulus, Mich., said.
"I was exposed to the first positive case on the post, " a worker at the Eisenhower Army Medical Center at Fort Gordon, Ga., wrote. "They texted some staff about it but didn't let me know until Monday that this test came back positive. I have underlying health issues and I'm non-emergency essential. I told this to my union leader, so she called HR. They told me to come to work and wear a mask and they were going to relocate us to work outside in the drive-by testing. That's their response."
"We are to wear N95 masks only if a patient is suspected of having COVID-19. We are to re-use the mask if the patient is not exhibiting symptoms by placing it in a brown sack. If patients are asymptomatic, we are using universal precautions only," said another worker at Fort Leonard Wood in Missouri.
"Employees are being denied the use of PPE. Some have been reduced to tears amid fears of transmitting COVID-19 to loved ones," added a Heinz VA Medical Center worker in Pittsburgh. Military grocery store workers nationwide reported to AFGE there was no cleaning, much less deep cleaning, in the stores.
"Employees are working in an unsafe work environment doing high volume sales" without enough time for their jobs or for extra cleaning, they said. "Many employees aren't allowed to wash their hands every hour and many of them are the cashiers. Many stores aren't providing Personal Protection Equipment to employees like face masks, face shields, gloves at cash registers."
With most court proceedings shut down, especially in the D.C. area, no date has been set for the case.