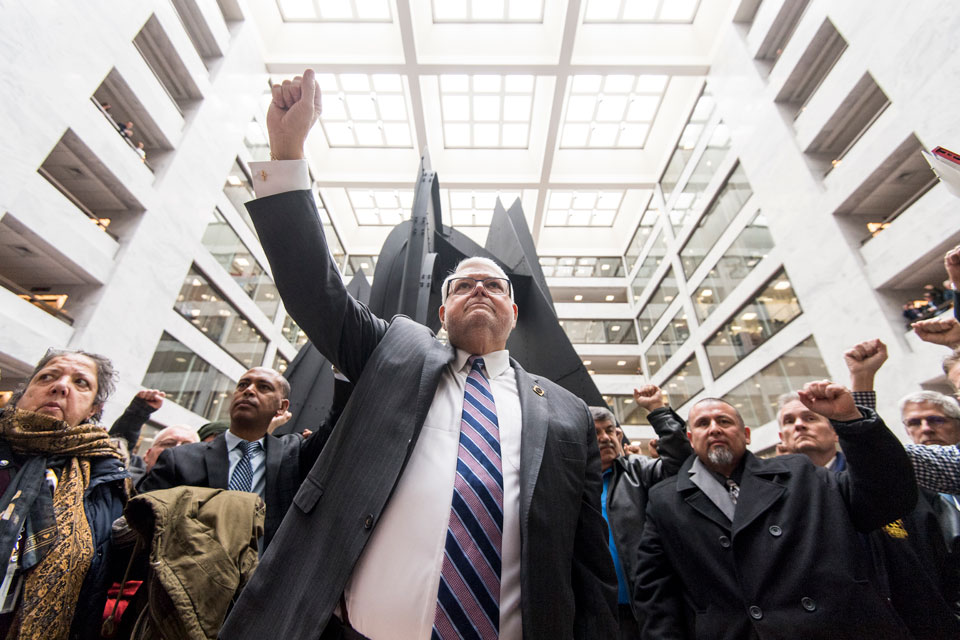 WASHINGTON (PAI)—It says something about Republican President Donald Trump's hatred of the two million federal workers he supposedly supervises, and their unions, that the unions are still defending themselves, their members, and other federal workers in Congress and in the courts against his attempts to break them—after almost a year and a half.
In one of the two the latest battles, the two top federal worker unions, the Government Employees (AFGE) and the Treasury Employees (NTEU), asked the full U.S. Court of Appeals for D.C. to hear their arguments for overturning Trump's anti-worker executive orders.
And in the other, they've enlisted 218 House Democrats, an absolute majority of all House members, on a letter urging congressional negotiators to write federal worker protections against Trump's moves into the omnibus money bill for the fiscal year starting Oct. 1.
The actions aim at protecting workers from Trump's schemes, imposed by three executive orders in May 2018. His orders make it easier for bosses to fire federal workers and retaliate against whistleblowers. They also strip unions of the small offices and phones, fax machines, and computers they used to help workers battle bosses' discipline and favoritism.
Trump's orders also say worker reps must defend their members on their own time and on their own dime, and skew the appeals process of worker discipline in favor of bosses. Trump even banned the workers from contacting Congress.
A federal district judge threw out Trump's orders as both unconstitutional—due to the ban on speaking to Congress—and illegal under federal law covering labor-management relations for the nation's two million federal workers. But a three-judge appeals court panel reversed that judge's pro-worker decision and upheld Trump, on technical grounds.
And Trump's Department of Veterans Affairs and Education Secretary Elizabeth "Betsy" DeVos both defied the initial judicial ruling and imposed Trump's edicts anyway, even though Trump's orders are technically delayed until the issue runs its course in the courts.
Now AFGE and NTEU want the full appeals court to hear their case against what NTEU President Tony Reardon calls a classic case of union-busting, and what AFGE President J. David Cox says is Trump's plan to return to the corrupt spoils system of the 1880s.
"The anti-worker executive orders are in violation of the law and, if implemented, would send the federal workforce into disarray," Cox said when the unions filed their complaint with the appeals judges just before Labor Day. "This case is vitally important with far-ranging implications for every American and deserves a hearing before the full court."
"Such presidential overreach—especially the kind that flatly conflicts with existing civil service law—has never been insulated from judicial review and we shouldn't start now," said Reardon.
"This isn't just about federal employees and their unions. This is about preserving our merit-based civil service system and making sure taxpayers can count on agencies staffed by highly qualified employees who are treated fairly as they go about the business of delivering important government services to the public," he added.
But the federal workers and their unions aren't solely counting on courts to toss out Trump's edicts. They want worker protections written into the money bill pending before law-makers. They enlisted the 218 Democrats, led by Rep. Jamie Raskin, D-Md., to lobby for that.
The House-passed money bill (HR3351) for general government, the Treasury, and other agencies, which includes the civil service and the workers, includes those protections. But the measure is marooned in the GOP-run Senate and Congress is expected to roll it together with other money bills into an omnibus bill to keep the government going.
Raskin, his allies, and the unions want to make sure the worker protections survive. The House-passed pro-worker provisions would prevent Trump's political appointees from unilaterally stripping workers of collective bargaining rights, would ban retaliation against whistleblowers, and would keep due process protections for workers, among other things.
"Without this provision, the Trump administration will likely succeed in crushing the federal employee unions, making a mockery of the collective bargaining guarantee and rendering the task of effectively representing union members all but impossible," they wrote.
"As the nation's largest unionized employer, the federal government sets many key standards for labor-management relations. We who affirm the right of American workers to form, join, and operate independent labor unions must stand up for our federal employee unions in this precarious moment. They sought our assistance as a last resort, but they need our help and they are unlikely to survive the Trump administration's assault on their rights without our action," the 218 Democrats wrote.
Besides AFGE, NTEU and the AFL-CIO, union backers of the letter include AFSCME, the National Federation of Federal Employees/Machinists, the Professional and Technical Engineers, the Teachers (AFT), the National Education Association, and its federal worker affiliate, which represents teachers and staffers at Defense Department schools.
Congressional signers include Reps. Rosa DeLauro (Conn.), who chairs the House subcommittee that helps dole out funds for the Labor Department. Other signers include Reps. William Lacy Clay and Emmanuel Cleaver of Missouri, Linda Sanchez (Teamsters) and most of the California delegation, Reps. Donald Norcross of New Jersey, an IBEW member, Mark Pocan of Wisconsin, a Painter, and all the Illinois Democrats. Also Reps. Steven Horsford of Las Vegas, a Unite Here member, Jahana Hayes of Connecticut, an NEA member, Marcia Fudge of Cleveland, both Twin Cities Democrats, Alexandria Ocasio-Cortez of New York, and Reps. Debbie Dingell, Dan Kildee, Rashida Tlaib, and Andy Levin of Michigan. Levin is a former top AFL-CIO staffer.