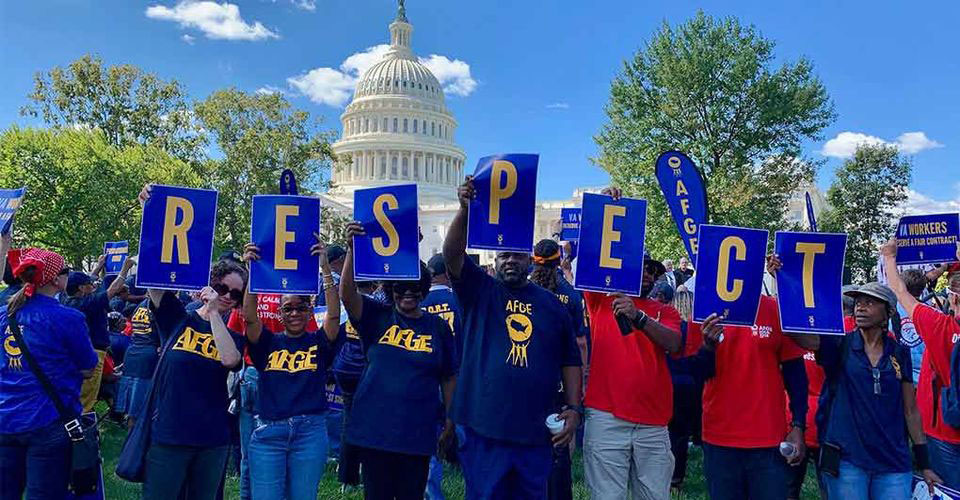 WASHINGTON—A general federal pay raise of 8.7%—with extra for high-cost areas such as New York, San Francisco, and metro D.C.—is the main, but not the only goal for the Government Employees (AFGE) in this Congress.
Rep. Gerry Connolly, D-Va., told several hundred AFGE Legislative-Political Conference delegates meeting in D.C. on Feb. 12-14, he's already introduced the pay raise bill, called the Fair Act. The conference culminated in a mass rally on Capitol Hill and lobbying lawmakers for it—even if Congress is out of town.
While 8.7% may sound like a high number, union President Everett Kelley said, it's really not. That's because it's only a start to make up for past pay freezes and cuts, along with keeping up with inflation. Workers with comparable private sector jobs earn 22% more than federal workers do, according to non-partisan studies.
Other key causes for the 302,559-person union, which actually represents some 700,000 federal and D.C. workers, include convincing all federal agencies that telework still is valuable even though the coronavirus (COVID-19) pandemic has receded from its 2020-2021 peak.
Convincing lawmakers to agree with that, or anything else, may be another matter, especially in the narrowly Republican U.S. House, Kelley said in his Feb. 13 keynote address to the conference and a follow-up press conference.
"We're in strong shape but not where we need to be to win the battles in front of us," he admitted, demanding more organizing of the unorganized. By law, the federal government is an open shop.
"We face an environment with these challenges, mostly with a House of Representatives" —he meant its majority—"which is insane, inept, and incapable of governing the United States of America," he told the delegates.
New House Speaker Kevin McCarthy, R-Calif., "gave away his spine and gave away his soul to a white supremacy bomb-thrower whose only goal is to destroy democracy." Of the House Republicans in general, "They're legislative gorillas."
On the positive side, "Many agencies, like the Equal Employment Opportunity Commission, the National Science Foundation, the Department of Education and the National Archives have accepted the value of telework and renegotiated contracts" with their AFGE locals "to provide for it," told reporters after his keynote address.
Other agencies balk. Two, in particular, are the Social Security Administration, which does not have a permanent administrator, and the Department of Veterans Affairs.
The VA contract with AFGE is still unsettled after a year of bargaining and neither Democratic President Joe Biden nor VA Secretary Denis McDonough has given the "go" sign to get a deal done, Kelley said. The VA is one of the union's largest sectors.
And middle managers at VA and SSA "don't want to give up the enhanced powers" they received under Biden's Republican predecessor, Donald Trump, to undertake unilateral moves against their workers.
Despite the Republican obstacles, "We want to work with every party and every member" of Congress, Kelley stated. "But we know we have an anti-union party" to face.
And the House Republicans' agenda for workers will be "nothing new," Kelley predicted. "Nothing new" would include continual harping on using official time for union business such as bargaining and grievance handling, and lack of space for the union in federal office buildings.
That agenda would also include reviving an old legal provision to let lawmakers unilaterally fire any single federal worker or group of workers by eliminating money to pay them.
A Trump executive order early in his regime threw AFGE, the largest federal workers union, and other federal worker unions out of their small offices, took away their telephones, computers and fax machines, and declared union stewards must handle grievances and represent colleagues on their own time and on their own dime. Biden dumped that order.
That same scenario of Republican opposition and obstruction could be applied to the union's other goals, including emphasizing telework and banning unfettered "contracting out" of lower-level federal jobs—such as those of truckers, cafeteria workers, and custodians.
The union also wants to "protect the Civil Service rules on who's hired, who's fired, and who's promoted, based on their ability to do their jobs" and on objective qualifications, not political favoritism. Kelley said.
Just before leaving office, Trump decreed there would be a new category of federal workers, Schedule F, defined as those in positions based on ability to influence policy—and exempt them from civil service rules. That would let political bosses fire them at will, and it would cover jobs all the way down to administrative assistant.
Biden, the self-described most pro-worker pro-union president, dumped Schedule F days after he took over the Oval Office. AFGE wants to make sure, by law, that it stays in the trash.
Kelley also slammed Republicans for not raising the federal debt limit without strings. The government needs the hike to pay its past bills. The Republicans are conditioning debt limit votes on cutting Social Security, Medicare, and other domestic spending.
Raising the debt limit is a particular sore point with AFGE and other federal worker unions. The last time lawmakers faced such a crisis, in 2011, they solved it by freezing and cutting federal workers' pay while at the same time forcing them to add billions of dollars more in pension contributions.