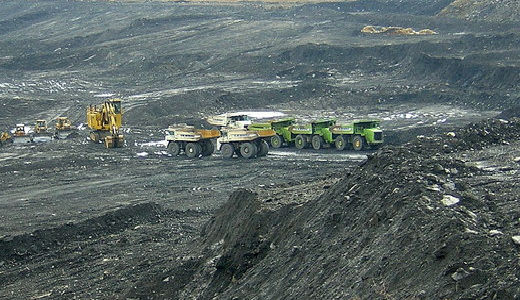 WASHINGTON (PAI) – In a decision the United Mine Workers hailed as "a tremendous step forward," the Mine Safety and Health Administration wants to cut coal miners' exposure to lethal coal mine dust in half.
Under its proposed rule, published Oct. 19, a miner could be subjected to no more than 1 milligram of coal dust per cubic meter of air, starting 24 months after the rule becomes final. The prior months would be a phase-in period, MSHA said.
Democratic President Barack Obama's projected budget for the year that began Oct. 1 projected federal spending of $512 million for black lung benefits. The government runs the program and the coal companies are taxed per ton to pay for it.
"In the 21st century, workers should not have to risk illness or death in order to provide for their families, yet more than 10,000 miners with black lung disease have died in the last decade alone. This rule will provide today's miners with long-overdue protections against needless threats to their health," Vice President Joseph Biden said.
"Prolonged exposure to coal dust can cause coal workers' pneumoconiosis (CWP), commonly referred to as black lung, which leads to serious pulmonary problems and, in the worst cases, death. Although long recognized as a serious but preventable risk, incidents of black lung are actually on the rise," MSHA said. Cases are rising.
"The proposed regulations…will, if followed by the mine operators and enforced by the agency, be a tremendous step forward for coal miners' long-term health," Mine Workers President Cecil Roberts said.
"We have long known the only way to prevent black lung is to reduce miners' exposure to respirable coal dust. We have the technology and the means to do that. The only thing we have lacked – until now – was a determination by MSHA that this was a problem which needed to be addressed.
Roberts put the blame for the problem on the coal companies, saying that "health consequences for those who spent a lifetime in the nation's coal mines were of no consequence to their employers." As a result, 100,000 coal miners have died in the last century from black lung, he said. "This rule, once implemented and enforced, will move us yet one more step away from that shameful past," Roberts stated.
MSHA first proposed cutting the black lung exposure standard in half in the 1990s. The agency said the new rule "would prevent more than 2,800 cases of CWP, almost 800 cases of progressive massive fibrosis (a progressive form of CWP), almost 700 cases of severe emphysema, and 131 deaths from non-malignant respiratory disease, all over a 45-year work life."
Image: Open coal mine Iain Thompson // CC BY-SA 2.0