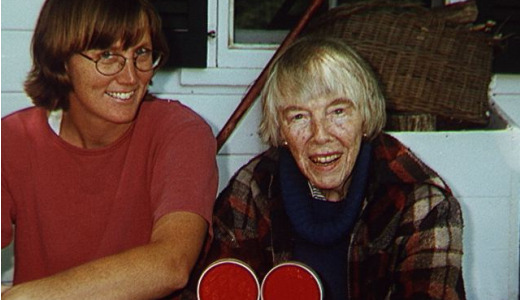 Betty (Elizabeth Boynton) Millard, feminist, writer, photographer, political activist and philanthropist, born on Columbus Day 1911 under the presidency of William Howard Taft, died at her home in New York City on March 6, in the second year of President Barack Obama.
Born to a conservative wealthy family in Highland Park, Illinois, that claimed a lateral relationship to President Millard Fillmore, Betty found her true home when she moved to New York to attend Barnard College in 1932. She was drawn to the student anti-war activism at Barnard, and marched against the U.S. government's support of Franco in the Spanish Civil War. Passionately devoted to the ideals of equality and fairness, Millard joined the Communist Party in the 1940s, drawn by the hope that the movement could lead to the realization of the values she held dear.
After World War II, she spent two years in Paris as the American Secretary in the directorate of the Women's International Democratic Federation, a feminist organization aligned with the global Communist movement. She was active in the Congress of American Women, an affiliate of the WIDF. In later years she could hold an audience amused and entranced by her stirring exhortation to Italian women on the need for expanded women's rights, a boilerplate speech that she could deliver in Italian (which she barely knew) at the drop of an invitation.
An editor at The New Masses for four years, she became lifelong friends with Charles Keller, house artist, and other leading literary lights. An early feminist, she authored a 24-page pamphlet entitled Woman Against Myth, released by International Publishers in 1948, which examined the history of the women's movement in the United States, in the socialist movement, and in the USSR. Her analysis of the inequality between the sexes remains an entry of note in the annals of feminist and left history.
In 1959 she appeared as a hostile witness before the House Un-American Activities Committee, which was investigating the Congress of American Women. For five years in the mid-1950s she edited the monthly magazine Latin America Today, reporting on political and social developments south of the U.S. border. She joined Cheddi Jagan on the campaign trail in colonial British Guiana during his successful campaign to become prime minister, and remained close friends with both Cheddi and his wife and fellow politician Janet Jagan.
"This year," she wrote in the concluding paragraph of Woman Against Myth, "as we mark the hundredth anniversary of the publication of the Communist Manifesto, we mark also a hundred years of the organized fight for equality of American women that began with the Seneca Falls convention. Those two events are linked by more than a common date. More and more we come to see that it is only the socialism foreshadowed by Marx and Engels, abolishing as it does all forms of exploitation of one human being by another, that can make it possible for women to achieve real equality. That can give substance to the ringing declaration adopted at that woman's convention holding it to be self-evident 'that all men and women are created equal.'"
Betty left the Communist Party in the late 1950s, but remained an activist on her own terms, organizing a committee to free Mexican muralist David Siqueiros from prison, and becoming active in the struggle to stop the Vietnam War. At about this time, she developed a love of photography, documenting political struggles as well as her travels. She spent many happy hours in the darkroom that she installed on the top floor of her Greenwich Village brownstone.
During her later years, Millard joined the fight for lesbian and gay rights, and in her 80s she finally was able openly to affirm her own lesbianism. She bought a farm in Dutchess County, N.Y., read Rachel Carson and became interested in environmental issues. With some of her family inheritance, she became a philanthropist, supporting progressive, LGBT, and environmental organizations, and providing early leadership for the North Star Fund, which works to create a more equitable and democratic city for all New Yorkers. She also began writing short stories, several of which were anthologized.
Though never afraid to form an opinion, Betty was always eager to discuss interesting and controversial issues in politics, art, literature, film, and human relations. The stories she accumulated during a lifetime on the frontier of social and political justice, and her love of music and life, drew new friends to her side even well into her ninth decade. Few people now alive will have any memory of Woman Against Myth or her work on The New Masses, but her surviving friends and family will remain lastingly inspired by her characteristic enthusiasm for exploring new ideas, helping others better their own lives, and seeing in every challenge an opportunity.
Photo: Betty Millard, right, with her niece Olivia. Courtesy Olivia Millard.