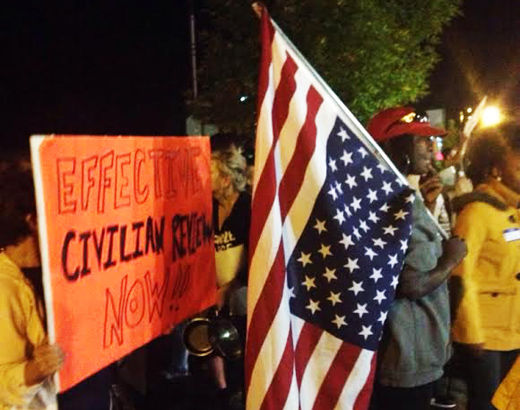 FERGUSON, Mo. – On Tuesday evening town residents lined up and filled the pews, one by one, inside the First Baptist Church. The city council was about to begin another 7 p.m. meeting, giving the community their weekly platform to voice questions and concerns.
It is not quite two months since a white policeman shot Michael Brown, an unarmed black teenager, to death here and it is less than two weeks before a planned "week of resistance" from Oct. 10-13.
After the shooting the uprising here was watched nightly by millions around the world who reacted in shock and with anger over police use of armoured vehicles and heavy military-style weaponry which they pointed at peaceful demonstrators. The local and state authorities, the FBI and the federal government launched investigations that are still underway.
Despite their attendance at the regularly scheduled city council meetings here, many residents say their voices are not being heard. As I took a seat amongst many life-long residents I overheard mention that even being in a "place of God" could not stop or soothe rising tempers nor could it bring all those present to a place of mutual understanding.
At 7:05 p.m. Mayor James Knowles rose from his seat at the city council's table and asked everyone to stand for the Pledge of Allegiance. Residents rose, stood in place and faced the American flag.
As Mayor Knowles ended his recital of the pledge, the soft murmuring of the final words, "justice for all," echoed throughout the chamber. It was a reminder that, for many, justice is never served and that in this suburban Missouri town justice is, as of yet, nowhere in sight.
Many at the meeting felt that the wheels of justice are turning too slowly, if at all.
Darren Wilson, the officer who shot and killed Brown, is still a free man on paid administrative leave.
In the meantime, over 200 residents have been jailed for their protest activity.
In addition, the St. Louis Grand Jury has been granted even more time to decide what, if any charges to bring against Wilson.
The family of Michael Brown continues to deal with what they hope will not be another failure of the American justice system while police continue to use excessive force to incite violence during peaceful community demonstrations.
Around 7:30 p.m., after the city council completed formal business – including tabling a bill to create a police civilian review board – residents, both black and white, queued up at the two available microphones and prepared to ask questions and deliver comments. They were met with the cold, blank stares of council members who, moments before, explained that they would not answer any questions or respond to any comments.
All eyes were on the first resident who grabbed the microphone, an elderly gentleman sporting an I Love Ferguson t-shirt. He spoke of his life in the town and the many changes he had witnessed personally, from the civil rights movement to the flight of white residents.
Speaking passionately, Sandy, a long-term African-American resident, took her time to let the council know that they could make a real change. "You have the power to fire Darren Wilson and Chief Belmar," she said, closing her comments by letting everyone know that they needed to take a stand for their community.
As the evening moved on it was obvious that many of the black people in attendance, along with some of the white residents, wanted to tackle the issue of race relations. They don't want the issue to be swept under the rug, as they feel it has been in the past.
There were those, however, who disagreed. "This is only between two people and no one else," said one white resident. Our community is being destroyed by the action of two people – that's all."
Many in the crowd insisted, however, that this was "bigger than just two people. It is about racism and police brutality here in our communities, it is about the lack of transparency from this city council!"
Kim Tihen, a city council member, knew that many residents were directing their comments at her. As a Ferguson police officer she had arrested an African-American male in a case of mistaken identity, assaulted him while he was in her custody, and then filed charges against him for destruction of government property (staining her uniform with his blood).
You got the feeling at the meeting that many Ferguson residents are grappling with  a status quo that goes well beyond Ferguson and, in fact, encompasses the entire nation.
Photo: Al Neal | PW