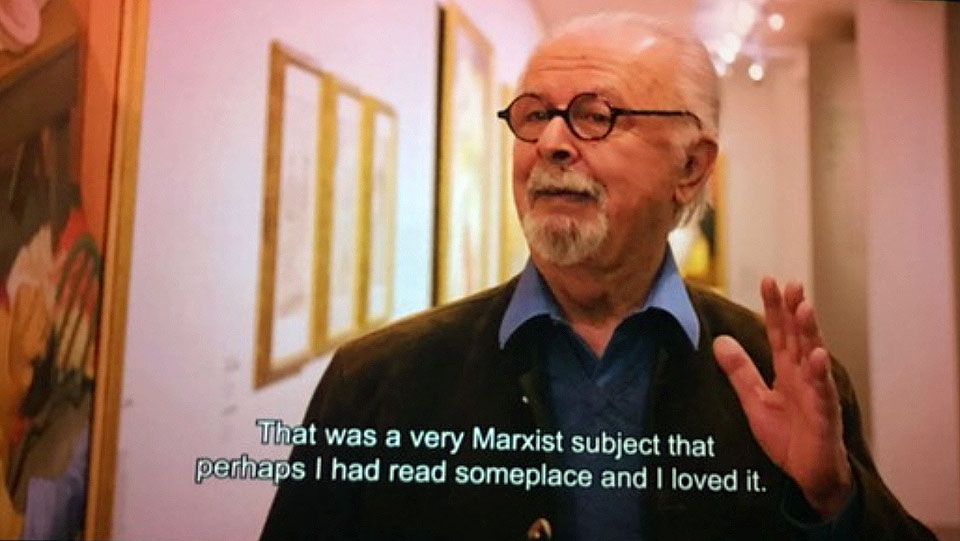 LONG BEACH, Calif. — If you hear someone has a "Rubenesque" figure, you immediately know what that means: a full-figured, though shapely and alluring woman as commonly rendered by the classical Dutch painter Peter Paul Rubens.
The Colombian-born painter Fernando Botero has similarly lent his name to a genre of artistic  depiction called "Boterismo." Curiously, it also refers to the way he imagines the world—not just women, but men too, and animals, even fruits and inanimate objects, like musical instruments—as firmly fleshy, monumental, bigger than life, like a balloon fully blown almost to bursting.
By contrast one thinks of Amedeo Modigliani's figures with their impossibly long necks and narrow faces, or Alberto Giacometti's sculptures of human beings attenuated almost to the breaking point.
It would take a depth psychologist, more than an art critic, to fathom why artists see the way they do. I've heard it said of Modigliani that it was an issue with his eyesight that elongated his perception.
Botero may not just have given his name to a whole esthetic category of exaggerated volume. At age 90 and still going strong, he is considered the world's most recognized, referenced, written-about and exhibited living artist. A Botero installation is a historic reference point in any city's history, galvanizing the admiration and attendance of millions. The most visible places around the world where his large-scale sculptures have been mounted include Park Avenue in New York City, the Champs-Élysées in Paris, and outdoor exhibition grounds in China.
Fernando Botero: The Master (Fernando Botero: El Maestro) is currently on exhibition at the Museum of Latin American Art (MOLAA) in this city, though March 2023. He looms large even before a visitor enters the museum doors with his massive sculpture Reclining Woman (2007).
Now I will confess to a longstanding preconception I had maintained about Botero's work before seeing much of it in person. Images that I had seen of his paintings and sculptures often portrayed comfortable, self-satisfied, overfed bourgeois families, or priests and politicians and military men, engorged with rich food and drink. Aha! I said to myself. Here is a satirical, class-conscious artist showing, like Honoré Daumier, George Grosz or William Gropper, the ruling classes of his time and place simply taking up too much space in the world—eating to excess, exercising overbearing power, literally pushing their weight around. And further, I extrapolated, the disproportionately small breasts on his female figures shows how little nurturance that class of people actually provides!
But I think I jumped to unwarranted conclusions, since everything he touches, including birds, horses, vegetation, children's toys, manifests the same esthetic mannerism. The artist himself has remained trim all his life, judging from photos and film, but even when he includes his own self-portrait, he adds a hundred pounds to his physique. It had not occurred to me that in his sense of proportion, Botero actually recapitulates an important esthetic of pre-Columbian art, not just the giant Olmec heads in Mexico, but also smaller clay fertility figurines with exaggerated female characteristics.
And yet, despite the seeming solidity of his figures, look at their feet, reduced in length to cartoonish proportions à la Mickey and Minnie, and one wonders how they can even support the body weight. It's as though these "balloons" would float away, tethered only by a thin, fragile string, were they not grounded by those little toy shoes. Perhaps this is Botero's mediation on the transiency of life itself.
Having said which, Botero has not been a neutral bystander. He was, after all, kicked out of one art school for his supposed leftist tendencies. He spent a good year or more of his career painting an extensive series of paintings based on the revelations of torture in Abu Ghraib prison during the junior Bush's Iraq War in order that, owing to his own renown, the world never forget that atrocity. And he has been a generous donor of his work (and that of other artists as well) to museums in his native Colombia, turning cities such as Bogotá and Medellín into sudden destinations on the art tourism circuit.
Born in Medellín, but having lived abroad for most of his career—Madrid, Florence, New York, Paris, and his beloved little town of Pietrasanta, Italy—Botero has maintained the essence of Colombian and Latin American elements throughout his long career. Yet the particular is easily transcended in the viewer's eye: Boterismo has become an international language.
MOLAA Chief Curator Gabriela Urtiaga interviewed the artist for the exhibition brochure:
"When I first got to Europe I wanted to be Picasso. I wanted to go to Paris, find Picasso and learn how to be an avant-garde artist. But when I got to Madrid, which was the first city I knew in Europe, I discovered Italian Renaissance Art in the Prado Museum. I changed my route and fortunately went to Florence instead. I settled there almost three years. The Italian painters of the Quattrocento and the Cinquecento [the 1400s and 1500s] have been for me the true teachers of my profession. I have always said that I am a self-taught artist because I never had any relation with professors even if I was enrolled for a time in the Escuela de Bellas Artes of Madrid. Everything I have done, I have done it by intuition, through work, through reading about art at the History of Art and by looking at the great masterpieces of Art History everywhere in the world. At the end, it is all thanks to the passion I have for art."
The exhibition at MOLAA comprises selected artworks that are part of the museum's collection as well as work from the Botero private collection. While not an exhaustive career retrospective, there is enough on display for a visitor to grasp his artistic trajectory up-close and appreciate his influences, contributions, motivations, and working methods. Speaking personally, I felt it a singular honor merely to be in the physical presence of these great works.
In connection with the exhibition, a small screening room is looping a more than hour-long documentary on Botero. Do try to take this opportunity to watch the whole film, which covers a broad expanse of material about Botero. If you come in somewhere in the middle, just take a seat and catch the beginning later. You will be amply rewarded for your time.
Rethinking Essential
The film shows Botero attending a show in France where he is paired with work by his early hero Pablo Picasso. In the same spirit, MOLAA is simultaneously exhibiting Rethinking Essential, the work of young artist Narsiso Martinez, but only through the month of January. In February Martinez's work moves to the Institute of Contemporary Art, San Diego (icasandiego.org). So if you want to catch both shows at MOLAA you must go in January.
Martinez, a native of Santa Cruz Papalutla, Oaxaca, Mexico, came to the U.S. when he was 20 years old, and presently lives in Long Beach. He completed high school in 2006 at the age of 29, and then earned an Associate of Arts in 2009 from Los Angeles City College. In the fall of 2012, he graduated with a Bachelor of Fine Arts from California State University Long Beach and received a Master of Fine Arts at the same institution in 2018. To fund his undergraduate studies and MFA in drawing and painting he returned to the fields in Washington State, where he picked fruits and vegetables, specifically apples, asparagus, and cherries. He would work the whole season and then return to campus, living what he called a "double life" between farmwork and academia. His work portrays America's agricultural workers.
"We are very pleased to showcase the artwork of Narsiso Martinez," says Lourdes I. Ramos-Rivas, PhD, President and CEO of MOLAA. "Particularly because his work pays homage to a powerful working class that is for the most part nonexistent to America yet so important to put food on every table in America. Martinez's work focuses on and reminds all of us of the people performing the labor necessary to fill grocery produce sections and restaurant kitchens around the country. Hopefully, his work will remind all of us of the gratitude we owe each human being who toils every day to provide food for all of us."
In his rendering of displaced immigrant farmworkers, Martinez takes inspiration from varied artists including Jean-François Millet, Thomas Hart Benton, and David Alfaro Siqueiros. His drawings and mixed media installations include individual portraits and multi-figure compositions of farm laborers set against the agricultural landscapes and brand designs of reclaimed grocery store produce boxes.
In the tradition of Social Realism, his images reframe power in the hands of the "essential" workers whose existence at the margins of society is barely acknowledged. The subjects of his portraits are the main characters, upfront in a single portrait or in the foreground of a larger landscape focusing on the humanity of farmworkers and daily life working in the fields. For this show he created new artworks, including a large mural about the past, present and future of farm labor, portraits of farmworkers, and special installation and video.
If you still have time, check out a room full of contemporary artists' interpretation of the Virgen de Guadalupe.
Founded in 1996, the Museum of Latin American Art (MOLAA) is the pioneering institution in the U.S. dedicated to modern and contemporary Latin American and Latin art. It has an active program of collection, innovative exhibitions, stimulating educational programs, and engaging cultural events. MOLAA is located at 628 Alamitos Ave., Long Beach. In the museum building there's also an enchanting gift shop with many attractive items for sale. There is an admission fee to the museum, but Sundays are free. Hours are Weds. through Sun., 11 a.m. to 5 p.m. Docent tours take place Sat. and Sun,. at 2 p.m. For more information call 562.437.1689 or go to the museum's website molaa.org.