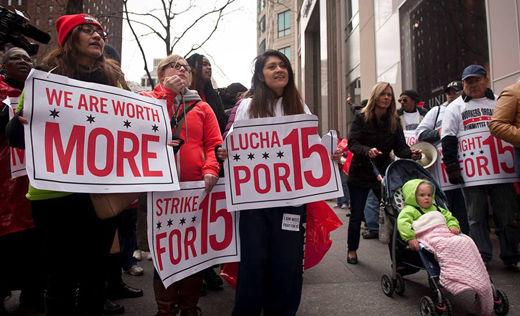 ST. LOUIS- "I'm going out on strike for my family and for all low-wage workers," shouted Danielle Polk, a McDonald's worker and member of Show Me $15, as she and 25 other low-wage workers were joined by community activists outside the Ferguson, Missouri McDonald's. The group announced that they expect Apr. 15 will mark the largest nationwide one-day strike ever.
"We need to fight for everyone, especially for those who feel that they can't fight by themselves," Polk declared.
What started as a fast food fight for a living wage and union recognition two years ago in New York, when 200 fast food workers walked off the job, has led to the creation of a global movement for all low-wage workers.
Particulary significant in the movement of the low wage workers is the fact that it is spreading beyond the ranks of fast food and retail workers. Among the latest to join the fight, for example, are adjunct professors and home health care workers, who continue to earn poverty wages, even as they perform the critical task of educating future generations of Americans.
Chris Cohen, an adjunct professor at Washington University St. Louis, recounted how he was the first in his family to graduate college and eventually earn his PhD.
"I though that by getting a degree it was a sure way to upward mobility, I though I would be earning a decent wage. But, that's not the case. Seventy percent of university professors are adjuncts who are barely able to survive. I knew, just like other adjuncts at Wash U. knew, that there was only one option, to organize with the adjunct action campaign and win a union at the university which we did!"
Elinor Simmons, a home healthcare worker, explained, "We are out there everyday, rain or shine, taking care of the elderly and disabled and we are barely able to take care of ourselves." When asked about why she and other healthcare workers are joining the movement, her reply went right to the point: "Because we deserve a living wage and we are going to demand that we get it! We are not asking for the whole pie just our fair slice of it."
With close to 100,000 union members, community activists, students, and low-wage workers expected to strike nationwide, it seems that this movement cannot be stopped and will continue growing as students, active in the fight, graduate and join the ranks of working people.
"I'm part of this fight because when I graduate I will already be in debt because of my student loans and my degree does not guarantee that I will be able to find a job that pays a living wage and allows me to start a family and have a decent life. Students are standing together in this movement because we believe everyone deserves to have $15 and a union,"  said Charlie Johnson, University of Missouri St. Louis student activist. "And I hope to see everyone out on strike on Apr. 15."
Photo: Fight for 15 Facebook page