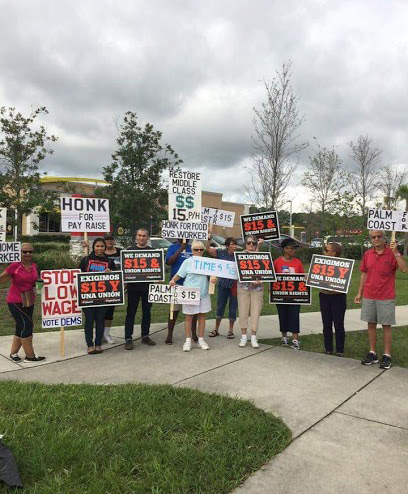 PALM COAST, Fla. – In one of Florida's newer retiree communities, activists rallied Nov. 10 in support of the national day of action for the Fight for $15.
Team Flagler (Flagler County, Fla.), part of the Democratic Progressive Caucus of Florida, held a sign calling for a $15 minimum wage and the right to form a union at a busy intersection in Palm Coast (30 minutes north of Daytona Beach). They were joined by other Democratic activists, retired union members and representatives from the Volusia/Flagler AFL-CIO.
One of the organizers of the rally, Sheila Zinkerman, said "No one that is working 40 hours a week should be living in poverty." One retiree remarked, "Times sure have changed. You used to be able to work full-time and provide for your family AND get healthcare and a pension. Now folks are just fighting to survive."
The day of action did not end there. Activists from the Volusia/Flagler AFL-CIO also collected a community survey about local jobs and wages from Daytona Beach locals and leafleted local fast food restaurants and retail stores with "15 Reasons for $15."
When asked why the local labor council was engaging in the Fight for $15 National Day of Action, Field Representative Yennifer Mateo said, "Working 40,50,60 hours a week should provide enough for people to not need assistance like food stamps and Medicaid. Why people work so hard and struggle to feed their family makes no sense, especially when those companies they work for make billions and get crazy tax breaks."
See video and from the rally below.
Photo: Joshua Leclair/PW