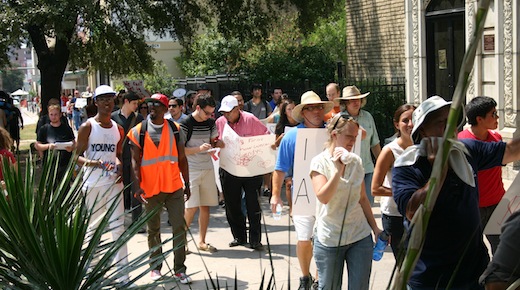 AUSTIN, Texas – Despite temperatures pushing the century mark, striking fast-food workers and their supporters rallied for fair wages in the capital of this so-called "right-to-work" state on Aug. 29.
Down Guadalupe Street, the fast-food restaurant workers marched, not far from the white-collar cradle of the University of Texas. One group serves the other, in more ways than one, but the march drew supportive honks from passing cars, and cheers from bystanders.
The crowd of over 150 people shouted their rallying cry of "Fight for 15": Fifteen dollars an hour as a working wage. The right to organize without fear of retaliation by their employers. The right to dignity and safe working conditions. These are basic worker rights, won through hard struggle by the labor movement, yet badly eroded over the decades by corporate profiteering off the least powerful part of our nation's workforce.
The federal government, charged with overseeing workplace conditions, has paid it fitful attention at best. This double-whammy attack, however, has led to one positive outcome: It has sparked in opposition a new generation of citizen groups and activists advocating for workers, often working in tandem with existing labor unions.
Austin's action was matched by marches and strikes in Houston, Dallas, and around the country, and follows a series of strikes this year in Chicago, Detroit, Seattle and New York City.
Arnulfo Manriquez, who is a coordinator with the Workers Defense Project, said, "We are here today in solidarity with fast-food workers because every worker deserves fair pay and dignity and to be able to take care of their family. So many people in this country aren't able to do that now even though this is supposedly the richest country in the world."
Organizers passed out brochures explaining the cause. Participants supporting the strikers included the Texas AFL-CIO, Austin Central Labor Council, SEIU, Texas AFT, IBEW, Sheet Metal Workers, CWA, OPEIU, Painters Union, Texas Civil Rights Project, Grey Panthers, Workers Defense Project, Occupy Austin and the National Lawyers Guild, which provided legal support.
According to the Bureau of Labor Statistics, the current federal minimum wage is $7.25, while the average central Texas fast-food worker made $8.83 per hour in 2012. For someone working full-time, that comes out to $15,080 and $18,366.40, respectively, before taxes each year or $290 and $353.20 per week.
By contrast, the median hourly wage for Austin-area workers, regardless of industry, is much higher – $17.12.
"The One Percent needs to give something back," Manriquez noted, "because without all these people, nothing would work, nothing would be constructed, no one would have food. They need to get a fair share of the pie."
Photo: Fight for 15 rally in Austin, Texas, Aug. 29. Texas Media Collective