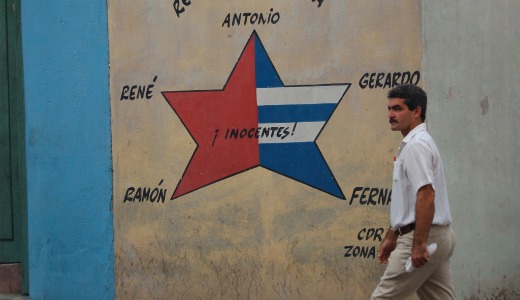 Movie Review
Will the Real Terrorist Please Stand Up?
Directed by Saul Landau
Documentary, 2010, 85 mins., Not Rated
Twelve years after five Cubans were arrested in America for espionage, Saul Landau has made a film hoping to bring the trial and harsh sentences of the men, who are now known as "The Cuban Five," to the public eye. The film starts with Danny Glover quizzing people on the street asking if they know who the group of five men are. Some guess "a sports team? A vocal group?," but very few reply correctly. Those who do seem to think they are terrorists. But Landau, an authority on Cuban affairs who obtained access to their film archives, has laid the groudwork for a better understanding of what led to their unjust convictions.
Landau, long involved with the Washington, D.C.-based left-wing think tank Institute for Policy Studies, is not new to filmmaking or the subject of Cuba. Back in 1960s he scooped the establishment media by visiting the island and hanging out with Fidel, gaining rare knowledge of the struggles on the island, and eventually making FIDEL, one of the first American films about the Cuban Revolution. Later, in 1988, he produced another probing documentary, The Uncompromising Revolution, once again addressing the challenges of the Cuban Revolution. Today he remarks, "Fidel and I have always had a professional relationship. In the film, he acts himself. He never commented on any of my films until 2009 when he said: 'I didn't appreciate at the time some of the questions you asked me. Now as I look back I think they were good questions. Tough questions.'"
His newest film, Will the Real Terrorist Please Stand Up?, holds the position that our government has been jailing the wrong "terrorists," leaving world-acknowledged assassins roaming our streets instead. The film fights formulaic structure with creative titling effects and some rare archival footage that must have been buried in Cuban vaults or possibly taken from Landau's earlier film FIDEL, which was hardly seen by anyone at the time. Good reasons for that, however. Released at the height of the anti-Castro terrorist groups like Alpha 66 and Omega 7, bomb threats and U.S. anti-Cuban propaganda kept viewers away in droves, sort of like the current media's disinterest in the cause of the Cuban Five.
This should all be hopefully changing with films such as this, and several other finely produced studies of the injustice heaped on these patriotic Cuban young men who came to America to stop the sabotage and bombings in their homeland by infiltrating terrorist groups here. The film includes an interview with Antonio Guerrero who describes the frightening night he was arrested as something "straight from a James Bond movie." He claims that the information he gave Cuban authorities did not lead to the deaths of passengers onboard the Brothers to the Rescue planes that were shot down. He noted that it had been public knowledge when, where and at what time the planes were going to enter Cuban airspace. When our government was given uncontestable evidence of terrorist activity against Cuba flourishing in our country, they arrested the informants instead and did nothing about the criminal activity.
Extended footage is used from the 2001 Bay of Pigs Conference in Havana filmed by Landau and Cuban TV, featuring amazing and revealing interviews with key figures of the time. The film appears surprisingly balanced, with interviews of known terrorists Luis Posasda Carriles, Orlando Bosch and José Basulto, who are given the opportunity to defend their acts of sabotage that resulted, in one instance, in the deaths of 73 passengers onboard a Cuban airliner in 1976. Connections to other terrorist acts, including bombings in Cuban hotels and buildings, are also examined. Landau explains the strange behavior of these proud killers: "How did we get the interviews with the terrorists? They like to talk about their accomplishments. Or deny they did the things they get honored for – like Posada."
Landau's long span of filmmaking has offered activists several award-winning titles. The Cuban ones are available from Round World Productions, while others are available from many college libraries. His website has a wealth of information about his life's work, not only in the area of Cuban affairs. And now with his recent film, he's possibly found a new formula for making films on a low budget. His son, Greg (with four Grammy nominations), supervised and wrote some of the music and did sound design. His grandson Camilo, also a musician, wrote and performed some of the music. His daughter Julia was associate producer who did important interviews in the film plus key archival research and assistant editing. She was assisted by his granddaughter Nicole.
What the film reveals above all else is U.S. hypocrisy when dealing with terrorism. Our foreign policy allows us to overlook terrorist crimes committed by friendly countries while we prosecute, torture, imprison and kill innocent people from countries and governments we dislike. Our Cuban foreign policy is held hostage by a diminishing band of Castro-haters fed by government officials that have perpetuated a cruel and senseless blockade of the island for over a half a century.
Although it's apparent where Landau's sympathy lies, the quest for truth and justice supercedes politics, as Landau has consistently provided stimulating and challenging material as a filmmaker and as an activist/lecturer/author. His take on the current condition of the island is based on his keen observations over the decades and he spares no dogma. He recalls, "In 1960, I witnessed as a student how people my age ran ministries, used far more of their brain power than I, lived on little sleep and still had wide imaginations. After 50-plus years with a giant boot on their economic throat, the Cubans have succumbed to a bureaucracy, with corruption and dysfunction galore. They are trying to work their way out of it – they must. And for 50-plus years they've been a model, not of healthcare and education (which they brought about), but of disobedience. And that will be their mark. Look at Latin America today – full of Fidel's kids (ideological not biological) who sneer at the Monroe Doctrine."
The film is distributed by Cinema Libre Studio. It is scheduled for release July 26, but don't wait for it to come to a theater near you. Check out film festivals and Landau's website in the meantime.
Photo: tgraham // CC 2.0