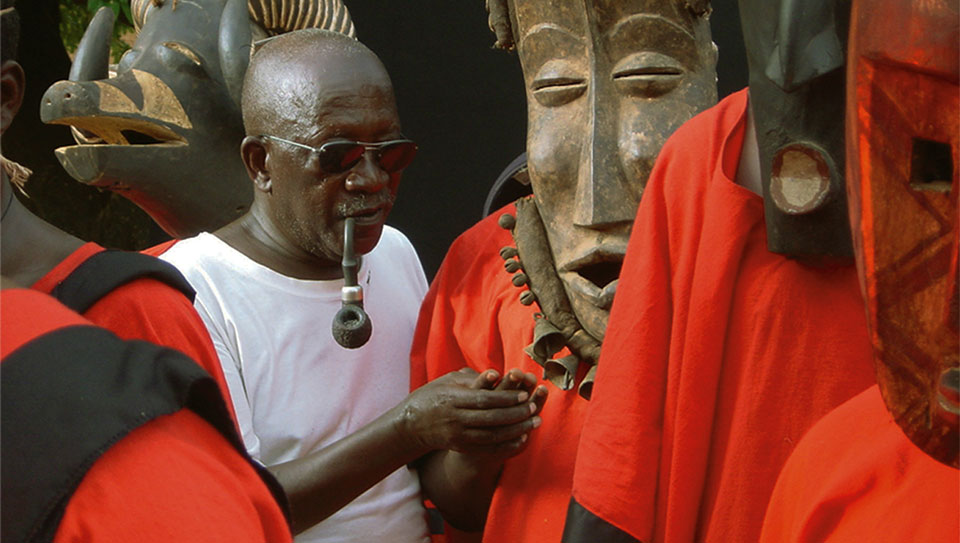 Ousmane Sembène, universally regarded as the "father of African cinema," died June 9 at the age of 84 at his home in Dakar, Senegal. A lifelong radical, his films tackled the most contentious issues in Africa, frequently provoking the indignation of the ruling class of both his home country and its former colonizer.
Sembène was born in 1923 in the Casamance region of Senegal, which was then under French colonial rule. Already rebellious in his youth, Sembène was expelled from school for striking a French teacher and moved to the capital, Dakar, where he followed in his father's footsteps as a fisherman.
Plagued by seasickness, he continued his education in what he termed "the university of life," holding a variety of working-class jobs, including bricklayer, plumber, mechanic, factory laborer, and dockworker.
During World War II, Sembène was conscripted into the French army, like tens of thousands of other men in Africa. He served as a truck driver and later a chauffeur in De Gaulle's Free French. The obvious contradiction of the colonized combating fascism on behalf of their colonizers emboldened African soldiers in their demands for freedom back home, but ordinary daily experiences also shaped their politics.
As the U.K. Independent reported, Sembène recalled, "In the army, we saw those who considered themselves our masters naked, in tears, some cowardly or ignorant … when a white soldier asked me to write a letter for him, it was a revelation — I thought Europeans knew how to write. The war demystified the colonizer; the veil fell."
After the war, Sembène eventually ended up in Marseilles, where he worked on the docks, became a union activist in the Communist-led General Confederation of Labor, and joined the French Communist Party. His experiences during a strike, when workers prevented the shipment of weapons for the French war against Vietnam, served as the basis for his debut novel, "The Black Dock," published in 1956.
In fact, Sembène first achieved acclaim as a novelist, especially for his classic "God's Bits of Wood" (1960), a gripping account of the 1947 anti-colonial uprising along the Dakar-Niger railway in which he also participated.
Sembène returned to Senegal after it regained its independence in 1960, determined to use film to reach the mostly rural and illiterate population of Africa and to tell their stories. He won a scholarship to the Gorky Film Institute in the Soviet Union and then began his celebrated career as a filmmaker, producing visually stunning films. These addressed the problems of postcolonial Africa and were directed towards African viewers in African languages. But at the same time, they were acclaimed for their worldwide relevance and appeal.
Sembène traveled to remote corners of his country to show his films and engage audiences in discussions in what he called "the people's night school." He also was a co-founder of the Pan-African Festival of Film and Television, known by the French acronym FESPACO, held every two years in Ouagadougou, the capital of Burkina Faso.
While often infused with humor, Sembène's films were always political and dialectical. As quoted in the U.K. Guardian, he believed it was the responsibility of African filmmakers "to become political, to become involved in the struggle against all the ills of man's cupidity, envy, individualism, the nouveau-riche mentality, and all the things we have inherited from the colonial and neocolonial systems."
And while many of his films dealt with the crimes of French colonial rule, he was equally critical of the corrupt African ruling class as well as the so-called traditional beliefs and practices which continue to oppress women. Indeed, some of Sembène's works were banned in both Senegal and France.
Two recurring and often overlapping themes in his films are the heroism of African women and the clash between "tradition" and "modernity" in contemporary Africa. His first full-length film, "Black Girl" (1966), tells the story of a young Senegalese domestic servant who kills herself while working for an abusive, wealthy family on the French Riviera.
The amusing "Faat Kine" (2000) depicts a single woman who raises her two children as a successful gas station owner in spite of the weight of tradition. "Mooladé" (2004), Sembène's last film and the winner of prizes at the Cannes and FESPACO festivals, examines the controversial issue of female genital mutilation.
One of his most hilarious films and widely considered his masterpiece is "Xala" ("The Curse," 1974) about a westernized and polygamous politician who becomes afflicted with impotence.
Forever determined to provoke and subvert, Sembène remained active until he fell ill last December, writing a new screenplay about the corruption of African politics, called "The Brotherhood of Rats." As the master storyteller told the Independent in 2005, "A society progresses by asking questions of itself, so I want to be an artist who questions his people."