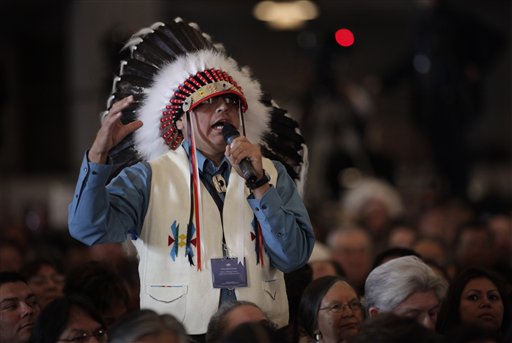 Fulfilling a campaign pledge, President Obama met with nearly 400 leaders of Native American tribes, Nov. 5, at a White House Tribal Nations Conference.
"Few have been more marginalized and ignored by Washington for as long as Native Americans – our First Americans," Obama told the tribal leaders.
"We know the history that we share," he said. "It's a history marked by violence and disease and deprivation. Treaties were violated. Promises were broken. You were told your lands, your religion, your cultures, your languages were not yours to keep. And that's a history that we've got to acknowledge if we are to move forward."
The U.S. government and Native American tribes have a "unique nation-to-nation relationship," but over and over, that relationship has not been honored by Washington, the president said.
In fact, we would add, it has been non-Native, corporate interests – from the railroads of the 19th century, to mining and oil companies, to commercial developers – that have held sway.
Today, Obama noted, tribal reservations face unemployment rates of up to 80 percent. Roughly a quarter of Native Americans live in poverty. More than 14 percent of reservation homes don't have electricity, and 12 percent don't have a safe water supply.
Running like a thread through tribal leaders' comments was how environmental concerns and the health and survival of Native American communities are interlinked.
Bill Martin, president of the Tlingit and Haida Indian Tribes of Alaska, appealed to the president to "work with us to stop the disastrous erosion caused by global warming." "Many of our villages are ready to slide off into the waters of Alaska," he said.
John Berrey, chairman of the Quapaw Tribe in Oklahoma, said his tribe "has the honor of having the largest Superfund site in the United States – it's Tar Creek Superfund site. We have 72 million tons of mining waste on our lands." Berrey asked for tribes to be given an equal role in "designing a better future and environment for our people."
Caroline Cannon, president of Alaska's Native Village of Point Hope, told Obama, "We are impacted with the offshore drilling, the decision that's been made on behalf of our tribe during the Bush administration. And we would like you to overturn that."
Environmental protection, clean energy and the potential of green jobs – these are central issues for Native Americans, and all Americans.
The green jobs movement and Native Americans are natural partners in the struggle to preserve and revive our communities, rebuild our economy, and provide a bright, healthy future for our children.
Important to that struggle is rebuilding the nation-to-nation relationship between the federal government and Native American nations. The White House conference was a welcome step in that direction.
Photo: Wearing a traditional headdress, Marcus Levings, chairman of the Three Affiliated Tribes, asks President Obama a question during the White House Tribal Nations Conference, Nov. 5. (AP/Pablo Martinez Monsivais)