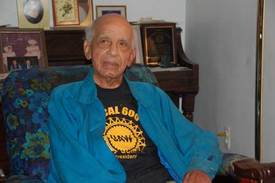 DETROIT, Mich. — These days, as millions nationwide work to elect the first African American president, 96-year-old Dave Moore, longtime labor and community leader, wonders if it's all just a dream.
"I don't want to sound pessimistic, but I've been Black all my life, and sometimes I don't know if I'm dreaming," Moore told the World. He said he was "blown away" at how many white votes Barack Obama won during the primaries and the impressive display of thousands of white voters at Obama rallies across the country.
"When I wake up the next day after the election and Obama wins, then I will know that this country has begun to take a turn for the better," said Moore.
Born April 6, 1912, as a teenager Moore left what he calls the "slave state of South Carolina" with his family and moved to Detroit. New to the big city, he says he had never seen so many people before hustling and bustling about.
Moore recalls joining a community water polo team as a youth on the city's East Side, at a time when "colored" and "white" signs were common. His team made it to the finals and traveled across town to a park in a predominantly white area to face an all-white team. Although the park required segregated seating, Moore said the players ignored the rule and sat where they wanted because the mayor of Detroit had declared the city's public areas open to all. "And we won the city championship," Moore said proudly.
Moore remembers the Great Depression of the 1930s when people had little food and ate rotten vegetables and fruits to get by. "And we didn't have heat in the winter so we would use wood from the porch out front to stay warm," he said. People at that time lived through "hardships, suffering, pain and agony while the fat cats gobbled up all the money." His parents lost $500 when banks closed. That was a lot of money back then, said Moore. "All of us were suffering like hell."
Moore became active with the Unemployed Councils, which mobilized people to fight against mass hunger and home evictions. Those experiences taught Moore the importance of unity among Black, white and Latino workers. People came together and rallied for their basic rights against rich employers who left millions out in the cold.
Moore's most memorable and proudest moment came in 1941 when he was instrumental in organizing workers into the United Auto Workers union at the Ford Motor Company in Dearborn, Mich. At the time Ford was the third largest industrial giant in the world and 75 percent of the workforce there had been laid off with no public relief. People were dying from cold and hunger.
In 1932 Moore helped lead a hunger march where five union members fell victim to machine guns fired by thugs hired by anti-union Henry Ford. It was the multiracial unity among the workers that overcame the divisions that Ford tried to provoke. That struggle eventually opened the door to the organization of the nation's auto industry and the founding of the UAW.
Moore was eventually elected to leadership positions at UAW Local 600, the powerful Ford local. Like many others, however, Moore fell victim to McCarthyism and was dismissed from his elected position in 1951. But as McCarthyism waned, he was reinstated in 1963 and was assigned as a national UAW representative. Moore was a founding member of the National Negro Labor Council and served as a legislative assistant to legendary Rep. George Crockett. Later Detroit Mayor Coleman Young appointed Moore the city's senior citizens director.
Reflecting on the history he has lived and battled through, Moore said the Black community has been hit the hardest with the current economic crisis. "We got a lot of people unemployed today," he said, adding that many of his neighbors have been laid off from the once booming auto industry. Moore believes the economic meltdown is going to propel Obama to become the first Black president, but "it's not going to be easy for him."
During the Depression of the 1930s, President Roosevelt had the people behind him, said Moore. "And that is what Obama needs to do — have the people behind him. I believe the key to Obama's campaign lies with the working people."
"I think Obama has the best program, but no matter what happens the fat cats of Wall Street and tycoons of big industry are the ones who control the finances of this country," he said. "They don't want to see a movement for unity of all people coming together."
"It's a long, long road that working and poor people have to travel but we have to remember this is a capitalist country and the fat cats on Wall Street will do whatever they can to keep it that way. Take a look at this country's history — big business has always called the shots. I hope Obama goes all the way when he says he's for change."
When it comes to fighting for unions, multiracial unity, civil rights and peace, Moore has seen it all, he said — he knows what it means to struggle for a working people's agenda in victory and defeat. Today, he sees great hope for the future.
"I'd like to see unity of all people one day where racism in this country is behind us," he said. "I'd like to see a world where people don't have to worry about starvation or unemployment. Where youngsters can get an education and become contributors to the betterment of society. Where our country's government truly plays a role to help educate our children in a world based on peace, understanding and brotherhood regardless of race, creed, religion or color."
Moore is looking forward to seeing a step in that direction with the election of Obama on Nov. 4
plozano @ pww.org