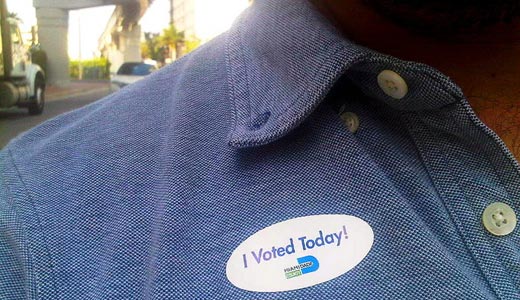 MIAMI – Will they side with democracy or Rick Scott?
That's what Florida Watch Action is asking: Will right-wing elected officials in the state act to stop Gov. Rick Scott, Secretary of State Kurt Browning and Republican Party allies from continuing an illegal voter purge, or will they, like Sen. Marco Rubio, R-Fla., continue to offer the governor support?
The group is asking voters to call Rep. Connie Mack, R-Fla., and several other lawmakers to demand they take a stand.
Critics charge that the Scott administration, under the guise of fighting voter fraud, has been illegally purging voter rolls to remove thousands of people, especially Latinos and Democrats. Florida Watch Action argues that Scott is trying to recreate "the infamous voter purge of 2000," which, they say, led to putting George W. Bush in the White House that year. While the actual results are still up in the air, Bush officially won the state by less than 600 votes after a vote recount was halted.
The U.S. Department of Justice filed a lawsuit June 12 demanding that Florida end the purges. The DOJ says Florida is violating the 1993 National Voter Registration Act.
"Congress enacted the NVRA against a historical backdrop in this country in which purge programs initiated close to elections prevented and deterred eligible citizens from casting ballots," Assistant Attorney General Thomas Perez said in a press release.
"The 90-day quiet period in the NVRA protects eligible voters from being dropped from the rolls right before an election," Perez continued. This refers to a protected 90-day period leading up to elections. In Florida congressional primaries will be held Aug. 14.
"It appears that Florida has undertaken a new program for voter removal within this 90-day period that has critical imperfections, which lead to errors that harm and confuse eligible voters," Perez said.
Indeed, a number of errors have been found already. In May, for example, 91-year-old World War II veteran Bill Internicola, who was born in Brooklyn, was sent a letter demanding proof of his citizenship – or be dropped from the voting rolls. Whether or not such "errors" are intentional has been part of a vigorous debate statewide.
Those who say the "errors" are intentional, note that Intericola, obviously a citizen, lives in Broward County, the second most heavily Democratic county in the state.
When asked by Bloomberg News about the purges, Sen. Rubio defended the actions on June 13, saying, "How could anyone argue against a state identifying people who are not rightfully on the voter rolls and removing them from the voter rolls?"
Aside from Florida Watch Action and the federal Justice Department, a host of groups across the state have taken their own actions. This includes a June 19 lawsuit on behalf of two of the disenfranchised and several organizational plaintiffs, including Veyeyo, the Florida Immigrant Coalition, the National Congress for Puerto Rican Rights, Florida New Majority, and 1199 SEIU.
The lawsuit charges that the new rules violate the NVRA as well as the 1965 Voting Rights Act, in that it causes disproportionate harm to minorities and immigrants.
Maria Rodriguez, executive director of the Florida Immigrant Coalition, said, "We see this purge as part of a continuum of attacks on immigrants that could impact this community's confidence that their votes this election will be counted."
According to those filing the lawsuit, 500 of the 2,700 people the state identified as possible non-citizens have already proven their status as legal voters. However, the filers note, proving citizenship can be onerous, making it likely that hundreds of legal voters will be disenfranchised if the purges are allowed to continue.
Eighty-seven percent of people on the purge list are minorities, including Latinos, who make up 53 percent of the list alone, and Haitian Americans.
Catherine M. Flanagan, director of the Election Administration Program at Project Vote, said in a press release, "This lawsuit will protect eligible voters in every county in Florida from walking into a polling place only to find that the state has erroneously decreed they cannot participate in this election. This purge is profoundly undemocratic and must be stopped."
Florida is a swing state, meaning that this year's presidential election could in part be determined by whether the voter purges continue.
Photo: Adrian Salgado // CC 2.0