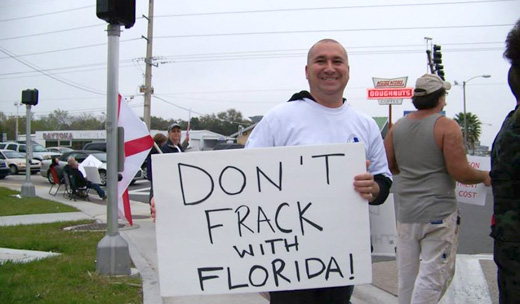 ORLANDO, Fla. – The Communist Party USA, Florida District, a party with a growing presence within the Sunshine State's progressive movement, held its convention here recently. This was the first such gathering in the state since 2006.
The party here has steadily built relationships with the various forces that make up the people's movement, and has picked up younger members who have helped spur the growth of active party clubs in central Florida and Tampa, with more being organized in other parts of Florida.
The Florida convention was one of many such events that have taken place around the country in the run-up to the CPUSA's 30th National Convention in Chicago, June 13-15.
Delegates to the Orlando convention elected a new Florida district committee, the party's leadership body here, and also elected delegates to the national convention.
The Florida convention included workshops on racism and organizing skills, such as relationship building and fundraising. Discussion periods allowed for lively exchanges of viewpoints on issues facing the party and the people's movement.
Convention guests included Jarvis Tyner, CPUSA national vice chair, who spoke on the future of the party and 21st century socialism and also gave a presentation on Marxism.
Tyner warned that "very backward and very dangerous reactionary forces" pose a threat to the gains that have been won over the last several decades by organized labor, immigrants, people of color and other progressive forces.
"They want to take us back politically, economically, psychologically before the civil rights revolution, to negate all that was won," said Tyner. "They want to crush and eliminate the U.S. labor movement. They are not playing." He continued, "We're going to have to put up quite a fight to make sure that it doesn't happen."
"They want to smash the immigrant rights movement. They see the 12 million immigrants in this country literally as criminals who ought to be pushed out," said Tyner. "As they say, make it so bad for them, that they will 'self-deport.'"
"They want to turn back to the days of Jim Crow elections where we don't have the right to vote," he said. "They have already, through the policies of mass incarceration, removed millions of people of color from the voting rolls."
"This is the battle that we face, and this is why we have pursued a policy that the main thing we have to do now is defeat the right wing," Tyner said, to lay the groundwork for the people's movement to build progressive change in the U.S.
CPUSA members in Florida participate in every facet of these struggles, working for social justice and to push back the ultra-right and its standard-bearers in the state – Republican Gov. Rick Scott and the state legislature, which the GOP has controlled since 1996. Republicans, at the behest of big business, right-wing religious fundamentalists and other forces, have pursued an agenda of cuts to social services and education, passage of Florida's infamous "stand your ground" law, tax breaks for corporations, and hostility to worker rights, LGBTQ rights, voting rights, reproductive rights, immigrants, the Affordable Care Act and Medicaid expansion.
Struggles against racism, sexism, "stand your ground" and against attacks on reproductive rights are important to Camila Valenzuela, 24, who has been a member of the CPUSA for three years.
Valenzuela's mother is also a communist – "the black sheep" of a conservative, Catholic family, says Valenzuela. Her mother was a child in Chile when the democratically elected government of socialist President Salvador Allende was overthrown in a bloody 1973 coup organized by Gen. Augusto Pinochet with the backing of the U.S. She eventually became a teacher before coming to the U.S.
Although this background "sparked" something in Camila, and gave her knowledge and understanding of socialism, it didn't mean that she, too, was destined to become a communist, she said. Instead it was her own personal experiences that led Valenzuela to become actively involved in building democracy and socialism through the Communist Party USA.
"It was seeing my struggles, and how they aligned with my mom's struggles, and with the ideas of Marx and Lenin," said Valenzuela, who works to build membership in Florida for the Young Communist League, a CPUSA-sponsored group for teenagers and young adults.
"I enjoyed the convention very much," said Dave Reid, who became a member of the CPUSA in 1944 when he was 16 years old. "I admire the leadership and the participation of the people, and I would say it was a great big plus for our party."
"I've been exploited all my life" by capitalism, said Reid, a retired union member who grew up an orphan in a foster home on Long island and whose first job as a teenager was harvesting vegetables.
"I was always thinking about the injustices that were around me all the time, and the unfairness," he said. "I was very conscious of the fact that I was an orphan."
Meeting members of the CPUSA and being exposed to the party's ideas and literature, including, at the time, the Daily Worker (predecessor to today's People's World), and learning about the USSR, said Reid, helped crystallize his resolve to struggle for a better world for working people, which he still does as a member of the CPUSA's Tampa Bay Club.
Patrick Foote, 24, has been a member of the CPUSA for a year, and says that one of the most important areas of struggle for him is advancing the right of workers to organize.
"I believe that capitalism, inevitably, is going to be the death of our species. Economic anarchy will only harm over time," he said, noting the effects of the profit system on the environment and indigenous peoples.
"Building socialism to me is building a plan to feed everyone, house everyone, clothe everyone, and have everyone have a voice" in how society is run, Foote said.
Photo: via Joshua Leclair