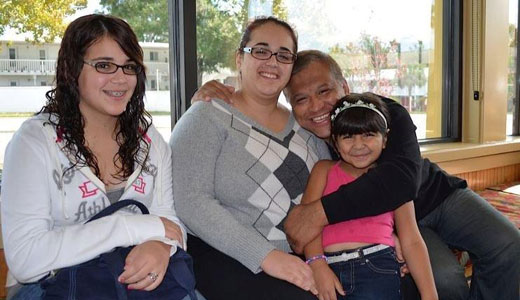 Melissa McGuire-Maniau, 35, has been happily married to her husband for over six years. They live in Winter Park, a suburb just outside Orlando, Florida. Together they are raising two daughters, one who is a teenager from her previous marriage and their five-year-old. The couple met on a blind date and fell in love.
"My husband is 44 years old," says McGuire-Maniau. "He was 17 when he legally entered the U.S. with his mother from Mexico. He speaks English, pays his taxes, has no criminal record, has a U.S. citizen mother, U.S. citizen children, and a U.S. citizen, service connected disabled wife."
But despite all these relevant factors, immigration agents showed up at their home Oct. 5 to arrest and deport her husband, says McGuire-Maniau. After his arrest she says she fought hard for his release. Eventually he was and granted a one-year stay before he is to be deported.
McGuire-Maniau wonders why immigration officials didn't exercise "prosecutorial discretion" when they made their decision to detain him.
In August the Obama administration announced it would suspend deportation proceeding against thousands of undocumented immigrants that pose no serious threat to national security or public safety.
McGuire-Maniau says she petitioned for her husband to remain in the U.S. nearly four years ago. She said his mother petitioned for him in 1997 and he was approved a year later. But further review to move both cases forward are still pending.
"He has been waiting to legally adjust his status for over 14 years," she said.
"Comprehensive immigration reform matters to me because the current system has sought to take my husband away from me and my kids. This system has failed me and really all Americans. Instead of going after hardened criminals, immigration officials continue to waste tax payer dollars on targeting people like my husband."
She notes the whole ordeal has been incredibly frustrating, especially because it's been four years since immigration officials have failed to recognize the legitimacy of her marriage. The experience has been traumatic for the kids, she adds.
"There is no excuse for a decision not to be made by now and for them to take this long is absolutely outrageous," she says.
McGuire-Maniau has done everything humanly possible. She has marched at the nation's capitol for immigration reform, led rallies and vigils in her hometown, is working with an immigration attorney, reached out to the media and has even contacted her elected officials for support.
"You name it, I've done it," she notes.
She points out her husband's mother came to the U.S. to give her children a brighter future with better opportunities to achieve the American dream.
She describes her husband as someone with a great sense of humor who is always making people laugh and is the life of the party. "He is extremely hard working and a very devoted husband and father. That's his life, he is all about family, church, and work."
He is self-employed and owns a small business as a handyman, she says, and his clients adore him. Many of them are now supporting the family's fight to stay united.
"It's really a travesty and an injustice. The current system is broken, it just doesn't work," she said.
McGuire-Maniau is hoping people educate themselves before opinions are formulated about immigration matters. "If people discover the history of immigration in this country, I think they will become more open minded about the subject and realize how families like mine are hurting."
She emphasized the importance of voting and supporting candidates and elected officials that stand up for families like hers. "If you don't go out and vote then we don't really have a right to complain," she said.
Meanwhile a new study was released this week by the Pew Hispanic Center, which estimates nearly half of the 10.2 million adult undocumented immigrants in the U.S. are parents of children under 18. The number, roughly 4.7 million people, of undocumented parents of minors is in sharp contrast with the 38 percent of legal residents and 29 percent of all U.S. born adults who are parents.
About 35 percent of the 10.2 million undocumented immigrant adults have lived in the country 15 years or more and more than 28 percent have been here for 10 to 14 years.
Jeffrey Passel, one of the authors of the report says the study was in response to GOP presidential candidate Newt Gingrich's recent announcement of support for a "path to legality" for undocumented immigrants who have lived here for many years.
"A consistent find that's underappreciated by the general public is that unauthorized immigrants living in the U.S. are made up families, rather than single men, which is really the stereotype," he said. The vast majority of children (80 percent) with an immigrant parent are citizens, he adds.
"We continue to put our research out and hope the facts will matter and that people will pay attention to them," said Passel, when asked how the new study would impact the public discourse on immigration.
"Although inflows have decreased recently there are a lot of people who are established here and have been living in the U.S. for a significant time," says Passel. "They have families here, they have kids in school here and they seem to want to stay."
Photo: Florida family from left to right, Delanie, 13, Melissa McGuire-Maniau, her husband Hector, and their five-year-old Dakota. Courtesy of the family.