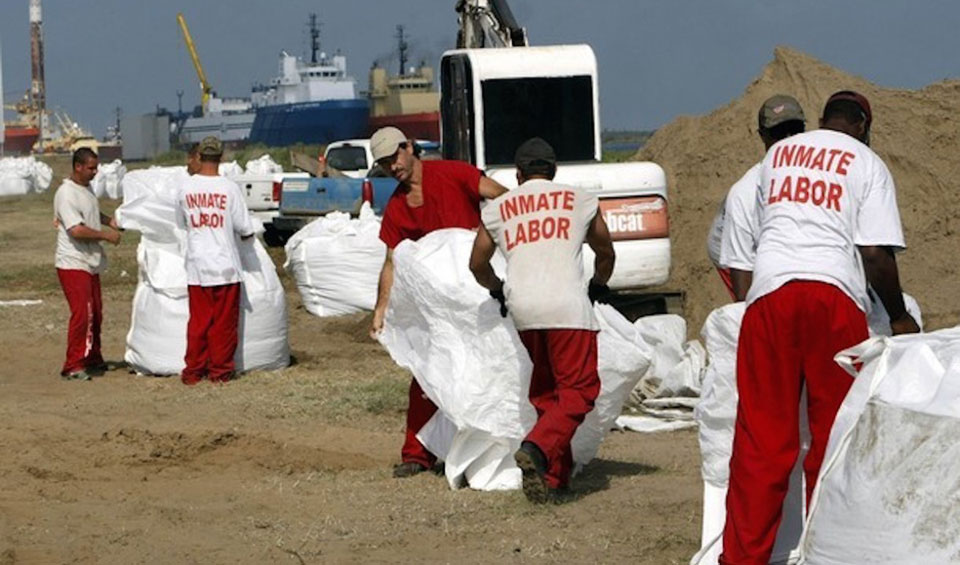 Prisoners in Florida began a month-long strike protesting involuntary servitude on Jan. 15, commemorating Martin Luther King Jr.'s birthday. American slavery may have officially ended in 1865, but a loophole in the 13th Amendment, passed that year, allows it to continue up to the present day for people incarcerated in the United States.
Florida prisoners were among the mostly African-American inmates put to work without pay to clean up the toxic spill caused when BP (British Petroleum) spilled 4 million barrels of oil in the Gulf Coast in 2010. The company refused to hire fisherman who had lost their livelihoods as a result of the spill. About 4000 Florida inmates within the state's Department of Corrections (DOC) are involved in producing picnic tables and park benches. Prison labor provides free work for Florida's Department of Transportation. The state collects $10.45 per hour for the prisoners' work, which takes the place of almost 900 non-prisoner workers, according to prisonlegalnews.org.
Florida has 100,000 prisoners in 145 prisons, according to the coordinator of the Gainesville, Fla., chapter of Incarcerated Workers Organizing Committee (IWOC). The prisoners call their movement #OperationPUSH. "The fact that [they] got to a place they felt empowered enough to create #OperationPUSH, and put it out there to reach out to us—that alone spoke volumes about the work that's been done nationally and locally that made this possible," she explained to People's World in a phone interview. She requested her name be withheld to protect her ability to visit prisoners.
Planning for the strike began around last Thanksgiving. An anonymous letter was sent to the Campaign to Fight Toxic Prisons (FightXPrisons) and the Gainesville branch of the Industrial Workers of the World (IWW). IWW union members got involved with the issue of prison labor, carrying forward their traditional support for workers other sectors of the formal labor movement have tended to ignore.
The prisoner workers sent out an SOS message to fellow prisoner workers and supporters:
"We are currently forming a network agency within D.O.C. We are asking all prisoners within the Department of Corrections to take a stand by laying down starting January 15, 2018, until the injustice we see facing prisoners within the Florida system is resolved."
The prisoner workers also called on supporters as well as religious groups to "come together on the same page" demanding: payment for labor "rather than the current slave arrangement"; "ending outrageous canteen prices"; and reintroducing the possibility of parole which Florida has currently eliminated.
Reports came in from various inside persons saying some of the original inside prisoner organizers were transferred to Solitary Units, called SHU, before the strike began.
The prisoners also stated, "Operation PUSH: Every Institution must prepare to lay down for at least one month or longer: No prisoners will go to their job assignments. Our goal is to make the Governor realize that it will cost the state of Florida millions of dollars daily to contract outside companies to come and cook, clean, and handle the maintenance. This will cause a total BREAK DOWN. In order to become very effective, we must use everything we have to show that we mean business. This is our chance to establish UNITY and SOLIDARITY. This is the strategy of Operation PUSH! A voice locked up is not a voice unheard!"
Since Jan. 15, the strike has gained the support of rallies in cities and towns across America and over 200 endorsers, including Angela Davis, a longtime prisoner-rights leader. "There's no better way to keep the legacy of Dr. King alive than by supporting the prisoners' strike," Davis said. "And I'm especially thinking about the fact that on the day that he was assassinated he was actively supporting the strike of sanitation workers here in the South in Memphis, Tennessee."
A group of Haitian prisoners sent a letter of support charging that the Florida prison system "use[s] all immigrants for free Labor and then deport[s] them."
The news story took on national and international proportions. Over 40 news outlets carried the story from In These Times, Democracy Now, Newsweek, Teen Vogue, and The Guardian, to just name a few. The name of the strike even trended Twitter with #OperationPUSH.
How did this strike become an international story?
First, after IWOC and FightXPrisons received the message, it was verified through SPARC (Supporting Prisoners and Real Change). The local organizer with IWOC in Gainesville reached out to their community for assistance. Between IWOC and FightXPrisons the outside work was started to support the inside prisoners.
It's Going Down, another prison abolitionist group, tracked the events for the day. One protester in Florida was arrested. The 19-year-old girl was from Dream Defenders. Video from the Dream Defenders protest was live-streamed.
A moving story behind #OperationPUSH was related by the Gainesville IWOC coordinator. "I was sitting on my couch writing letters to prisoners when I saw their letter. That the prisoners knew enough to reach out to me. They knew the foundation I had done in prison work." She went on to explain how she first got involved in prison activism 20 years ago: "My kid's father caught a twelve-year bid in a Florida prison," she revealed. "I wanted to help prisoners by getting their voices out, by creating literary magazines and prisoners' support. From that, it progressively turned into prison abolition work."
The history of the abuse of the language in the 13th Amendment to condone prison labor is not well known, although it recently achieved some renown through 13th, a 2016 American documentary film by director Ava DuVernay. Passed in the aftermath of the Civil War, that amendment to the Constitution prohibits slavery and indentured servitude—"except as a punishment for crime." Reversing the hard-won freedom of formerly enslaved people, many states soon began classifying certain "crimes" as felonies, thus facilitating the imprisonment of many thousands of people—especially people of color—in order to extract their labor for free. And as convicted ex-felons, upon release they permanently lost their right to vote.
The strike is ongoing for another three weeks. More events will be popping up in the next week. A national call to Florida Department of Corrections will be announced next week by IWOC.
Follow the details at www.incarceratedworkers.org.