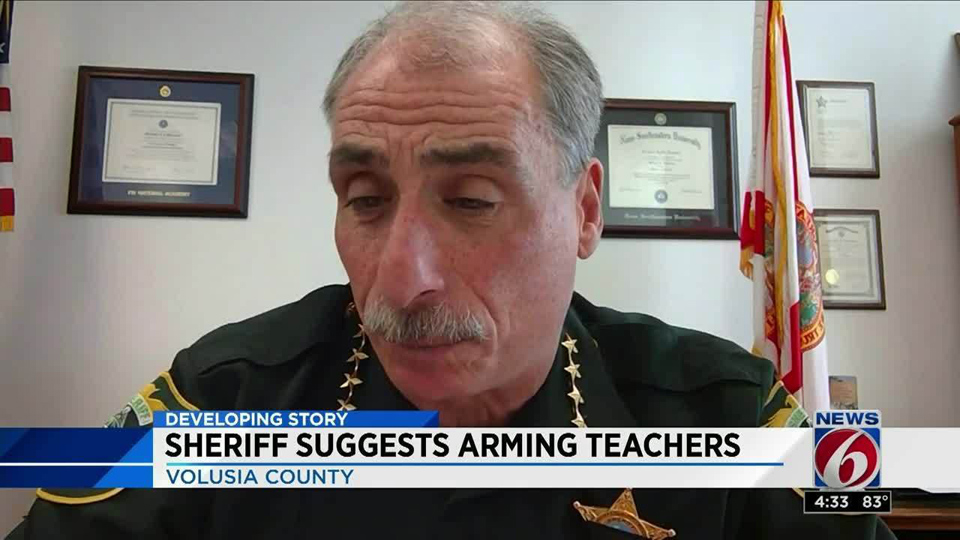 DELAND, Fla. — On Tuesday, Feb. 27, nearly two weeks after the murders at Marjory Stoneman Douglas High School, parents, teachers, and community activists flooded the Volusia County School Board chambers to voice their concerns about school safety. Arming teachers and/or school staff was the topic on everyone's mind.
A call to action put out by the Republican Party of Volusia County stated, "Liberal groups and anti-2nd Amendment individuals will be in attendance as well. They are already mobilizing their forces to INTIMIDATE and BULLY anyone who owns a firearm and who believes in the Right to Bear Arms. The QUESTION is will you be in ATTENDANCE to make your voice heard?"
This call to action was accompanied by social media posts indicating that the members and supporters of the Republican Party of Volusia County would be bringing their guns to the school board meeting and made multiple threats of violence against "liberals."
As the school board meeting began, Chair of the School Board Linda Cuthbert reminded those in attendance that the right to bear arms is not an issue that the school board has jurisdiction over and encouraged them to refrain from having a gun debate, quickly disarming those who came to defend the Second Amendment.
Because of the quick work of a few local activists and parents, the school board chambers overflowed with those wanting to speak against arming teachers and staff with guns. Members of the Democratic Party of Volusia County, the Democratic Hispanic Caucus of Volusia Co., the Democratic Women's Club of Volusia Co., and the Young Democrats of Volusia Co. showed up en masse along with teachers, union members, and parents who want safe and common-sense safety for our public schools. These ideas included fully funding the Volusia Co. Sheriff's School Resource Officer program (for which funding has been cut), single-point entry for all schools, more funding for counselors and mental health in public schools, and to "treat our schools like we do courthouses."
Chair of the Volusia County Democratic Party Jewel Dickson said, "I'm a retired educator, teacher and administrator, and I just don't think guns have a place in the classroom."
Local parent of two and union activist Yennifer Mateo Castillo stated, "After I heard that the School Board was considering arming our teachers and/or school staff, I became quite concerned and I started doing a little bit of research. And many combat veterans and law enforcement agencies across the country have come out this week against arming teachers and school staff."
Castillo continued, saying, "While providing some teachers and staff with guns may sound like a good idea, it increases the chances of children dying in crossfire, can cause confusion between assailants, law enforcement and teachers, and greatly increases the odds of accidental shootings. Let our teachers teach and please do not ask them to be soldiers in the classroom. Leave that to trained law enforcement."
Only one individual voiced direct support for arming teachers and staff. Larry Wesley of the Republican Party of Volusia Co. said that "the only thing that stops a bad guy with a gun is a good guy with a gun." A few others in attendance simply asked for "something to be done" immediately to protect our schools.
The evening ended with school board members saying that more research needed to be done before they would reach a decision.