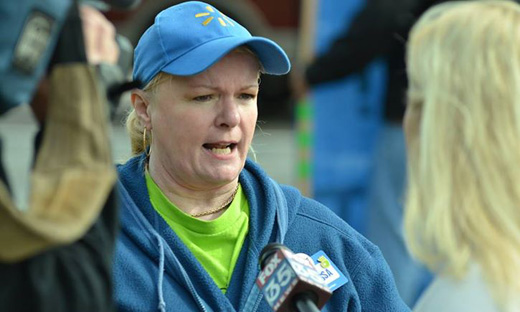 ORLANDO, Fla. – The people of Central Florida put Walmart on "trial" here on Black Friday – Nov. 29 – part of a nationwide wave of protests against Walmart organized that day by OURWalmart and its community allies and supporters.
The people's verdict following the 15-minute mock trial: Guilty on all counts, including worker abuse, misuse of taxpayer funds and destroying the American economy.
The action, held in front of an east Orlando Walmart, was organized by OURWalmart (Organization United for Respect at Walmart) and Central Florida Jobs with Justice. Among their demands were that Walmart end its retaliation, including terminations, against workers who join OURWalmart, provide more full-time hours and pay living wages-at least $25,000 a year.
OURWalmart is a worker-led group whose mission is to give Walmart employees a voice on the job so they can obtain better pay, benefits and working conditions. It was organized, with support from the United Food and Commercial Workers, in 2011.
Former Walmart worker Vanessa Ferreira said she hopes such actions put pressure on the U.S.'s largest retailer to "stop retaliating against us for wanting to join together and make it a better place to work."
Ferreira, an eight-year veteran of the bakery department at Walmart's St. Cloud, Fla. store was fired in the spring in what she says was retaliation for her activism with OURWalmart.
The mock trial was inspired by a temporary injunction recently issued by a judge in Orange County, Fla. that bars anyone associated with Jobs with Justice, the United Food and Commercial Workers Union, and OURWalmart from passing out fliers or holding signs or otherwise engaging in actions on Walmart property.
Walmart got the injunction as part of an ongoing lawsuit against JWJ and the UFCW. The company has filed similar lawsuits in other states.
As Black Friday shoppers poured through the main entrance to the store's parking lot, around 40 people on the public sidewalk greeted them with signs and chants of "Hey, hey, ho, ho / $8.81 has got to go" (a reference to the average hourly wage of Walmart workers) and "Walmart, Walmart, you're no good / Treat your associates like you should."
"I would like to see them pay decent wages and benefits to all their employees," said Fred Bevis, training coordinator for IATSE Local 835. "That would help turn the economy around, and create more jobs because the workers would have more money to spend."
"I'm here to show solidarity with the people who are making little more than minimum wage [$7.25 an hour, $7.79 in Florida]," said Jim Howe, of CWA 3108, "and whose company actually put out food baskets so workers at Walmart could contribute to the needs of other workers at Walmart who couldn't afford a decent Thanksgiving dinner."
Rich Hillwig, of Community for Change at Walmart Orlando, said he wants Walmart "to pay their workers a living wage so they don't have to seek out public assistance and we are not responsible for $900,000 to $1.7 million per year in taxpayer-funded corporate welfare" that, in effect, subsidizes the company's low wages.
Last month, Hillwig's group organized a food bank that helped around 50 Walmart workers and their families to have a better Thanksgiving.
Brook Hines, director of the Community Business Association of Florida, testified that Walmart's low wages leave its workers with less to spend at community small businesses.
"When Walmart fails to pull their load and fails to support their workers," said Hines, "they're not being part of the community and they're not helping small businesses."
Currently, 825,000 Walmart workers earn less than $25,000 annually. Even working full-time (which the company considers 34 hours per week), these workers have average earnings of around $15,600 annually.
By contrast, outgoing Walmart CEO Mike Duke was paid $20.7 million in 2012–more than 1,300 times the yearly pay of a full-time Walmart employee making the $8.81 average hourly wage.
A recent study by Demos, a progressive public policy organization, found that Walmart could raise its rank-and-file workers' pay to 25K a year if, for that purpose, it had used the $7.6 billion it spent in 2012 to buy back its own stock. "The buybacks did nothing to boost Walmart's productivity or bottom line," noted the report's authors.
Members of AFSCME, YAYA (Youth and Young Adult Network of the National Farmworker Ministry) and the Orlando Light Brigade also participated in the Central Florida action.
Photo: Vanessa Ferreira. Brook Hines, Community Business Association of Florida.