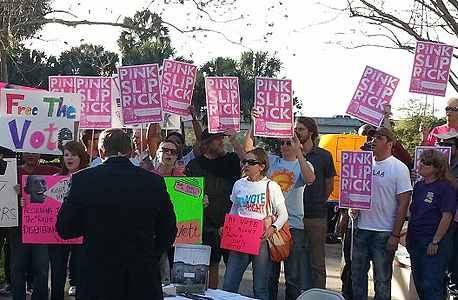 ORLANDO, FL. – Several dozen residents rallied here at a downtown park March 5 –the first day of the 2013 Florida legislative session – to demand "true election reform" that would make voting in the Sunshine State "free, fair and accessible to all."
A total of 23 "Free the Vote" rallies were held that day in cities across Florida, including Miami, Fort Lauderdale, Tampa, Jacksonville and Tallahassee. They were organized by Awake the State, a partnership of Florida Watch Action, Progress Florida and America Votes.
Awake the State and other progressive groups in Florida have been pushing for the reversal of changes to early voting that were enacted in 2011 by the Republican-dominated legislature in House Bill 1355. That measure is widely seen as having been designed to suppress the vote of groups such as youth and minorities that tend to cast their ballots for Democrats.
Awake the State is demanding that Florida's ultra-right Gov. Rick Scott and legislators:
Increase early voting from 8 to 14 days and allow it for 12 hours a day;
Give supervisors of election more flexibility in designating polling locations;
Limit ballot summaries of constitutional amendments proposed by the legislature to 75 words to reduce ballot clutter (lengthy ballots also may have been a factor in how long it took to vote in Florida);
Allow voters to update their address on Election Day if they have moved to a different county.
The day of the rally, the Florida House – perhaps due to embarrassment over problems with the 2012 election – did pass, 118 to 1, a bill (HB 7013) that allows for 8 to 14 days of early voting for 8 to 12 hours a day. This would be at the discretion of supervisors of elections. HB7013 is now awaiting action by the Florida Senate.
At the Orlando rally, many participants wore bright pink T-shirts and held signs calling for "pink-slipping" Scott, who signed HB1355 into law.
The speakers at the event came from a variety of civic and progressive groups.
Yulissa Arce, Florida coordinator of Mi Familia Vota, decried the impact of HB1355 on minority voters.
The measure, which reduced early voting from 14 to 8 days, had, said Arce, led to long lines on election day and confusion about polling locations, and made it more difficult for African American churches and others to organize get-out-the-vote efforts such as Souls to the Polls, which could no longer be held on the last Sunday before election day.
HB 1355 and Florida's infamous 2012 voter roll purge, which disproportionately affected blacks and Latinos and resulted in several lawsuits against the state, have disenfranchised minorities, said Arce.
"We need to just tell them, 'Hell, no!" she said. "We want our vote back–14 days, 12 hours." Mi Familia Vota registered more than 35,000 new voters in 2012 in Central Florida.
A study the University of Florida political science department released in January, found that HB 1355 likely was responsible for longer early voting lines, causing a drop in turnout of more than 225,000 voters, compared to 2008.
According to the study's authors, "well-founded fears of long lines at early voting and Election Day polling sites resulting from HB 1355" were the reason that absentee ballots-"a much less reliable form of voting a valid ballot"-made up 28 percent of all ballots cast in 2012, up from 22 percent in 2008. The study also found that African Americans had their absentee ballots rejected nearly twice as often as white voters.
These issues have helped turn the state into "another national joke," said Andre Broussard, lead organizer in the Orlando office of Florida New Majority.
"Damn it, I'm tired of being laughed at, I'm tired of being made a fool, I'm tired of being a joke," Broussard told the rally. "Hell, I'm tired that my feet are hurting from standing in a line, and I'm tired of having a governor named Rick Scott."
A lot of other Floridians share Broussard's opinion, according to a poll released in January that found Scott's approval rating had sunk to a dismal 33 percent.
This is not surprising, given the unpopularity of Scott's pro-business, tea party agenda of austerity and privatization that has hurt public education and the state's most vulnerable citizens-the poor, the elderly and children-and has been met with increasingly well-organized pushback from minorities, labor and community groups.
These factors make Scott vulnerable in 2014. The poll found that if pitted in a gubernatorial race against former GOP Gov. Charlie Crist, Scott would get just 39 percent of the vote vs. 53 percent for Crist, who became a Democrat in December.
Despite the positive poll numbers, Crist almost certainly would face an uphill battle in fund-raising. Politico reported in February that Scott plans to spend at least $100 million on his 2014 campaign. Scott, former CEO of for-profit health care provider Columbia/HCA, used $73 million of his own fortune to become governor in 2010.
Anna Eskamani, external affairs manager of Planned Parenthood of Greater Orlando, told the rally that spending cuts by the legislature had reduced access to health care for women and the uninsured. She noted that currently 1.9 million women in Florida lack affordable contraceptive services.
"Voting and health care are the same," said Eskamani. "They are basic human rights, and we need to step up and demand more from our legislators this session."
Representatives of community group Organize Now! and the College Democrats at the University of Central Florida also spoke.
Photo: Organize Now!