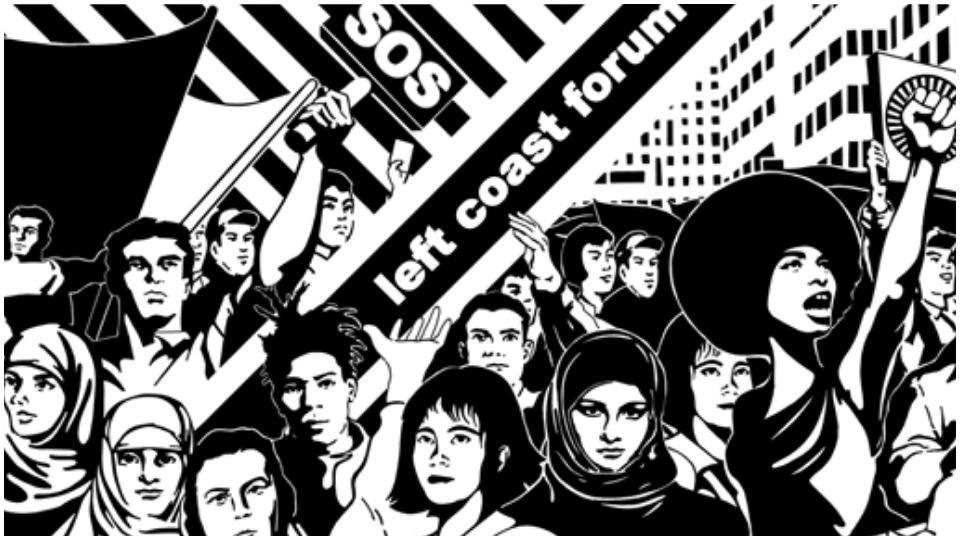 LOS ANGELES—As one might expect, this second year of this city's Left Coast Forum (LCF) kept coming around to the themes of race and class—in plenary sessions, breakout panels, in the cultural offerings, and in the lively display area where left activists of all stripes hosted booths promoting their points of view and products.
It all started Friday evening, Aug. 24, and continued straight through, with just enough time to get home after dark to nab a few zees, to 6 p.m. on Sunday. No one could possibly take it all in: Most of the eight breakout sessions featured seven different options. Attendees had to follow their noses and figure out where their greatest interests lay.
I made some excellent choices, as well as one clunker—a session titled "California and the Problem of Minority Rule"—which I thought would be an incisive look at what it means to have a majority-minority population, but which turned out to be an unabashed promo for California nationhood, i.e., secession. This panel sneaked in under the radar: I found nothing of a particularly "left" perspective in it.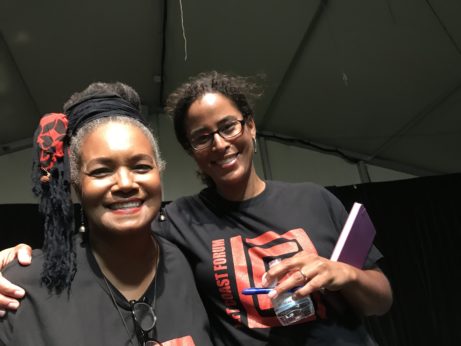 Attendees suffered two major disappointments insofar as Alexandria Ocasio-Cortez, the magnetic democratic socialist running for Congress from New York City, had been announced as a keynote speaker. By the time the printed program appeared, her appearance had been downgraded to a video talk, and then that video turned out to be only a couple of minutes long, barely more than greetings.
The all-woman Friday night started off with a slow fizzle, then a couple of big fireworks. I was unimpressed by the unprepared comedienne who kicked off the weekend, but the following two presentations rocked.
Living in occupied territory
In a two-woman panel, "The Centrality of Race," Sharon Kyle (one the two key organizers of LCF with her husband Dick Price, co-editors of the L.A. Progressive and Hollywood Progressive websites) interviewed Kelly Lytle Hernandez, professor of history and African American Studies at UCLA. She is one of the nation's leading experts on race, immigration, and mass incarceration. Her most recent book, City of Inmates: Conquest, Rebellion, and the Rise of Human Caging in Los Angeles, 1771–1965 (University of North Carolina Press, 2017) was the focus of the interview.
Prof. Lytle Hernandez calls L.A. "the largest jail system in the world," with facilities under diverse jurisdictions. American scholars and activists are now conversant with the continuum from slavery to Jim Crow to mass incarceration, but in her work on Los Angeles, she gives a specifically West Coast spin on the history. She identifies six important phases of incarceration in L.A.:
First, as white settlers arrived, occupying lands and displacing Indigenous peoples, Native Tongva and Gabrielino people flowed into the city and were the most arrested group—on familiar charges of "vagrancy" and public drunkenness.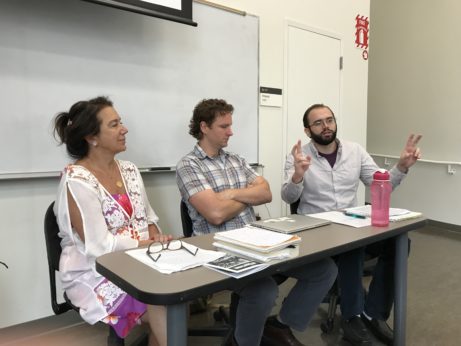 Second—and this might be a surprise—in the period 1880-1910 the most arrested group were white men, largely on the same charges, people who wandered West from the cities and farms of the Midwest and East but who had not yet established themselves with families, jobs or homes.
Third, during the 1880s and '90s, Chinese immigrants; now for the first time L.A. becomes majority white, and detention and deportation were employed not simply to punish and incarcerate, but to rid America of an unwanted racial population.
Fourth, Mexican dissidents and refugees in the early years of the 20th century: These were people escaping Porfirio Díaz's dictatorship in Mexico, some of them plotting his overthrow from abroad. In the years 1904-1910 California and Arizona had the highest incarceration rates in the U.S.
Fifth, as Mexican immigration rises (and much of it was invited to sow and harvest the crops of California's fertile Central Valley), a newly invented "crime" called "unlawful entry" was used again to detain and deport those whom Congress did not wish to add to the American population.
Finally, as the African-American population of L.A. started growing exponentially, beginning in the 1920s, Jim Crow-like policies prevailed. The first police killing of a Black man, Sam Faulkner, took place in 1927, and the campaign to intimidate and terrorize Black people has never let up since. As with the Chinese and Mexicans, the objective in this phase was not so much to get people back to work, as was ostensibly the purpose of "vagrancy" laws, but to get rid of them. In a myriad of ways, Black people were told to get out and don't come back: There's no place for you here. That goal failed, and the African-American community in L.A. eventually became the largest in any American city.
"The days of colonialism are not over," Hernandez says. "We live in occupied territory…. The American West is the homeland of Manifest Destiny."
Currently, Professor Lytle Hernandez is the research lead for the Million Dollar Hoods project, which maps how much is spent on incarceration per neighborhood in Los Angeles County. One reason she began this project is that in researching her book she found that the L.A. police and sheriff departments have destroyed almost all of their historical records, so tracking the charges, the people charged, and the places they came from, was a challenge. Now, as before—no surprise here—a majority of arrests are for what might be called "public order" charges such as DUI, possession, not paying Metro fares, homelessness, unemployment. These arrests predominate in "overpoliced" neighborhoods recapitulating historical patterns of race and ethnicity since 1771.
Furthermore, the bail bond system has been used not so much to guarantee an arrested person's appearance in court, but in practice to suck millions of irretrievable dollars out of disproportionately Black and brown families—mostly women—who are already living precariously.
(A recent reform bill passed in California that eliminates money bail but allows the courts wide leeway in determining who is a "flight risk" and thus subject to being kept in detention. Civil rights activists have reasonable fears that this judgment will fall largely on already "despised" communities.)
In a rousing first keynote address of the weekend, Dr. Melina Abdullah, professor and chair of Pan-African Studies at California State University, Los Angeles, and a member of the Los Angeles County Human Relations Commission since 2014, spoke on the topic "Black Lives STILL Matter…Especially When White-Supremacy Tells You They Don't." The mass media have turned their focus away from BLM, but Abdullah says, "The struggle for freedom is always in fashion.… We will never move on until we're free." Citing the incendiary tweets of the man who came in second in the popular vote for the presidency, she says, "The curtain has been torn back on what America has always been."
Abdullah touched on many subjects. "We don't want to reduce homelessness—we want to make housing a right." She ridiculed Ben Carson, Secretary of HUD, who infamously declared that "poverty is a state of mind" and then went on to raise rents in public housing! She cited figures showing that Blacks are 7 percent of the immigrant population, but 20 percent of deportations, and that after a steady downturn, over the last three years there has been a 44 percent rise in national hate crimes.
In the last five years in L.A. County, she says, over 400 people have been killed by police. But there has not been a single cop conviction. "First they kill the body, then they assassinate the character." She participates in a weekly protest demonstration (every Wednesday, 4-6 pm) in front of L.A. County District Attorney Jackie Lacey's office.
"I want to chant down Babylon," Abdullah said. "At the same time, I do not want to live in rubble." She envisions a future of transformative justice instead of prisons, community policing, liberatory models of education, and an end to bickering among ourselves. Finally, in anticipation of what may soon shape up to be a major event in L.A., she said, "When our teachers go out on strike, come out and support them. Support UTLA—our teachers cannot be standing alone."
Saturday's esoterica and the relevance of Marxism
My three panel choices on Saturday were all worthwhile, a couple of them, however, a bit esoteric. First—for this opera fan who was pleasantly surprised to see a topic like this at LCF—was "Wagner and Bakunin: Advocates of Nationalist or Anarchist Revolution?" a panel with Javier Sethness, Alexander Reid Ross, and Maria Castro. Composer Richard Wagner and the Russian anarchist Mikhail Bakunin met each other during the 1849 Dresden uprising, a last gasp of the 1848 revolutionary movement that swept Europe—and which, incidentally, sent many prominent radical exiles to the United States in its wake. They never met again after that.
Both Wagner and Bakunin were well known for their anti-Semitism—in Bakunin's case stemming in part from his dislike of Karl Marx, "a Hegelian, a Jew, and a German." But the main focus of this panel was to interpret Wagner's four-opera cycle Der Ring des Nibelungen as essentially an anti-capitalist brief, confirming and deepening Wagner's early radicalism. The gold from the bottom of the Rhine River that is the object of pursuit throughout the tetralogy is a symbol of capitalist fetishism, and in the end, when Valhalla, the citadel of capitalism, is destroyed, the gold returns to its source and the primacy of Nature is restored. The operas also contain strong female characters, such as the Valkyries, Brünnhilde, Sieglinde and Fricka. I admire a number of Wagner's operas, and genuinely like a few, but have always found the Ring overlong and pretentious. Perhaps I should give it another chance.
Less esoteric were the two panels recognizing the 200th anniversary of Karl Marx's birth this year. One was "Marx at 200: Critical and Humanist Legacies for Today," with panelists Kevin Anderson, Barbara Epstein, and Douglas Kellner. These scholars continue the Marxist humanist tradition that refrained from politically aligning with statist Marxist entities such as the USSR and China but nevertheless valued Marx's economic and philosophical understanding. They cite writers and thinkers such as Erich Fromm (Marx's Concept of Man), Frantz Fanon (The Wretched of the Earth), Herbert Marcuse (One-Dimensional Man), and the writings of Martin Buber, E. P. Thompson, George Lukacs, the Praxis School in Yugoslavia, and Raya Dunayevskaya, among others, as leading lights of non-authoritarian Marxism.
The heyday of Marxist humanism occurred in the 1940s and '50s, declining in the 1960s as McCarthyism receded, anti-imperialist consciousness grew during the Vietnam War, as youth, especially, lauded Chairman Mao's "anti-revisionist" Cultural Revolution, and as the global South fought a number of wars for national liberation. The speakers expressed their hope that people who recognize the need for cooperation, respect rationality, and believe it is possible for humans to move toward a better society might help to revive the Marxist humanist tradition. Marx's revolutionary critical theory of capitalism as a system of domination, exploitation, and alienation that is rooted in race and gender as well as class oppression, remains as vital as ever.
One Marxist humanist whom some People's World readers might remember was Corliss Lamont (1902-1995), a key founder of the National Council of American-Soviet Friendship who was sympathetic to the CPUSA but never joined it. He served as a president of the American Humanist Association and in 1977 was named Humanist of the Year. (On a personal note, he contributed $500 toward my 1980 trip to the Soviet Union.)
The second Marx panel, "What is Marxism? Is Marxism Still Relevant?" attracted a standing room only crowd, with moderator Ed Rampell (a frequent contributor to People's World), and panelists UC Irvine academic Stephan Hammel, Valerie Carlson (Freedom Socialist Party), Jim Lafferty (National Lawyers Guild and KPFK host), and the CPUSA's Carl Wood. Wood began with a brief summary of the first question in the title.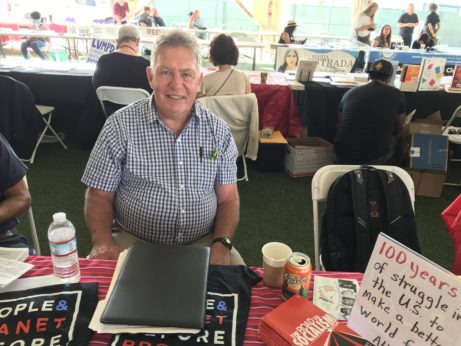 Carlson, a retired attorney also affiliated with the National Lawyers Guild, displayed an informative pyramid diagram of society starting with the mean of production at the base, then the classes of people in the relations of production, then the legal and political systems that sustain the economic system, the ideological institutions of family, school and religion that reinforce confidence in the system, topped by the arts of any given society, and finally the place of the individual at the summit, the net result of all the factors below. She dismissed all capitalist parties, including the Green Party, as universally not worthy of trust. Hammel maintained that "Marxism stands or falls on the question of value," which is obviously still the most important concept for working people to grasp and act upon. As the machine takes over, he observed dialectically, "productivity destroys productive value."
Lafferty cited a sense of urgency of replacing the imperialist capitalist system. "Either we end capitalism or watch the world descend into barbarism." He appealed for functional unity among left sects in the United States; yet this would be problematic, as not all of them would subscribe to his egalitarian contempt for both the GOP and the Democrats. For Lafferty, "We will only drown more slowly in the leaky Democratic boat." All those social movements—labor, women, LGBTQ, environmental, gun control, immigrant rights, etc.—working to defeat Trump Republicans in the upcoming November midterm elections and restore Democratic control of the House (and possibly also the Senate) surely would not sign on to such "unity."
The question of unity elicited a lively conversation both among the panelists and from the participants. The "unity" of a few small isolated political groups on the left cannot be imposed on the masses as a line or strategy for them to follow. It's just the reverse: Emerging movements have their own momentum and lift up their own leaders. We see this in labor and in the current resistance virtually every day. It's more critical for people on the left to become involved in popular struggles, and the unity will follow. We go in not as missionaries but prepared to let those active in the struggle tell us how we can be of help.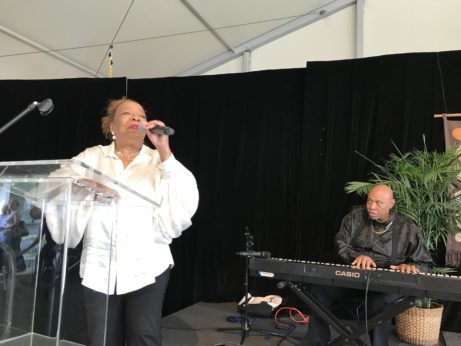 Two more keynote addresses
Eric Mann is a veteran of the Congress of Racial Equality (CORE), Newark Community Union Project, Students for a Democratic Society, and the United Auto Workers New Directions Movement. He now leads L.A.'s Labor/Community Strategy Center and hosts KPFK's Voices from the Frontlines.
Mann spoke about his own Jewish childhood—he was raised in a radical (presumably Communist) home—and young adult years, when he was recruited to work for CORE as a 19-year-old. The man who interviewed him—in the aftermath of the killings of the three civil rights workers in Mississippi in 1964—asked him if he was willing to die for the cause. Though hesitant at first, he answered yes. He has a dim view of most white people.
"The problem started in 1492." First, the white settlers stole the land, then they went to Africa to steal the people to work the land. And what were most of the other white people in the South? Slavecatchers. He questions the validity of the "white working class": "It's a small part of the white population that's thrown its lot in with the Black community…. It's possible to gain admission to the club but you better be prepared to devote your life to it." A few minutes later into his talk, he wondered aloud why his Labor/Community Strategy Center, whose principal organizing has been around public transportation, has been successful in attracting Black and brown people, but not whites.
Mann's movement demands to give the land back to the Indigenous people, provide reparations to African Americans, and open the borders. Public transportation should be free; eliminate the police on Metro trains; stop arrests and attacks on Black passengers. He is drafting a new International Revolutionary Pledge of Allegiance to replace the American flag-saluting one.
Mann is also dismissive of Democrats such as Bernie Sanders and Elizabeth Warren. The Democratic Party directs its message to white people, never mentioning prisons, race or genocide. Sanders talks about Social Security and Medicare as economic issues, avoiding issues specific to Black America. And Warren now is focusing her attention on GOP corruption—again, evading the real issues. In the end, there's not a lot of room for people to be honest radicals or revolutionaries—not to mention reformers—unless they accept Eric Mann's analysis, program and leadership.
On Sunday, Executive Director of the ACLU of Southern California Hector Villagra spoke, mostly about the current immigration crisis. He exposed the illogic of Trump's proposal to deport all 11 million undocumented immigrants within two years; there simply are not the holding places for them nor the border patrol and ICE staffing for the job. More significantly, Trump has tried to enlist local police departments in the task, which is not only not their job, but many jurisdictions have expressly forbidden it. Every court so far has acted to restrain the president, but much depends on future appointments to the Supreme Court.
Villagra took note of the sanctuary movement, pointing out that ironically state and municipal resistance to federal law stands on 1980s and '90s cases which reaffirmed states' rights. Yet, he says, the status of sanctuary might ultimately be a risky defense: The principle originated in the idea that a person accused of a crime could submit to "divine" law by claiming sanctuary in a church. Nowhere in federal law is sanctuary defined, so what established legal principle is invoked? Furthermore, individuals such as Kim Davis, the Kentucky clerk who refused to authorize same-gender marriage, was also appealing to a "higher" or "divine" law. Picking and choosing which laws you want to abide by is a questionable course.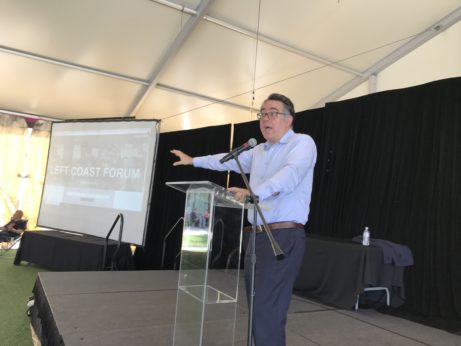 But of course, much law has been changed over time by people disobeying oppressive laws. In the end, it comes down to competing visions of America. Is there enough liberty and equality to go around? The ACLU believes there is. And for Villagra it is not a question of "standing with" our fellow oppressed human beings—it's more that we are all those people.
By 2048, Villagra predicts, America will be a majority-minority country. The whole thrust of the deportation and immigration restriction movement is to make America a white majority nation again. That was the thrust of the 1920s immigration laws, which aimed to restore the population to its ethnic profile in the 1890s. It's the same impulse today.
Speaking of kicking people out of their homes…
Three sessions on Sunday focused on different ways of evicting people—and of keeping them in their homes. Three academics, Alexander Billet, Magally A. Miranda Alcazar, and Adam Turl joined for "Gentrification, Art and the Right to the City," which provided theoretical underpinning to help people understand why opening galleries in "up and coming" neighborhoods is generally a poor idea. The needs of capital, says Turl, define how people move through a city, in order to gain access to housing, food, employment and transportation. Our class position determines all these decisions.
When an area is "improved"—"gentrified"—that means that capital has targeted its residents for removal through higher rents and evictions. As the productivity of manufacture has declined, financialization sets in—it's what capitalists do with money if they're not actually making something. Corporations are now investing in foreclosed properties that once reverted to banks, as a source of profit in a neoliberal economy where everything is a source of profit. What better than a classy, avant-garde art gallery with a trendy chai café to signal to prospective buyers that this is a neighborhood they can afford and would like to live in? The stories are legion now of the artists who came in, remade their lives, and ultimately got priced out of the communities they helped to gentrify. It's a modern-day re-run of the classic techniques of capital accumulation: colonization, enslavement, enclosure, and some of the same language recycles too: Urban pioneers, heroes, Bohemians.
Billet spoke of other projects to evict the poor and working class: Haussmann's reconstruction of Paris, for example, in the 1870s following the Paris Commune, or the ridding of working-class people from neoliberal Manhattan.
In these ways "artwashing," often naively conducted by artists unaware of the social role they are playing, becomes abhorrent to residents who immediately see eviction notices as soon as a gallery or Starbucks turns up on their street. Miranda calls it an ideal convergence between the real estate and the art industries, both of which are highly speculative. Unproductive space produces capital, wringing profit from post-industrial urban decay.
The collective the panelists belong to is called Red Wedge, which publishes a magazine of provocative, anti-capitalist articles about art and society. Their thesis is that there is no reason artists and the larger community cannot share common goals. It's the market economy that drives most artists and communities apart.
Two more sessions dealt specifically with "Tackling Homelessness in Los Angeles" and "Housing and Revolution." In the first, panelists Claudia Perez, Sylvie Shain, Andy Bales and Bill Pryzlucki, moderated by Mel Tillekeratne, addressed the epidemic of homelessness, now estimated at 58,000 people in L.A. on any given night. "We need a FEMA-like approach to this disaster," Bales says, but the political will doesn't exist. The single largest cause of homelessness is rent increases. Rent going up 5 percent translates to 2000 more people on the streets. And once there, many new Skid Row residents will pick up mental problems, illness and drug addiction. Pryzlucki, connected to an organization called People Organized for Westside Renewal (POWER LA), says, "There is no county in the United States where minimum wage can afford to rent an apartment." POWER's vision is to formalize a right to housing. Shain says that with 62 percent of L.A. renting, "We do have power to stand up to developers." There are currently some ten locals of the LA Tenants Union, and there are several rent strikes going on now, the biggest one Burlington Unidos, with over 200 people organized to fight eviction. City Council members have not spoken out.
In the second session, Chris Gardner moderated four activists, Jed Parriott, Rene Christian Moya, Tracy Jeanne Rosenthal, and Alexia Veytia-Rubio. What is the housing crisis? Says Moya, "If you are poor and working class there has always been a housing crisis." Now the issues are not only affordability but stability, the assurance that you will be able to remain in your home. The poorer you are, the greater percentage of your income you are likely to spend on housing. In most places there is no rent control. And even where there is, a faux eviction letter to a tenant might be enough to scare them out, especially if they fear deportation. "To sum up," says Parriott, "the housing crisis is capitalism at work."
The housing issue cannot be solved individually. Many people are led to believe that if they find themselves on the street it's their own fault. "When you don't have rent control," says Rosenthal, "what do you have? You have each other." As Parriott points out, the four American cities with the largest homeless populations are the same cities with the most overheated real estate markets: New York, San Francisco, Los Angeles and Seattle.
The main project coming up for all Californians to join in on is the repeal of Costa-Hawkins, Prop 10 on the November ballot. The Costa-Hawkins law prevents cities from enacting any further rent control laws; repealing it will remove barriers and allow cities to begin addressing their homeless problem.
Radical rethinking of housing is required, because municipalities, with their NIMBY attitudes, are not planning progressively for the future. Stop giveaways to developers, and use existing unused buildings to house people. A current issue in L.A. is the Parker Center, the former police headquarters downtown, scheduled for demolition. But it could be turned into housing for 742 people. Public housing should not be left to the private sector but should be municipally owned. Erect villages of tiny homes, which would cost only about $5000 each. Stop arresting people if they do not use shelters. Create collective ownership of rent-controlled housing.
Cities like Los Angeles are not doing enough. In fact, it is obvious that the current Skid Row area, right in the heart of downtown, is slated for future development—lofts and apartments and upscale commercial outlets for the middle class and rich. L.A. does not want to do anything that will keep the homeless in place in their own communities. Feeble measures that the city takes make it clear that it simply wants to get rid of them anywhere, anyhow. Familiar tropes that echo with Professor Hernandez's research about "caging" and deportation in L.A. since 1771.
Towards the Mountaintop
Winding up the day and the Left Coast Forum on Sunday was a nearly three-hour-long pageant of performers in "Towards the Mountaintop: Commemorating Dr. Martin Luther King, Jr.," a live stage event to honor the 50th anniversary of Dr. Martin Luther King's passing and the 55th anniversary of both the March on Washington for Jobs and Freedom and the death of African-American scholar activist W.E.B. Du Bois. Re-enactors for the commemoration included: Ben Guillory playing both Du Bois and Reconstruction Era radical Republican Congressman Thaddeus Stevens—in a scene from the play Dr. Du Bois and Miss Ovington, he was joined by Melanie Cruz; K.B. Solomon as singer/actor/activist Paul Robeson; Gerald Rivers depicting Dr. King, capturing his cadences perfectly; activist Harvey Wasserman as Socialist Party presidential candidate Eugene V. Debs; Evelia Jones, a direct descendant of Thomas Jefferson and Sally Hemings, portraying her many times great-grandmother; Brenda Lee Eager as Mahalia Jackson; Suzanne Nichols as Sojourner Truth and Harriet Tubman; Jennifer Bobiwash as Crazy Horse; Greg Palast as Henry Thoreau; Mona Shaikh as Susan B. Anthony; Sharon Kyle as Ida B. Wells; Ian Ruskin as Thomas Paine; Eric Roberts as Robert F. Kennedy; Michael Beckwith as Jesus; and Ed Rampell, producer of the show, as John Brown. Tanya Verafield narrated and introduced the characters.
The Left Coast Forum 2018 is over, but for your information, its full schedule can be viewed here. KPFK was the media sponsor for the weekend.