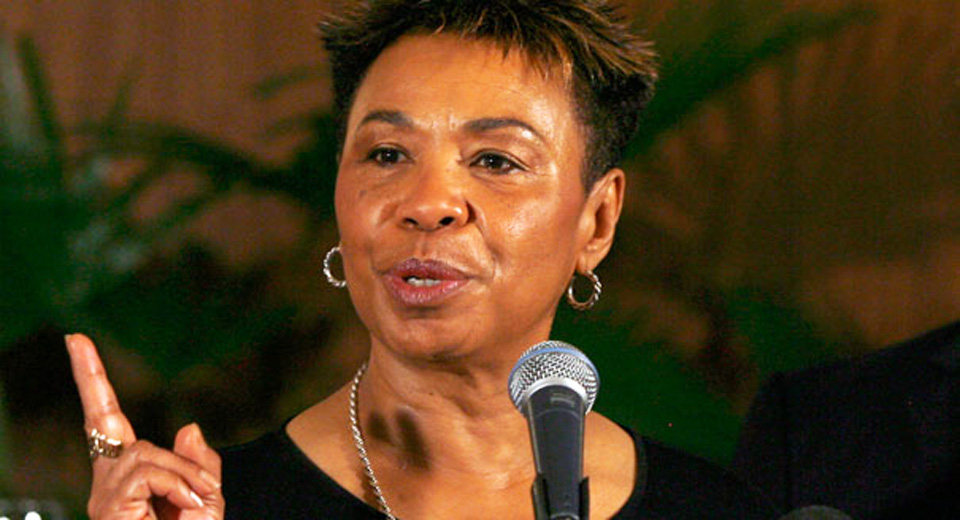 In 2001, Congress did something unprecedented. It gave away its constitutional power to declare war, handing to the president a "blank check" to wage an endless war on terror.
At least that is what one California congresswoman has argued. For 16 years, Rep. Barbara Lee, a Democrat, has argued that Congress needs to cancel that blank check.
For 16 years her arguments were rebuffed. Nevertheless, she persisted.
Finally, this year, she won.
Lee rose during a June 29 House Appropriations Committee meeting on the annual defense appropriations bill to make her amendment that would repeal the 2001 Authorization for Use of Military Force.
To her surprise, it passed with a bipartisan voice vote.
"Whoa. My amdt to sunset 2001 AUMF was adopted in DOD Approps markup! GOP & Dems agree: a floor debate & vote on endless war is long overdue," Lee tweeted.
The AUMF, a 60-word resolution passed just days after the Sept. 11, 2001, terrorist attacks, authorized then-President George W. Bush to use force against any individual, group or nation involved in the 9/11 attacks "in order to prevent any future acts of international terrorism against the United States."
In what can only be described as a courageous, principled and prescient stance, Lee was the only member of Congress to vote against the 2001 force authorization. Explaining her "no" vote in a speech on the House floor, Lee insisted that a more comprehensive approach was needed to end terrorism.
After much soul-searching, Lee said she believed that "military action will not prevent further acts of international terrorism" and worried that the consequences of authorization to use force could "spiral out of control."
Through the Bush and Obama presidencies, Lee asserted the 2001 authorization gives "a blank check" to any president to conduct endless wars. AUMF has been used to justify at least 37 different military actions, a 2016 Congressional Research Service report found. Now the Trump administration has used it for its military actions, including the April 6 bombing of Syria.
From death threats to praise: Is GOP worried about Trump?
Lee received death threats after her 2001 vote. But at the June 29 meeting, she received praise for her tenacity and leadership.
"She has raised an important point — I think she's done it repeatedly and effectively, and I think the Congress ought to listen to what she has to say and we ought to debate this issue," said Rep. Tom Cole, R-Okla.
Appropriations Chairman Rodney Frelinghuysen, R-N.J., said, "You're making converts all over the place, Ms. Lee. And indeed, you have been incredibly persistent and perseverant on this issue for a number of years. I think we recognize you, and obviously you have allies in the room. We share your concern."
"Today was a remarkable victory, I think, for the American people," Lee said in an interview after the vote. "I've been working day and night for many, many years with Democrats and Republicans to get to this point. It's been quite a journey."
For Lee, resetting congressional war powers also restores the voice of the American people in weighing in on weighty issues of war and peace.
The victory, perhaps temporary, may reflect the deep concerns a majority of Americans have regarding President Donald Trump on foreign policy. In a recent Bloomberg poll, just 40 percent of the respondents expressed some level of confidence that Trump is representing the interests of the nation and not his own business interests when he deals with foreign leaders.
In addition to murky business and financial ties to Russia, Saudi Arabia and elsewhere, Trump foreign policies have drawn opposition that may be prompting Congress to act. Trump refused to commit the United States to uphold the long-standing mutual aid agreement, known as Article 5 in the North Atlantic Treaty, during his May 25 speech at the NATO summit. In June, he tweeted his endorsement of the multi-country, Saudi Arabia-led embargo against its neighbor Qatar.  Trump has insisted that Russia's interference in the U.S. elections was fake news, therefore disregarding the national security implications. He also continues to outsource commander-in-chief decisions to the Pentagon, raising concerns there is too little civilian oversight of the military.
Trillions of dollars spent, millions of lives lost
The cost of endless war is devastating in lives and taxes. More than 7,000 American service members have been killed and more than 50,000 wounded in these open-ended wars. Physicians for Social Responsibility estimates that after 10 years of the Global War on Terror, more than 1.3 million people have been killed in Iraq, Afghanistan and Pakistan, and could go as high as 2 million. Their figure does not include other conflicts where the U.S. military has been involved, such as Libya, Yemen or Syria.
Almost $5 trillion has been spent from 2001 to 2016 on wars in Iraq, Syria, Afghanistan, Pakistan and on Homeland Security, according to a Brown University report. With other costs, like long term health care for veterans, some estimate up to $6 trillion will be spent, a figure Trump used during his campaign.
Not only do these costs add to the debt but they take away money for job creation. By one estimate, $2 trillion spent on the War on Terror created 17 million jobs, but if that same amount had been invested in education 36 million jobs would have been created. Despite the nationalist rhetoric of putting America first, Trump proposed a "hard-power" budget with deep cuts to education and domestic programs while boosting war and military spending.
Congressional currents
If the appropriations bill were to be signed into law, Lee's amendment would end the president's broad authority to use military force 240 days after the bill became law. A new vote in Congress would be required to continue military actions initiated under AUMF against the Islamic State, other terrorist groups, or countries.
Although there are multiple camps in Congress with a spectrum of views on the 2001 AUMF and presidential authority, many of which are bipartisan, there seems to be a growing consensus that Congress has absented itself for far too long.
"When I came in this morning, I was going to vote 'no,'" Dutch Ruppersberger, D-Md., said during the debate, "I love the fact that you are in a position to take a lot of positions that I don't take. That's what we need. I'm going to be with you on this, and your tenacity has come through."
Lee's counterpart in the Senate is former Democratic vice presidential candidate, Sen. Tim Kaine of Virginia. "The president has already, in 75 days, conducted the first ground operations in Yemen, the first ground operations in Syria, and now air attacks in Syria," he said in April. "So we ought to be worried about it."
After Trump ordered the April 6 bombing of Syria, the Republican-led Congress didn't seem to be in the mood to demand an updated force authorization from the president even though some who supported the president's action, like Cole, also said Trump is "bound by law and the Constitution to seek an AUMF before he embarks on any sustained engagement with any nation or organization."
Plus, the April 13 dropping of the powerful "Mother Of All Bombs" on Afghanistan did spark new concerns about the Trump administration's eagerness to use military force. On April 28 a bipartisan group of 46 representatives called on Speaker Paul Ryan to renew a debate on the force authorization. Cole was one of the handful of Republicans to sign the letter.
But passing Lee's amendment seemed to mark a more robust bipartisan effort to reassert congressional authority during a time of great unease about the president's seemingly erratic behavior.
Opening for action
In a statement after the vote, Peace Action pointed to the 2001 AUMF green lighting U.S. military campaigns in at least seven countries.
"It's the reason we've allowed the war in Afghanistan to become America's longest war. It's the reason a whole generation has grown up not knowing a time without war."
A generation later, terrorism, war and violence seem to have only increased with no end in sight. The Appropriations Committee vote gives activists a handle to push Congress to keep Lee's amendment in the defense bill and force a debate about putting an end to endless war.