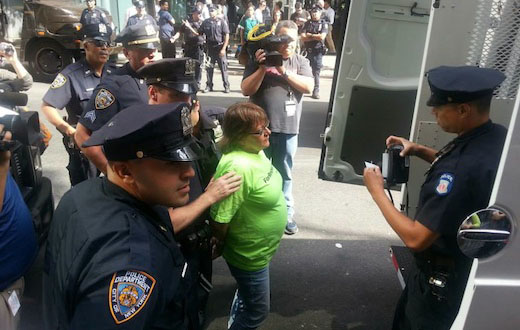 ORLANDO, Fla. – Seven members and supporters of OUR Walmart, Organization United for Respect at Walmart, were arrested here for blocking an entrance, during a protest at a Walmart in Orange County, Fla., on Sept. 5. It was part of a national day of action in support of 20 Walmart workers fired in June for participating in a strike.
Four of those arrested were current or former Walmart workers. The three supporters arrested included one member of Central Florida Jobs with Justice.
OUR Walmart is a worker-led group that seeks a voice on the job and advocates for better pay, benefits and working conditions. It was founded, with support from the United Food and Commercial Workers (UFCW) union, in 2011.
Other demands of the national day of action, organized by Making Change at Walmart and OUR Walmart, with support from UFCW and other organized labor forces, included an end to the company's retaliation against workers who join OUR Walmart and that the company offer all workers full-time hours and raise their pay so that they earn at least $25,000 annually, which is only $1,500 above the federal poverty threshold for a family of four.
Actions took place across the nation, including in Baton Rouge, La.; Boston; Chicago; Dallas; Denver; Los Angeles; Minneapolis; New York; Raleigh, N.C.; Sacramento, Ca.; and Seattle. Organizers were expecting this to be biggest wave of protests by Walmart workers since they walked out on Black Friday last year on Nov. 23.
Three Walmart workers were arrested in New York City for blocking an entrance, and a total of 21 people, including nine Walmart workers, were arrested at an action in Los Angeles. In Renton, Wash., 13 former or current Walmart workers and supporters were arrested, while in Hyattsville, Md., four-to-six protestors were arrested outside of a Walmart there.
"Wal-Mart is the largest retail employer in the world, and yet they choose to keep their employees working below poverty-level wages," said Barbara Gertz, a Denver Walmart worker arrested at the New York City protest.
Among those arrested in Central Florida were Vanessa Ferreira, a former Walmart bakery worker in St. Cloud, Fla., who was fired in May because of her activism with the group, although the company claimed it was for taking "extended breaks."
Also arrested was Lisa Lopez, a former Walmart worker in Kissimmee, Fla., who was fired in the spring for her participation in OUR Walmart.
Members of OUR Walmart, who tabled at the annual Central Florida AFL-CIO Labor Day picnic, Sept. 2, were received enthusiastically by attendees when they spoke near the end of the event and announced their intention to participate in the national day of action.
Before her firing, Ferreira, who worked at Walmart for eight years, earned $11.90 an hour; her starting pay had been $8.50 an hour. She has filed an unfair labor practices complaint with the National Labor Relations Board for what she calls the company's "total retaliation."
"I'd never had a write-up in all my life, no matter where I worked, I've always had a good record. I like working with people, I like working with customers. To me, cake decorating is an art form. I really enjoy it," Ferreira said.
"So I never had a problem with management. I've never had a problem with fellow workers," she said. "It's just the fact that I want to stand up and make a change at Walmart."
Photo: A Walmart worker is arrested Sept. 5 during a New York City protest against the retail giant firings and their policy to pay low, low wages. (OUR Walmart/FB)