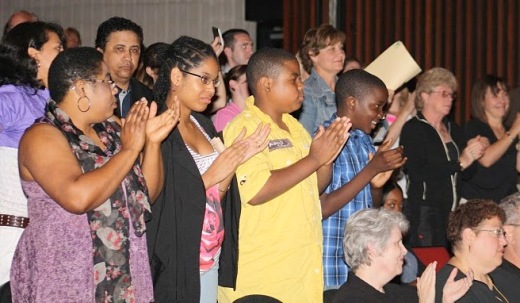 As part of President Obama's stimulus program, special education funding was doubled. It was an unprecedented infusion of money.
However, it was a one-time, short-term funding boost for children with special needs.
There is still a ways to go for the federal government to live up to its promise of "full funding" of special education.
Special education costs more per pupil than general education. When Congress passed the Individuals with Disabilities Education Act (IDEA) in 1975, the federal government pledged to fund up to 40 percent of the cost above the national average per pupil expenditure.
But over these last 35 years, the federal government never provided even half that, until the stimulus spending brought it to 33.4 percent.
There are more than 6 million children with a disability who receive special education and related services. That is about 10 percent of the K-12 public school population nationwide.
Obama's main education initiative – Race to the Top – does not address full funding of IDEA, nor class size, two critical elements to quality education.
Since 90 percent of special needs students are "mainstreamed" in general education classrooms (also called "inclusion"), class size and individualized attention are even more important. In this economic climate, school districts and states, scrambling for resources, often have to give short shrift to more expensive programs like special education and highly-qualified teachers who make more money.
There are other concerns and questions about Race to the Top.
Many worry that the program places too much emphasis on standardized tests, charter schools and merit pay, all of which have no track record in improving student learning overall and may adversely affect children with special needs.
Kim Hymes, from the Washington-based Center for Exceptional Children, said students with disabilities are an "integral part in every classroom across the country."
"With all the talk about the next generation of standards, special needs children will be impacted," she said.
And assessments, which are at the center of Race to the Top, are "related to other issues," she said, likeevaluating teachers and tying student learning to performance pay.
A special education teacher in Chicago, who asked that her name not be used, described a real life situation for special needs kids. She said Race to the Top doesn't seem to address the real needs in special education.
"Most public schools are being plagued with budget cuts and overcrowding, so inevitably this means that your special education classroom is going to be affected," she said.
"In the inclusion classrooms the administration will say, 'Hey you have two teachers in the room, you can deal with 38 kids in your class.' The end result is students who need the most support in order to succeed are short-changed."
She added, "Schools who are trying to 'make the grade' know that their kids need a lot of support in order to improve. And, frankly, many just don't do well on standardized tests. So school management and teachers have to make a choice of who to prioritize, and usually it is not the student population with special needs."
Standardized tests have been found to be biased, and not a true measurement of student learning. High-stakes testing leads to distortions in the education process, like "teaching to the test," or not prioritizing students who need the most support.
The Chicago teacher pointed out another big problem: guaranteeing related services like speech therapy or counseling.
"Because of budget cuts and other funding problems," she said, "many of the related service providers – like speech teachers – are scrambling between three and four schools. We won't even talk about counseling and social work staff who are so crucial to all students. The end result, again, is that you end up with the students who need the most support in order to succeed being short-changed."
In one Chicago high school, there are 300 students with special needs and one case manager who has to arrange for yearly meetings with parents, and guarantee services for all the students. In the same school, there is only one guidance counselor to work with all the sophomores and juniors.
Race to Top emphasizes charter schools as a way to "turn around failing schools." Teachers and staff can be fired across the board and a privately-run charter school can be brought in as part of the "turnaround" model.
Yet, charter schools are notorious for their exclusion of special education students.
According to one University of Illinois report on Chicago charter schools, "charter high schools enroll statistically significantly fewer students with special needs than neighborhood schools."
Special needs kids, whether disabled, gifted, or English language learners, are also often left out of public education planning overall. However, the most effective teaching strategies are known to "evolve" from special education, CECR's Hymes said.
Two state-led consortiums have won federal grants to develop accurate assessments of student learning, which could lead to some positive reforms.
But, Hymes warned, children with disabilities should be included "from the creation stage, instead of retrofitting" assessments, standards and teaching methods.
Hymes agreed that special needs kids are like the "canary in the coal mine": if they aren't learning in the classroom, then general education students are probably struggling too.
A good lesson for Race to the Top policymakers.
Photo: Special education professionals, teachers, students and parents protest at the Brockton, Mass. school board in June. The Brockton administration sent pink slips to a stunning 430 teachers out of about 1,300 in the district, and proposed to eliminate 75 of 350 para-professionals positions along with many other support professionals and other staff. (Sarah Nathan/Massachusetts Teachers Association)
TOWN HALL May 2 – Confronting the COVID Economy: Women Fight Back