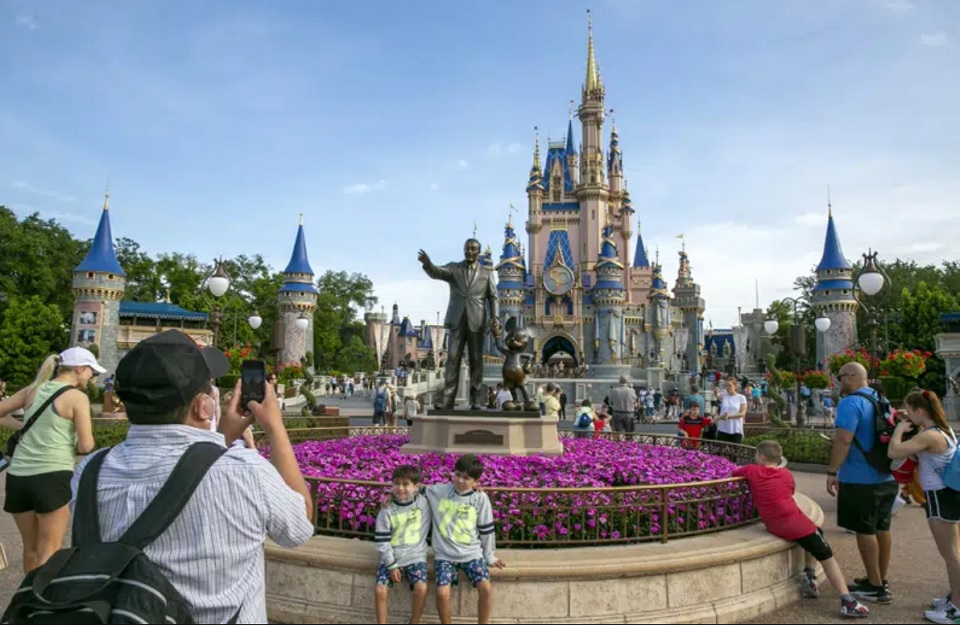 ORLANDO, Fla.—For its workers, there's no magic at Walt Disney World's Magic Kingdom these days, or at any other Disney theme park in Central Florida. The firm's skimpy dollar-an-hour wage hike offer forced union leaders of its 45,000 workers to recommend they vote it down.
The vote, to occur in the opening days of February, will determine whether the workers, many of whom toil in heavy costumes in Florida's heat, may have to walk, says Matt Hollis, president of Transportation Communications Union-IAM Local 1908, and also of the six-local Service Trades Council Unions (STCU) coalition that represents them.
Assuming the workers vote "no," they join the growing legions of workers nationwide who realized, thanks to the coronavirus-pandemic-caused depression of the prior two years, that they don't need to put up with corporate greed, wage suppression, and exploitation.
Those workers, including retail workers, Amazon and other warehouse workers, fast-food workers, port truckers, airline ramp workers, adjunct professors, college and university RAs and TAs, and even railroad workers—whose working schedules are brutal, but whose planned strike the federal government stopped—have responded by joining unions, being forced to strike and/or leaving their jobs.
Coalition bargainers recommended voting down Disney's "last, best, and final offer" of a dollar-an-hour raise per year in the upcoming pact. "That 'no' vote will get them (Disney) back to the bargaining table," Hollis predicted in a Jan. 28 telephone interview.
Disney's offer means the firm's pay would "continue to outpace the minimum wage" in Florida.  "But it—6.5%—doesn't keep up with inflation nationally" or in Central Florida, which Hollis estimates at 8%. "By and large, everyone makes $15 an hour," he added.
"Disney workers are facing extreme financial difficulties including inflation, which has caused the price of food and rent to skyrocket," the coalition statement said after the last bargaining session on Jan. 9.
Besides TCU-IAM Local 1908, Teamsters Local 385, Unite Here Locals 362 and 737, the Theatrical and Stage Employees and the United Food and Commercial Workers represent the employees at Disney World, Epcot, Animal Kingdom, Magic Kingdom, and Hollywood Studios.
For the workers, "$16 per hour in 2023 does not keep up with the rising cost of living. Every worker needs an initial raise larger than $1 to address these concerns," the coalition said. Healthcare costs and retirement contributions are also up for bargaining.
The coalition views the firm's offer "as tone-deaf and disconnected with reality from living in Central Florida," which is dealing, like the rest of the state, with the impact of a population boom, Hollis said. The dollar-an-hour hike would apply to 30,000 of the 45,000 workers.
Workers who tweeted after the Jan. 27 press conference on the firm's offer were even blunter. Their prior contract expired on Oct. 1 but stayed in place while the talks continued.
"People need to stop referring to things like a '7% raise' when it's over multiple years," worker Wendy Pleakley wrote. "It's misleading propaganda, plain and simple.
"They're being offered a series of one-point-something-percent raises per year. Inflation last year was in the 3% range. This year it's in the 5-6% range. This is a pay cut in real terms."
Local 737 backed that finding with a report, "Orlando Tourism Workers Need A Raise." It explained the expired pact, negotiated in 2018, raised minimum wages from $10/hour—and less than that for housekeepers and cooks at the resorts' unionized hotels–to $15/hour.
"As other Orlando hospitality employers raised their workers' pay to keep up with the union standard at Disney, tens of thousands of Orlando tourism workers finally achieved financial stability," it added.
"For a time, a $15 wage put some families on track with a living wage. But the skyrocketing cost of living has put Orlando tourism workers and their communities back in economic danger," it added. One chart in the report shows 62% of the Disney workers have less than $100 each in savings accounts.
The report concluded the new minimum, to keep up with the cost of living since the last pact, should be at least $18/hour—an amount, one tweeter noted, that Disney CEO Bob Iger, who just returned to the job after the board let his predecessor go, can easily afford.
More information is at #DisneyWorkersNeedARaise.