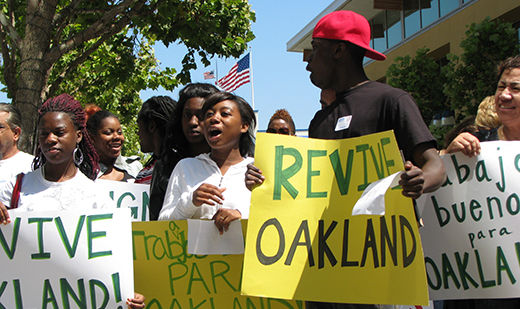 OAKLAND, Calif. – U.S. Census data released this week confirm what everyone knows: household income is falling, poverty is rising. The American Community Survey found national median household income dropped nearly 3 percent between 2008 and 2009, while poverty rose in 31 states and declined in none.
That was the backdrop to a Sept. 28 telephone press conference revealing even grimmer figures for Alameda and Contra Costa Counties, in the East Bay across from San Francisco. But there was a twist: a giant redevelopment project could help turn the tide for some of the workers hardest hit by the Great Recession, if provisions are included that will benefit area residents. The Port of Oakland is expected to take a crucial vote on the project next month.
In the East Bay one in 10 people lived in poverty last year, and in Oakland – the East Bay's largest city – the ratio was one in six, Jennifer Lin of the East Bay Alliance for a Sustainable Economy told the gathering. Along with "abysmal" unemployment, Lin said, the census data for the area showed a 5 percent drop in median earnings, and revealed that some 40 percent of those in poverty were actually working part or full time.
Racial and ethnic disparities made the situation even worse for many Oaklanders. African Americans "earned about 60 cents on the dollar compared to their white counterparts, while Latinos earned 40 cents," Lin said. With Oakland workers in the five lowest-paid job categories earning less than 60 percent of what it costs to provide for their families, she said, "this means many families are either going on public assistance or having to do without critical needs."
The ray of hope in this grim picture is the impending redevelopment of the giant former Oakland Army Base. The size of 200 football fields, the base sits on land part of which is owned by the City of Oakland and part by the Port of Oakland. Estimates say redevelopment could ultimately produce up to 8,000 jobs.
The Revive Oakland! labor, faith and community coalition was formed to make sure those are "real jobs and opportunities in our community," coalition spokesperson Mona Trevino told the reporters. She called the base redevelopment "the opportunity of a lifetime" to put Oaklanders to work, provide businesses with a skilled workforce and revive the city's flagging economy. But, she said, "to make this a real recovery, we need real investment, including job training, and real jobs."
The coalition is calling on the developers to sign a "good jobs contract" with the community including local hire requirements for both construction and long-term jobs, a commitment to fund jobs training, and a pledge that the jobs generated will be family-supporting, with permanent, full time jobs the norm.
"We also need a neighborhood resource center and outreach program to link the local community and employers," Trevino said, "especially for those most often locked out of employment opportunities."
Thousands of Oakland residents already back the "good jobs contract," and elected officials including area Assemblyman Sandre Swanson and Alameda County Supervisor Keith Carson have indicated their support for the project.
Job training is vital to the project, so workers with few skills, spotty work histories or challenges to employment can prepare themselves for the quality jobs the coalition envisions, said Greg Brooks of the Alameda Trade and Logistics Academic Support Initiative (ATLAS).
Brooks described the rigorous 11-week ATLAS program, which operates in conjunction with area community colleges to provide skills training leading to certification, along with personal development, job search preparation and help with job placement. "Those who complete the program can essentially run a warehouse," he said. "They can take these certificates anywhere and get a job."
Interest in such programs is so great that ATLAS, publicized only by word of mouth, attracts many times more applicants than can currently be accommodated, Brooks said.
With the Port commissioners' crucial vote just around the corner, Trevino told the reporters, "Now is the time for the developers to finalize the good jobs contract with the community." For more info click here.
Photo: Marilyn Bechtel In July Revive Oakland! coalition members and supporters rallied
outside Port Commission headquarters to call for local hire and other
community benefit provisions, in plans to redevelop the former Oakland
Army base.