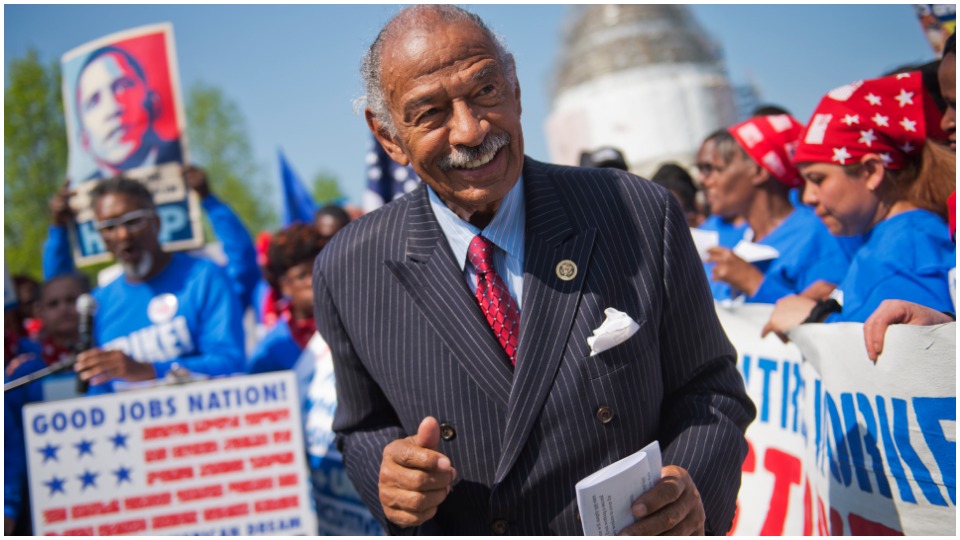 The last time I saw John Conyers, Jr., who died in Detroit early Sunday at age 90, he was hosting a mass meeting in Detroit, at a historically black and historically progressive church. It was August 2017, just a few months before scandal would force him to retire from Congress.
Rep. Conyers, who served Detroit in the House of Representatives from 1964 to 2017, had invited Sen. Bernie Sanders to be the main speaker. But Sanders could only be called the "main speaker" because he was the official headliner. This was the kind of mass meeting that our Congress member typically held, and that meant that Bernie wasn't really the featured speaker. The people were the featured speakers.
Several constituents had been asked to briefly talk about issues of concern to them, and the several thousand of us who had come to hear Sanders had to first be schooled in, and focus on, the day-to-day efforts of the people to improve their lives.
I grew up in Conyers' district. He was my Representative from the time he was first elected to the House, and so it came as something of a surprise to me when I finally gained enough real-life experience, sometime in my 30s and after I'd moved from Detroit to Brooklyn, to learn that constituent meetings such as those Conyers typically held were, in fact, quite atypical in U.S. politics.
These were mass meetings, something like the Town Halls many Congress members hold today. But they were not complaint sessions. They were organizing and dialoguing sessions between the people and their representative. People would raise issues and Conyers would offer whatever services he could, but he would also network constituents with each other, and with whatever individuals, agencies, and institutions that could be useful to them. He was my representative for two decades and those Saturday afternoon meetings were a formative part of my political education.
He was one of the leaders of the progressive, African-American, and left movements in our city, and in the country at large. There seemed to be no such thing as a progressive cause that did not have his name on it; and, of course, we have him to thank for first introducing Medicare for All legislation and for leading the effort to establish the Dr. Martin Luther King, Jr., holiday.
Conyers was part of the era of Detroit politics that is most associated with the name of Coleman A. Young, who was the city's mayor from 1974-94. Like many other black Detroit politicians of his generation, Conyers had grown up in the interracial Left milieu of the 1940s and '50s. His father, John Conyers, Sr., was a labor radical and a United Auto Workers leader. (Young called Conyers, Sr. "one of the true founding fathers of the United Auto Workers.")
Both father and son counted left wingers, including Communists, as allies and political associates. During my time as a labor and political reporter for the Daily World (a predecessor of People's World), I spoke with the Congressman several times, both formally, in interviews, and informally, over lunch. While I don't know what he thought about these encounters, he impressed me with the respect he showed me during each of them (I was in my late 20s at the time). It was a respect, I've always thought, which reflected, at least in part, his regard for the movement represented by the local Communist reporter.
A few years after moving to New York, I had an opportunity to attend a hearing that Conyers led in Washington as part of the successful campaign to have Congress declare jazz a national treasure. I was there as an organizer with Local 802 of the American Federation of Musicians, accompanying Local President John Glasel, who spoke at the hearing. After that, I saw him again during a winter 2008 visit to Detroit, where he spoke at the UAW Local 600 hall near the old Ford Rouge plant in Dearborn (where my own father had worked for close to 30 years), at the Buck Dinner, one of the area's great old annual left and labor events.
The obituaries will say much about his last years, and about the scandal that tarnished his legacy. Before that scandal forced his retirement (a retirement that may have been too long in arriving), Rep. Nancy Pelosi called him a "giant" of the Congress. My own view is that this is the assessment of him that will survive. He was a towering figure during the last five decades in African-American and progressive left U.S. politics, which, under his influence, were often the same thing. We can and should learn much from his life and work.
This article was developed out of a Facebook post made by the author just after Conyers' death.