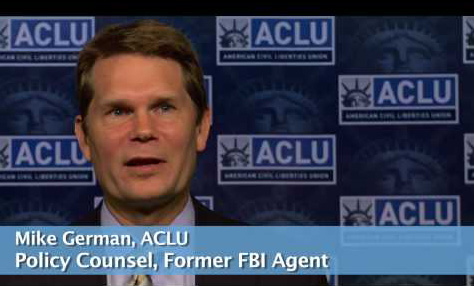 CLEVELAND – Surveillance policies now used by the FBI and other domestic intelligence agencies are "totally un-American and against the values Americans hold dear," Michael German, a former undercover agent, told a forum sponsored by the Cleveland Council on American Islamic Relations here Saturday.
Speaking to 150 at the Islamic Center of Cleveland, German said current guidelines allow federal agencies to spy, obtain private records and recruit informants against virtually all Americans even when "there is no factual basis to suspect they are engaged in illegal activity."
German, who resigned in protest at these abuses after 16 years with the FBI, joined the American Civil Liberties Union in 2006 and serves as its national security policy counsel.
The Patriot Act, enacted after the 9/11 terror attacks, wiped out strict guidelines governing the FBI, he said, "and established a regime of suspicionless surveillance." According to policies laid down by Attorney General John Ashcroft in 2002, "you only needed to show a group might possibly commit a crime" to place it under surveillance, German said.
In 2008 Attorney General Michael Mukasey ruled that even this was unnecessary. Surveillance, German said, currently requires "no factual predicate at all."
In addition, for the first time, current policies allow the FBI to "map and track racial and religious demographics" and investigate "racial and ethnic behavior."
The abusive atmosphere now in place is especially problematic given the power of digital technology, he said. "Your thoughts are online and what you read is the property of your Internet service provider."
The FBI and other groups, he said, are continually demanding "the ability to get more information with less oversight."
This includes growing numbers of private companies, who, at the state and local level, have formed some 72 "intelligence fusion centers" giving local police "wide access to electronic databases."
The American people, German said, "are tired of the state of emergency we have been under" and support stricter guidelines for spying sought by the ACLU.
Romin Iqbal, a staff attorney for CAIR-Ohio, warned people to be on the lookout for agents provocateurs seeking to incite and entrap Muslims into criminal activity.
Imam Dawud Walid of CAIR-Michigan said there has been a disturbing trend of "increased complaints of harassment by the FBI" and other agencies and that Islamophobia has become blatant and accepted.
"We American Muslims must refuse to be treated as second-class citizens," Walid said.
"Muslims," said Julia Shearson, director of CAIR-Ohio, "are in the forefront of the fight to preserve this great democracy."
"We want legitimate investigations of criminal activity," she said, "but we must push all three branches of government to let people who are doing nothing wrong live in peace."
American Muslims want to be active on many issues, including economic justice, foreign policy and the environment, Shearson said, "but we can't stand up for the Palestinian people if we live in fear and don't have freedom at home."
Photo: aclu.org