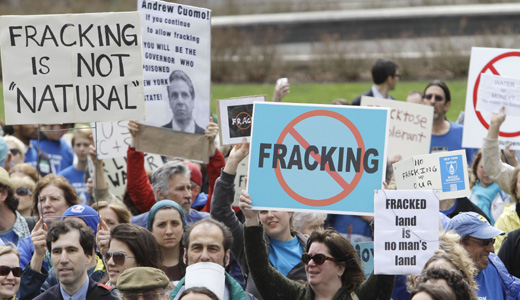 The French parliament recently voted to ban fracking – a worrisome technique used to extract gas from rock deposits. The bill passed the National Assembly on June 21, and, on June 30, with a Senate vote of 176 to 151, France became the first country to execute such a ban.
In sharp contrast, New York State is taking steps to allow fracking, opening one of the world's richest natural gas deposits to drilling, under recommendations by the state environmental agency to Gov. Andrew Cuomo. If approved, the move would lift a moratorium on the controversial technique.
Critics and concerned environmentalists believe that this dangerous operation will endanger groundwater and pollute the air.
Ramsay Adams, executive director of Catskill Mountainkeeper, said, "The summary announced today seems to completely ignore the fact that fracking is unsafe and that the industrial waste produced by this process is hazardous and needs to be treated as such."
Cuomo's predecessor, David Paterson, signed an executive order last year which mandated that fracking not be allowed in the state of New York until the DEC finished a multi-year environmental review.
New York Assembly Speaker Sheldon Silver has urged the state to wait until the DEC finishes its assessment of the fracking issue.
The approval of fracking in the state would expose up to 85 percent of the Marcellus Shale to drilling.
"There are simply too many unknowns to risk inflicting long-term, potentially catastrophic damage to New York's environment and water supply," Silver said.
Meanwhile in France, reported Le Monde, the Socialist Party felt that the bill did not go quite far enough. They said that the bill allowed for problematic loopholes and that it also does not prevent the exploitation of oil shale deposits by methods other than fracking. On the other hand, an earlier version of the bill, which Socialists supported, would have eliminated any kind of development of the deposits.
Regardless, this new development in France is an apparent example of a growing trend – one in which other countries are leaving the U.S. in their dust in terms of progress and environment-friendly actions.
Photo People in Albany, N.Y., stand at the Capitol during a rally against fracking in the Marcellus Shale region. Mike Groil/AP Photos