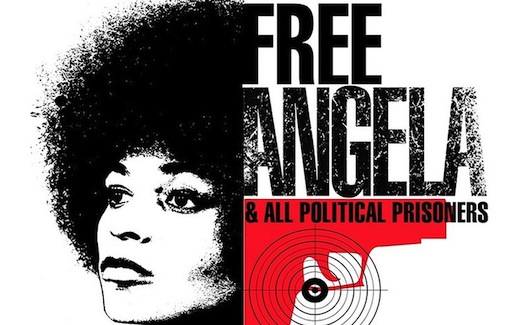 Right-wing anti-Castro Cubans are howling about the two day, three night visit to Cuba of rapper Jay Z and Beyonce.
Their Treasury Department licensed trip was for a cultural exchange with the Cuban people and to celebrate their wedding anniversary and that is, by all reports, what they did.
The real problems here are not Jay Z and Beyonce, but the anti-communists.
Yet things were much worse 45 years ago.
Which brings me to "Free Angela and all Political Prisoners." It is a great documentary film that was just released last week and is in theaters in some U.S. cities.
It is a film about an American story; a story about how our government and the U.S. capitalist class maintain their rule domestically with repression, racism and anti- communism. (Review continues after the trailer.)
Those obsessions helped to rationalize the entrapment of tens of thousands of poor working people, disproportionately non-white, in a prison system that segregated by race, that put people in bondage and that framed up, tortured and murdered people when they rebelled.
It is a story of how that same system, fueled by anti-communism and racism, took many innocent lives and nearly took the life of a courageous black woman communist; a scholar and political activist, because she fought to end that system of oppression and to transform society.
"Free Angela and all Political Prisoners," written and directed by Shola Lynch, brilliantly shows the history-making struggle over 40 years ago to free Angela Davis who was falsely implicated in a shootout at the Marin County Courthouse in San Raphael, Calif. The shootout was between the police and teenager Jonathan Jackson, who desperately wanted to free his jailed brother, George Jackson, and fellow inmates because of the imminent danger to their lives in the horrible prison conditions they faced.
Davis had nothing to do with the shootout. But the county and state authorities, California Gov. Ronald Reagan and then-President Nixon, all conspired to implicate Angela Yvonne Davis in the shootout, hoping to send her to the state's gas chamber.
"Free Angela and all Political Prisoners" is mostly about how that conspiracy was exposed and morally, politically and legally defeated.
It is one of the most moving documentary films I have ever seen. Maybe because I was part of the Free Angela movement and in almost every scene there were events that I remember, people I knew or knew of and stories I had heard of and/or experienced.
My eyes teared up when I saw Henry Winston, chairman of the CPUSA, appear on the screen, and Bettina Aptheker recounting how brilliant he was to have advised the campaign to free Angela should concentrate on the issues of a fair trial and bail for Davis.
I thought of Winnie's own story. Jailed under the infamous anti- communist Smith Act in the 1950s, Winston went blind in prison because authorities denied him needed life-saving medical care and surgery, only giving him aspirin.
John Abt, the Communist Party's attorney, led the fight to win an early medical release from President Kennedy for Winston. The early release saved his life. Winston went on to become the national chair of the CPUSA.
Winnie, as he was affectionately called, understood what Davis was going through. What Abt did for Winston in the 50s, Winston did for Davis in the 70s.
There are many interviews and speeches by Angela throughout the film and some wonderful quotes and clips of so many people. I knew many them. Some are no longer with us, like Franklin and Kendra Alexander who played a terrific role in the great struggle. I was sorry that while she was mentioned there were no interviews with Charlene Mitchell. Mitchell was the chairperson of the National Committee to Free Angela and also played a magnificent leading role in the struggle. Davis' attorney, Leo Branton Jr., provided brilliant leadership in developing legal strategy and tactics.
There is one interview I particularly liked. Victoria Missick, then an outstanding youth leader of the Young Workers Liberation League, was being interviewed while she was walking a picket line in New York to free Angela.
A reporter asked her a question about the case and she expressed her deep conviction that Angela was innocent. The reporter then asked her, "If she was innocent why did she run away?" Missick hesitated a few seconds and then responded, "If a pack of wolves were coming after you, you would run too." The audience in the theater actually broke out into applause.
There were many times during the film that the audience applauded.
When Fania Davis, Angela's sister, said "Angela's education is now being put into practice," she was shown traveling around the world and standing in front of a rally of thousands in Paris and delivering a speech in French; I was reminded of the role the party's youth organization played in the struggle.
I chaired the Young Workers Liberation League back then and helped to organize the international youth tour for Fania Davis. She spoke to hundreds of thousands of supporters all over the world.
Then there were the photos of Reggie Davis, Angela's youngest brother and Sally Davis, Angela's mother, who has since passed. It just bought back wonderful memories. Angela was only 26 when all of this happened. Looking at the film I was struck by how young everybody looked. There is a brief appearance by Gus Hall, general secretary of the CPUSA back then. He must have been in his 60s then.
Angela Davis is the principal narrator of the film but Bettina Aptheker, Margaret Burnham, New York reporter Earl Caldwell and Davis' attorney Howard Moore also participate.
The film has many tender, personal moments and powerful moments on legal strategy. But the film is really about the movement that was built to win Davis' freedom. As Aptheker points out, the international movement was initiated by the Communist parties, but it was much broader than that here in the U.S. and worldwide.
Artists Jada Pinkett, Will Smith and Jay Z helped to finance the film. In one of her interviews, Pinkett spoke out against the anti-communism that nearly took the life of Davis. She said most people today are opposed to anticommunism, saying the struggle changed the country politically and helped to make possible the election of our first black president. The Rev. Martin Luther King Jr., who was viciously redbaited as well, made the point that the nation's "irrational, obsessive anti-communism that has led us into too many quagmires to be retained as if it were a mode of scientific thinking."
Go see this movie and get inspired to continue the struggle.
Movie Review
"Free Angela and All Political Prisoners"
Directed by Shola Lynch
2013 (U.S.), 102 min.
See #Free Angela. @peoplesworld: shar.es/Jb4qg "What You Do When Wolves Come After You?…Get inspired to continue the struggle."

— Free Angela (@sholalynch) April 12, 2013