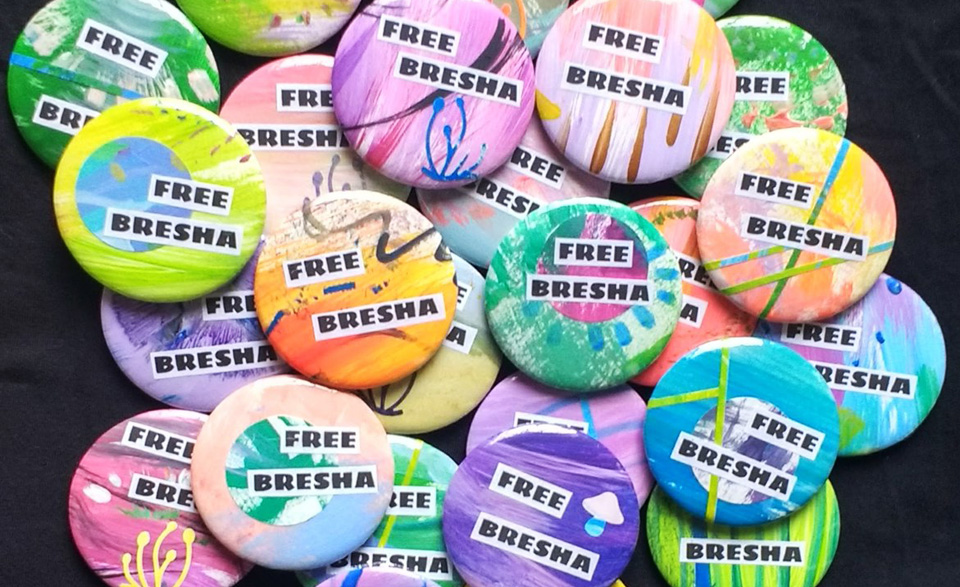 Fifteen-year domestic abuse survivor Bresha Meadows, has been offered a plea deal after spending almost 9 months locked up and separated from her family. During the pretrial hearing, at the Trumbull County Juvenile Court in Ohio yesterday, the prosecution proposed a tentative deal that would expedite Meadow's release. According to the family's lawyer, the current plea deal that would entail a total of 18 months, including the time Meadows has already served. The remaining sentence would be served at an in-patient mental health care facility, where Meadows would receive treatment for the illnesses she has been diagnosed with: PTSD, anxiety and depression.
Meadows was initially apprehended last July after she was accused of shooting her father as he lay sleeping on the couch. Jonathan Meadows had a violent track record of abuse towards his family; he had a civil domestic violence protection order filed against him by his wife Brandi Meadows, stating that that she feared for her life. The mother and wife had stated on record that in the 17 years of their marriage Jonathan Meadows had been both physically and verbally abusive towards her, "he has cut me, broke my ribs, fingers, the blood vessels in my hand, my mouth, blackened my eyes. I believe my nose was broken." Brandi Meadows has gone on the record in defense of her daughter, saying that Bresha saved her life.
For months, family welfare and prison abolition organizers have been pushing to get Meadows released. The #FreeBresha campaign spread like wildfire when the public first got wind of the situation. For several people working within the community, the unfair criminalization of domestic violence victims comes as no surprise.  In 2013, Marissa Alexander, A Florida woman who fired a single shot near her allegedly abusive husband was sentenced to 20 years in prison. (The charges were brought under the same court system that allowed George Zimmerman – Trayvon Martin's killer, who is white — to be set free under the terms of "stand your ground" laws.) Alexander's supporters got the word out nationally about the double standard being applied in her prosecution; she was released on January 27, 2015, under a plea deal that capped her sentence to the three years she had already served.
Cases like that of Meadows and Alexander highlight some of the prevailing issues in the criminal justice system when it comes to dealing with black women and girls who are victims of domestic abuse. The legal system has long practiced an exclusionary politics of protection that disproportionately hurts black women. According to the #FreeBresha campaign, girls and women incarcerated for actions taken in self-defense are overwhelmingly black. Research shows that 84% of girls incarcerated in the US experience family-based violence prior to being criminalized. Despite repeated instances in which the state Department of Family Services was called in to investigate the allegations of abuse against Jonathan Meadows, the state was able to do very little to protect Brandi Meadows and her children.
Bresha's maternal aunt, Martina Latessa, is a Cleveland detective specializing in domestic violence. During a rally at the Ohio's Women's March she spoke on the importance of rallying around black women and children in situations involving criminal cases. "That little girl would have been just another black girl incarcerated because the system let her down," said Friedman, "she would have fallen through the cracks."
Unless both parties can reach an agreement, Bresha's trial is scheduled to begin May 22, 2017. While the news of the plea comes as a relief for Bresha and her family, the fact remains that she should not have been incarcerated in the first place. Without a national movement to address the intersectional criminal justice issues rooted in class, gender, and race, the courts will willingly continue to manipulate domestic violence victims into accepting prolonged sentences. And the criminalization of black women and children will continue to take a toll on the lives of all families.
Editors' note: Mothers' Day is this Sunday, May 14, 2017. One action that readers can take to support mothers is to donate to a nationwide bail fund to pay the bail for several dozen mothers in jail who are awaiting trial for minor offenses. This will bring these mothers home in time for Mothers' Day. The link to donate is here.